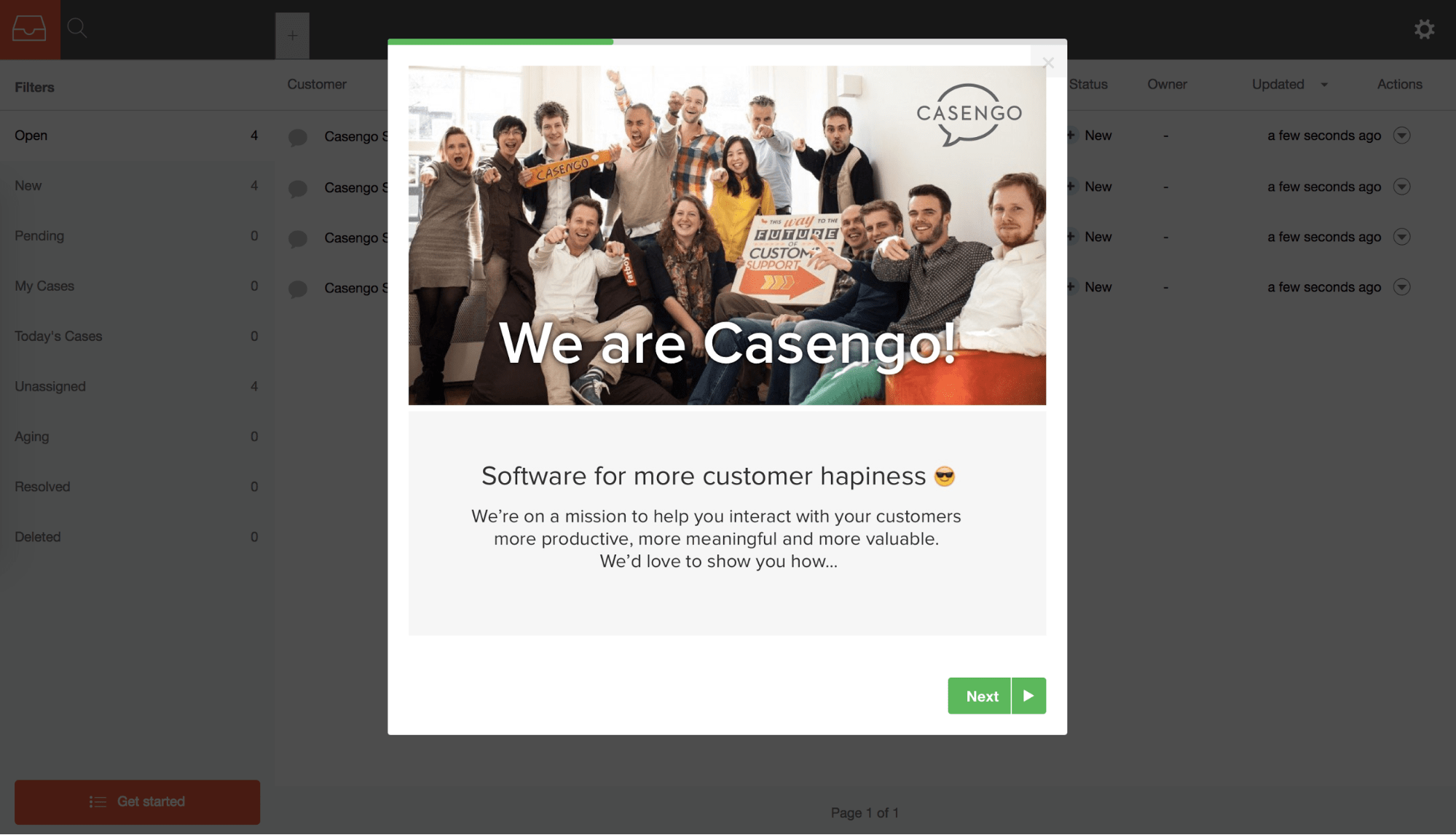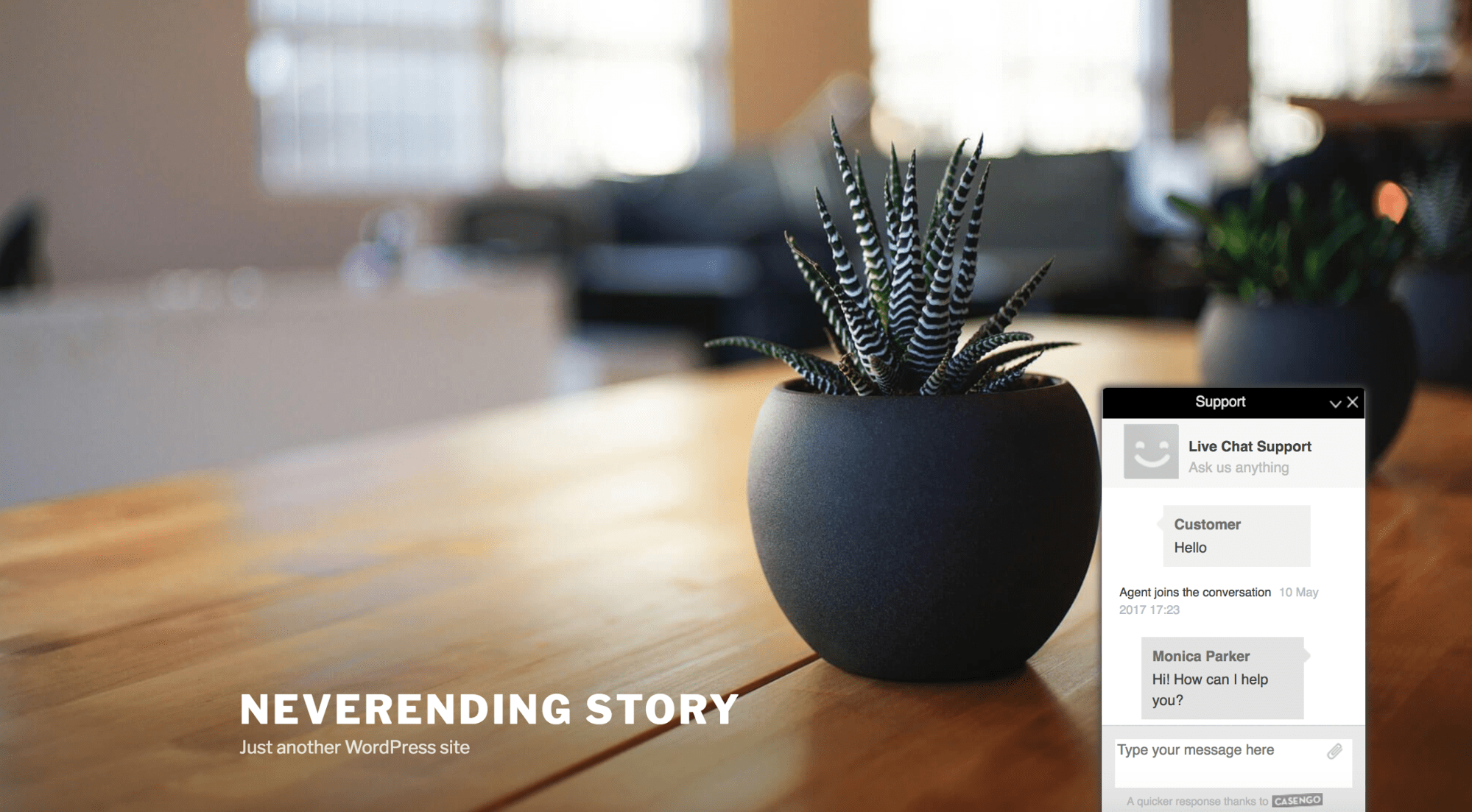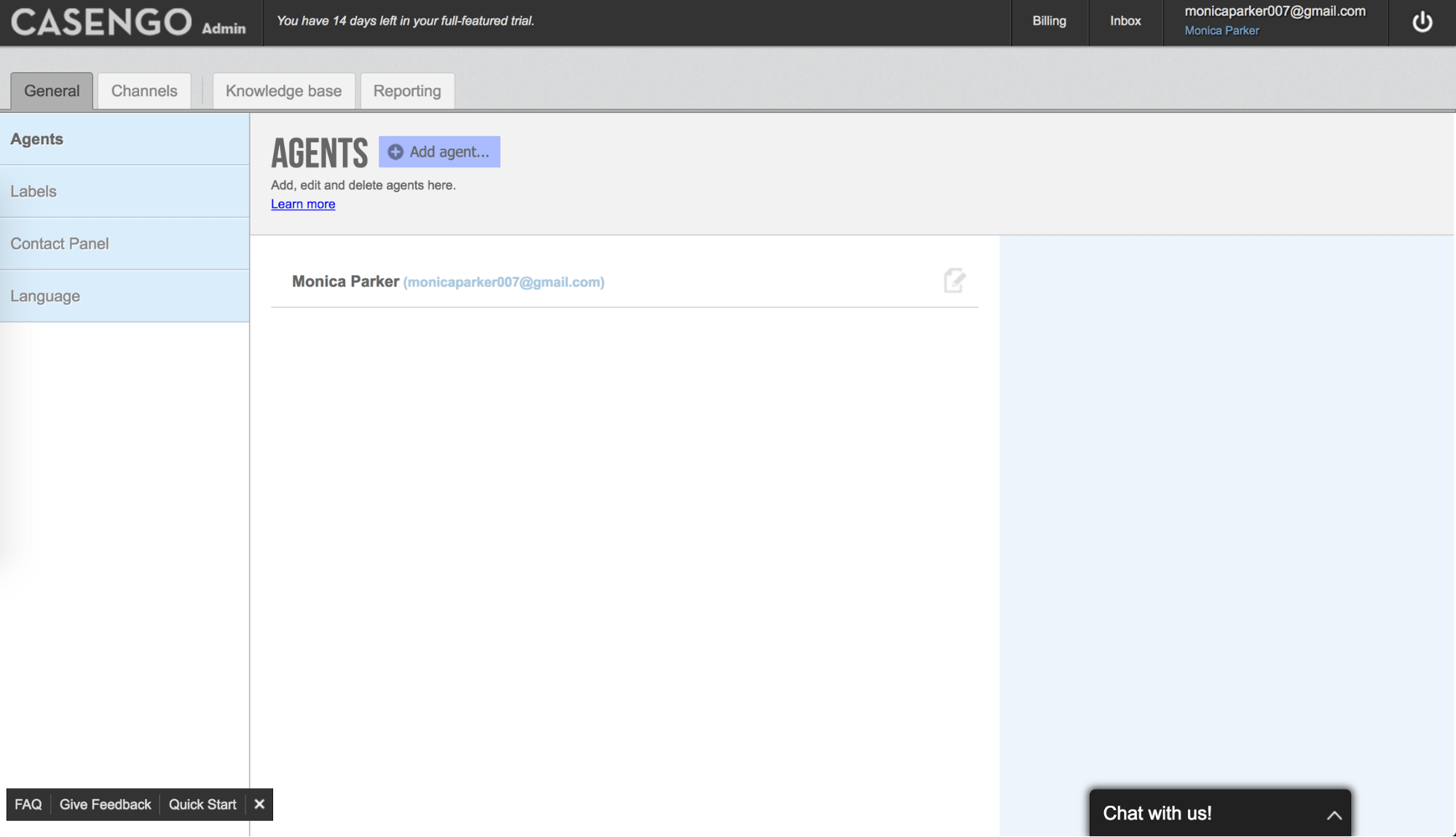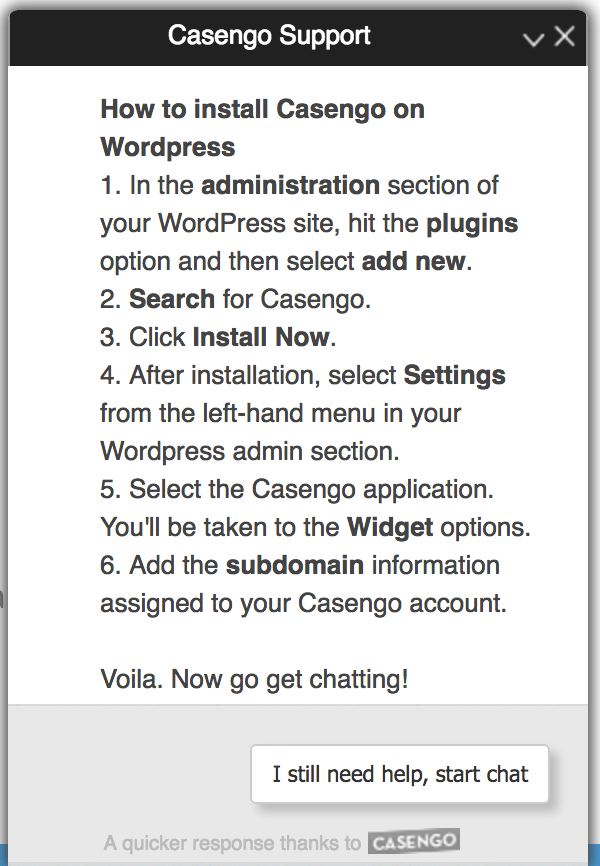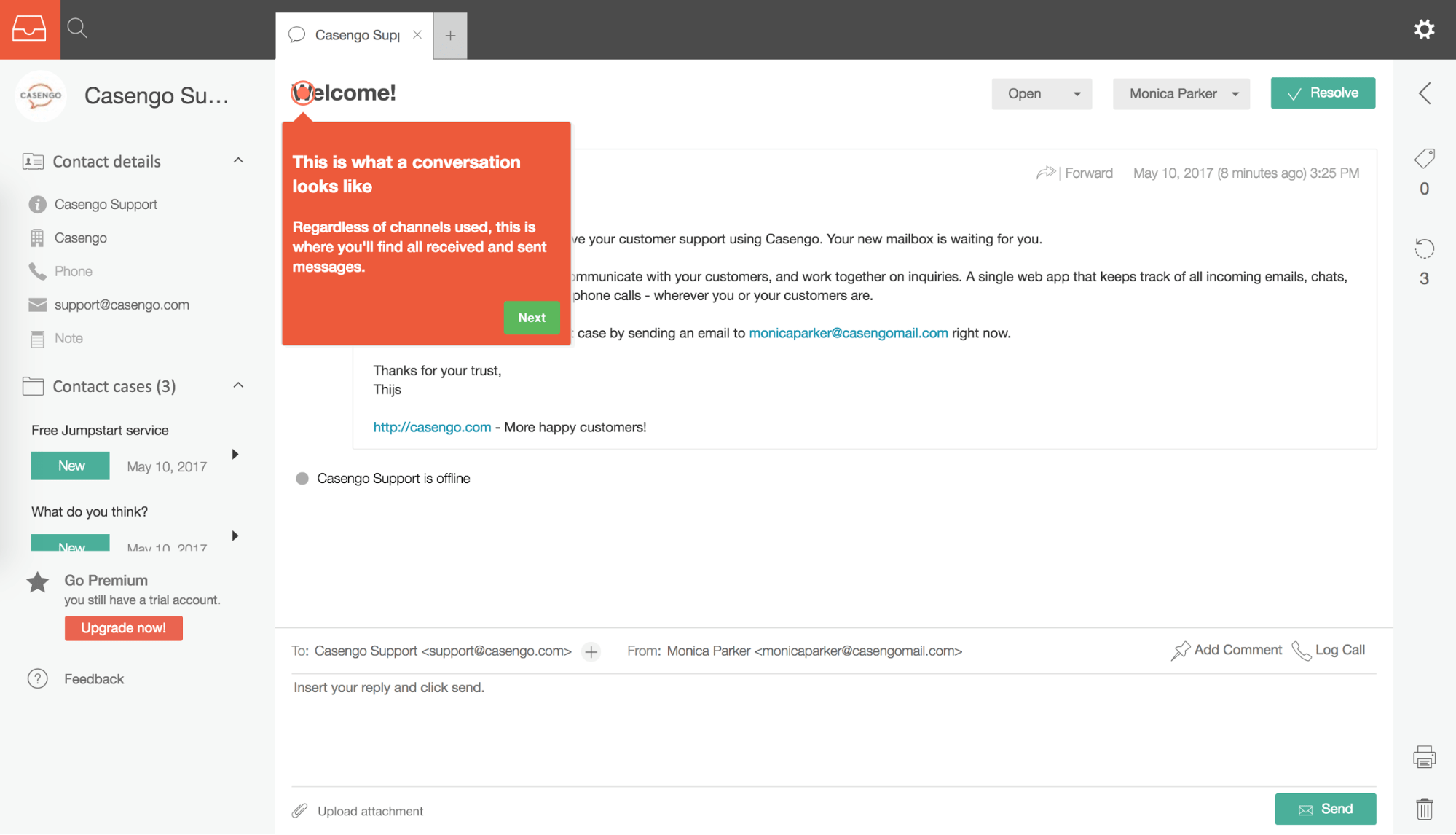 Casengo live chat review
Casengo offers an easy to start trial: you just need to fill a short form and couple of clicks later your account is created, and you're taken to the dashboard. A nice surprise is a big popup with a sign "we are Casengo" with company's mission statement and a really nice picture of Casengo's team.
It's hard not to smile!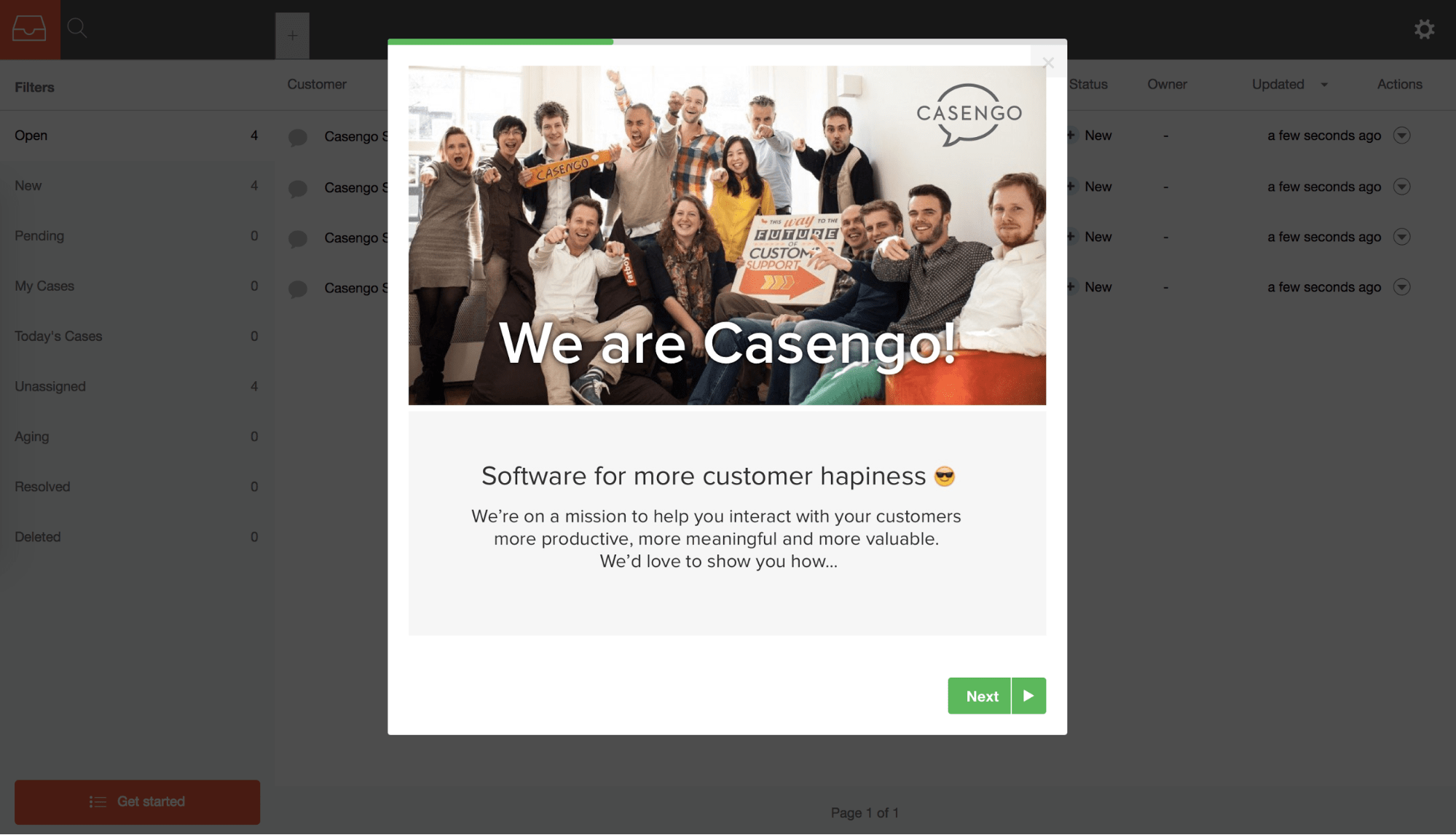 It turns out that Casengo offers a quick sneak-peek on the most important application features. It shows how fast and easy it is to respond to your customers and it shows the "hybrid chat," a feature where you can continue a discussion from email on a chat (and back).
Then, you can see the dashboard with a couple of messages from Casengo's team. Once you start to check it, it turns out that the app offers a nice tutorial. It guides through the most important dashboard options and through the process of replying to a customer.
I had to admit it was easy and fun!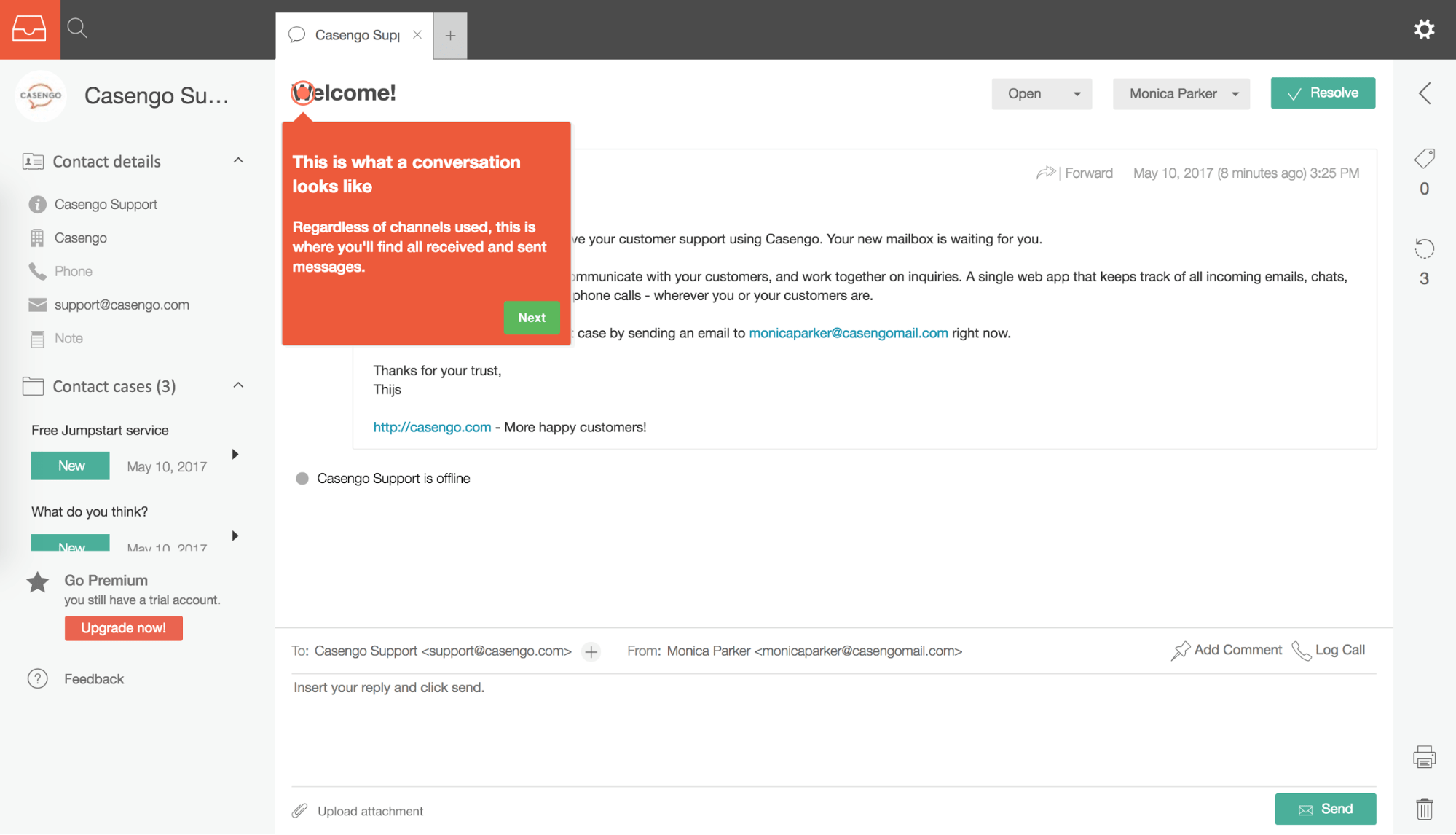 But then, when the tutorial was over, it turned out I have no idea what to do next. I knew that I should somehow install Casengo on my test website, but I had no clue how to do that. I clicked the "Get Started" button and, to my surprise, I was taken to another dashboard.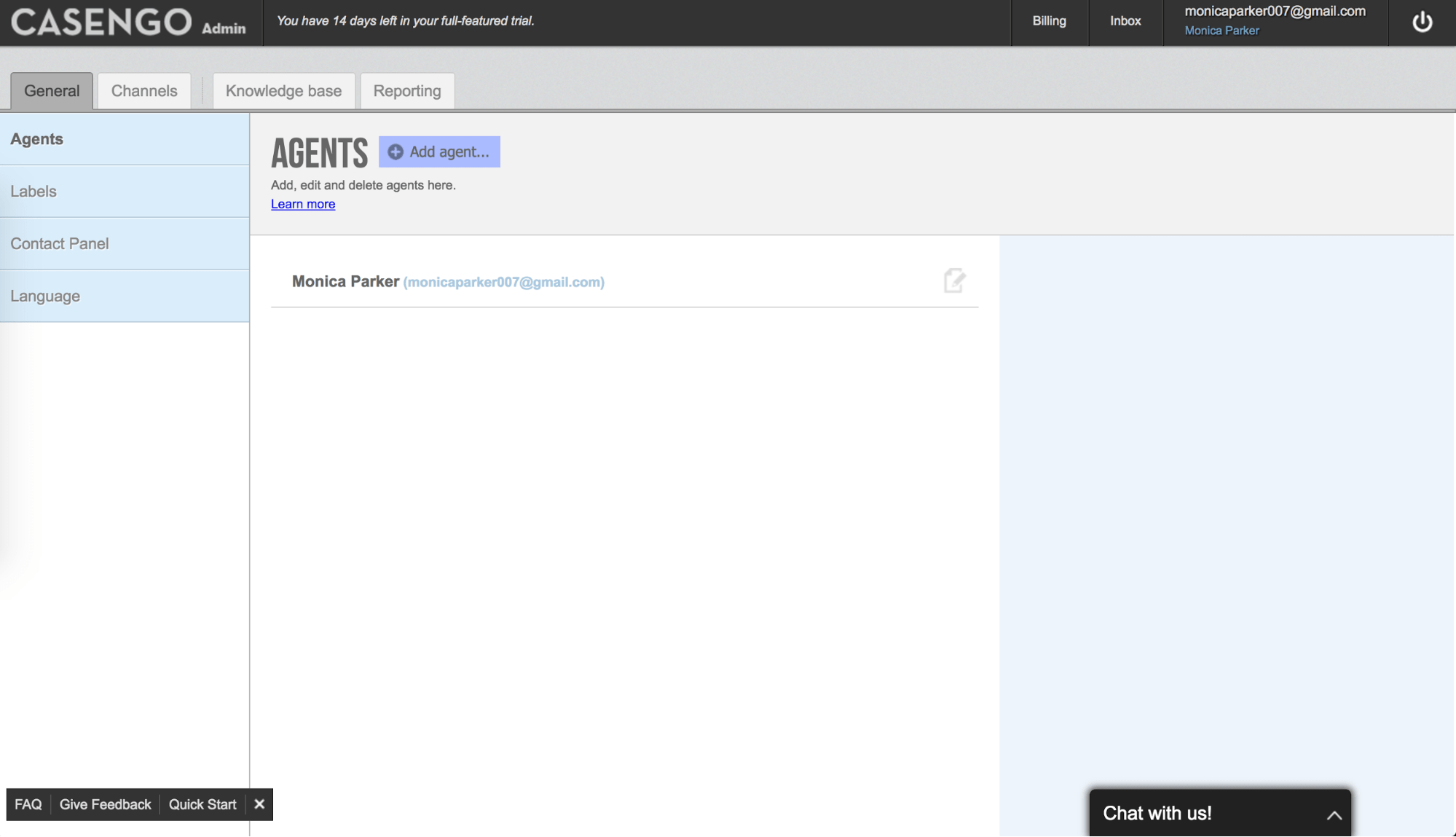 After the first moments of confusion, I started to go through all options, and it turned out that the previous screen was the chat inbox and now I'm apparently in the settings section. Since it didn't help me to figure out how to install the app on my website, I clicked on "Quick Start," but nothing happened.
I decided to ask for help on Casengo's live chat, but when I entered the topic "installation problem," their knowledge base gave me a brief instruction on how to do it. At last a bit of information.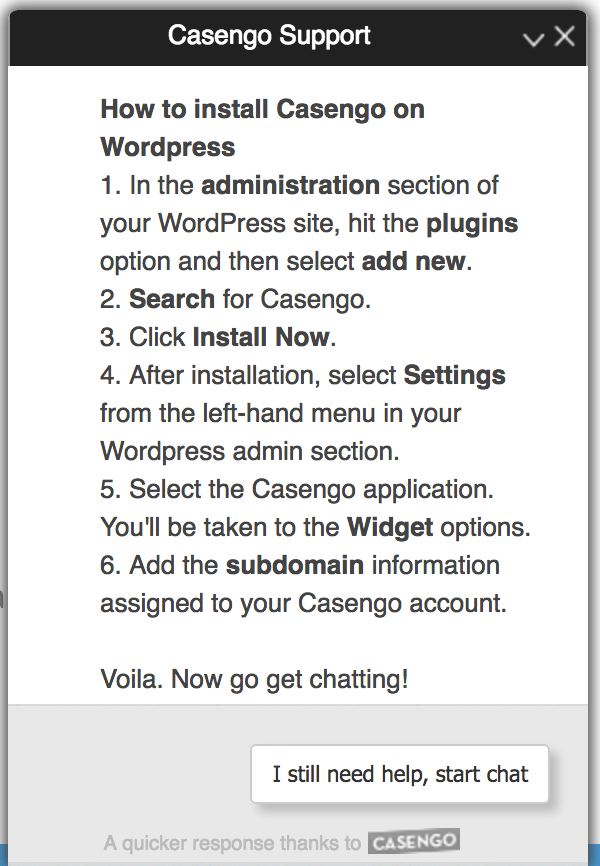 While I was surprised there is no code to be implemented on my website; I thought it's a cool idea that you just have to add it in your "plugins" section. The problem was, I had two test websites, but none of them was hosted on WordPress.
I spent some time creating a WordPress test website and tried to go through the next installation steps, but as it turned out, I was not able to do so. To add and install Casengo's plugin (or any other plugin), I'd have to upgrade my WordPress account to Business. I ended up with up with asking my developer friend create a test page for me.
Once I had the WP page, installation was quick and easy. At least until the moment, it asked me for my Casengo subdomain I had no idea where to find. Luckily, their customer support gave it to me, and I was able to finish the painful installation.
Once the installation was done, everything went smoothly.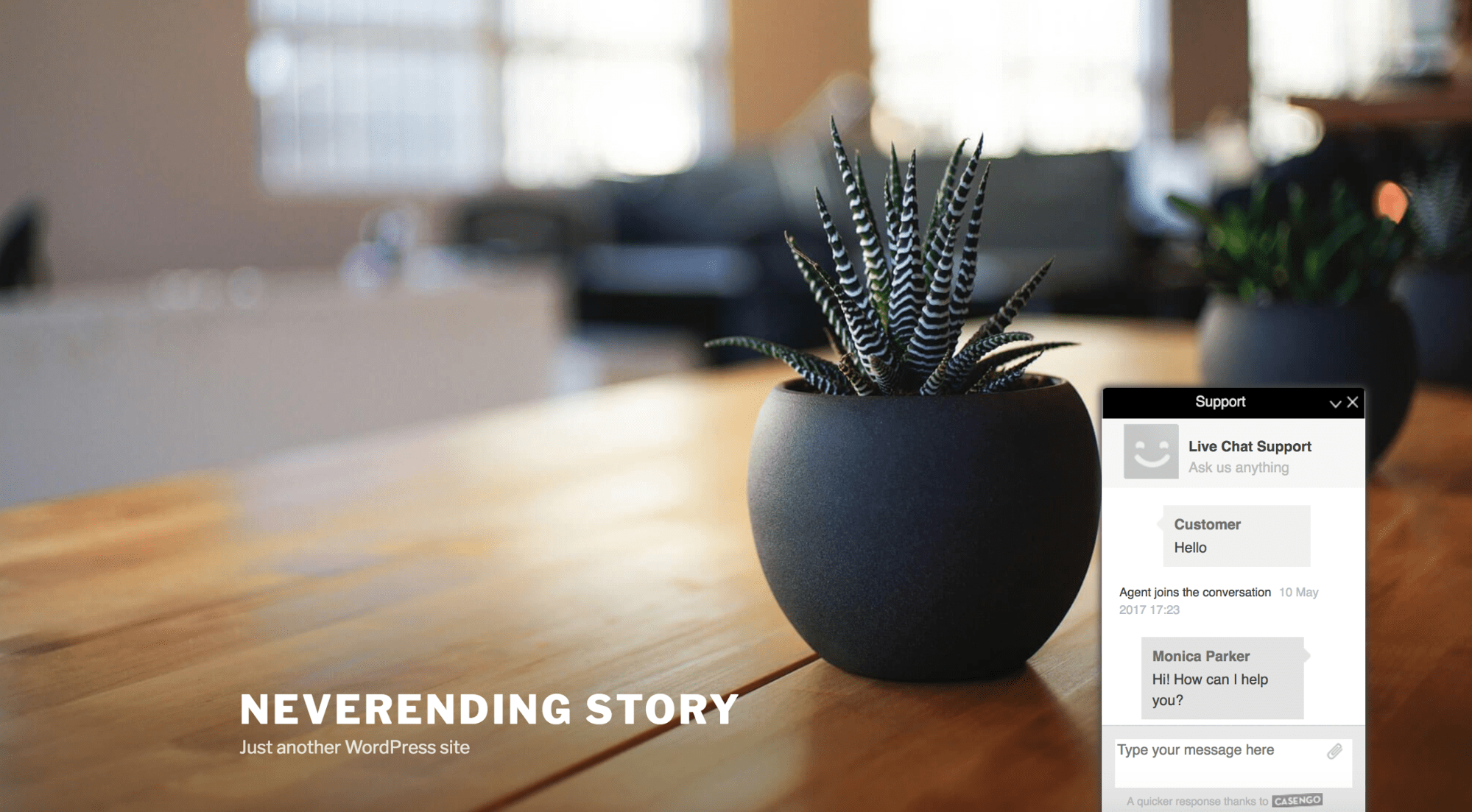 It's easy to chat; chat inbox is intuitive and user-friendly. The app gives you the ability to connect to your mailbox and offers integration with WhatsApp and Facebook. A plus is an ability to create your Knowledge base; it also offers a "Case activity" report.
Casengo pros
Casengo is an application that's very easy to use. The dashboard is simple and intuitive, it's easy to set it up and easy to chat: both on website visitor's and agent's side.
A great pros are also integrations with email Facebook and WhatsApp, however WhatsApp is paid extra.
24⁄7 support,
Clear dashboard and settings page,
In-app tutorial,
Integration with email, Facebook and WhatsApp.
Casengo cons
The installation was a nightmare. I had no idea on steps I should take, and when I finally found it, it turned out that it can be done only on premium WordPress account.
Another thing I didn't like is that the app offers a few features and only basic reporting. Comparing to other apps, this one seems to be too expensive.
Only 14-day trial,
User-unfriendly installation,
Installation possible on WordPress (premium plan) only,
In the lowest plan Casengo offers email support only,
The price is too high for the features the app offers.
The verdict for Casengo
Casengo is a well-designed live chat application that offers chatting, and useful integrations with email, Facebook and WhatsApp. Apart from that though, the app is a basic solution dedicated for business owners who are looking for an easy and user-friendly tool for chatting.
However, comparing to other live chat applications on the market, Casengo is quite expensive.
If you want to have a Facebook and WhatsApp integration, you need to purchase Enterprise plan (and even then you have to pay for WhatsApp +20 euro/month). If you want to have an API, custom integrations or custom reports, you need to request a custom price.