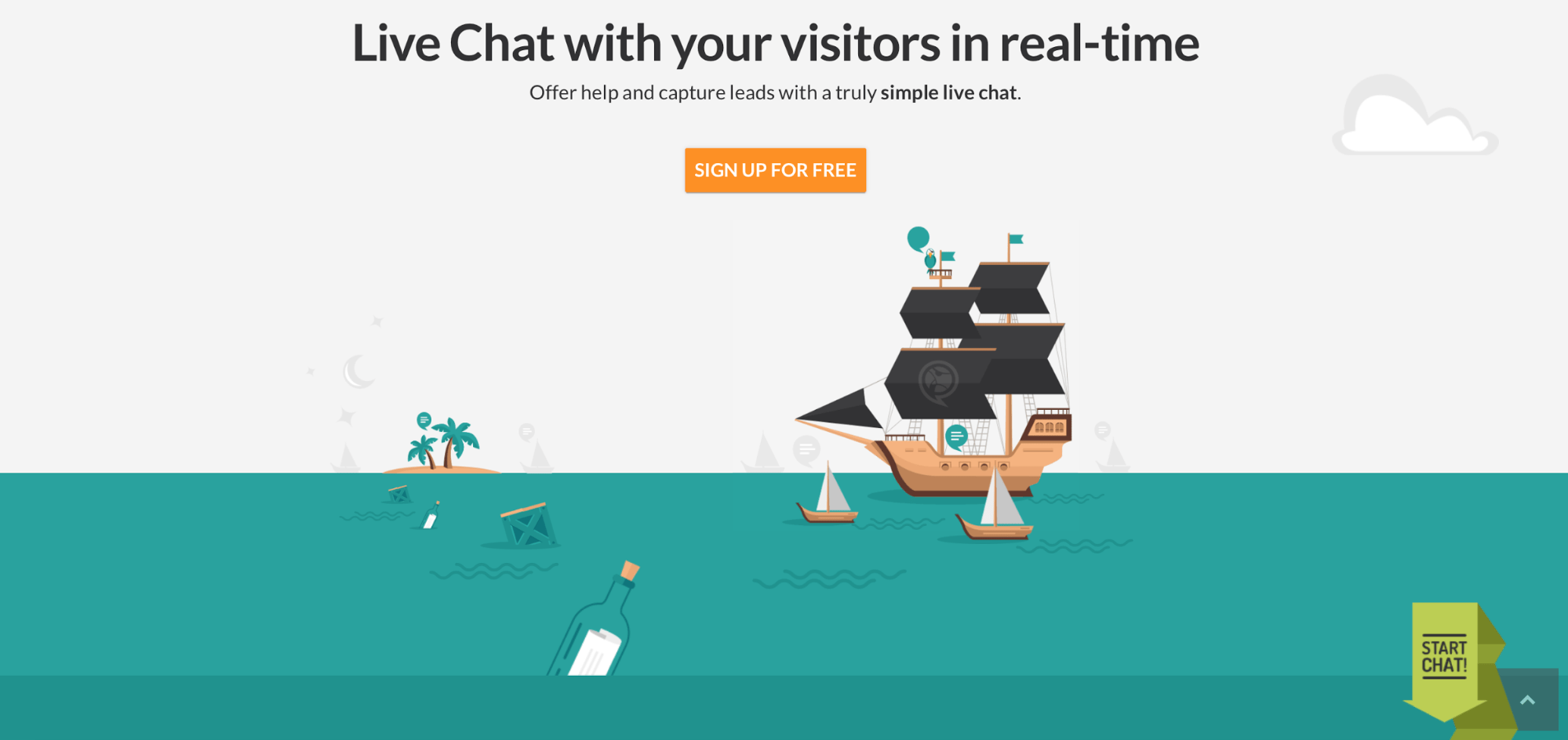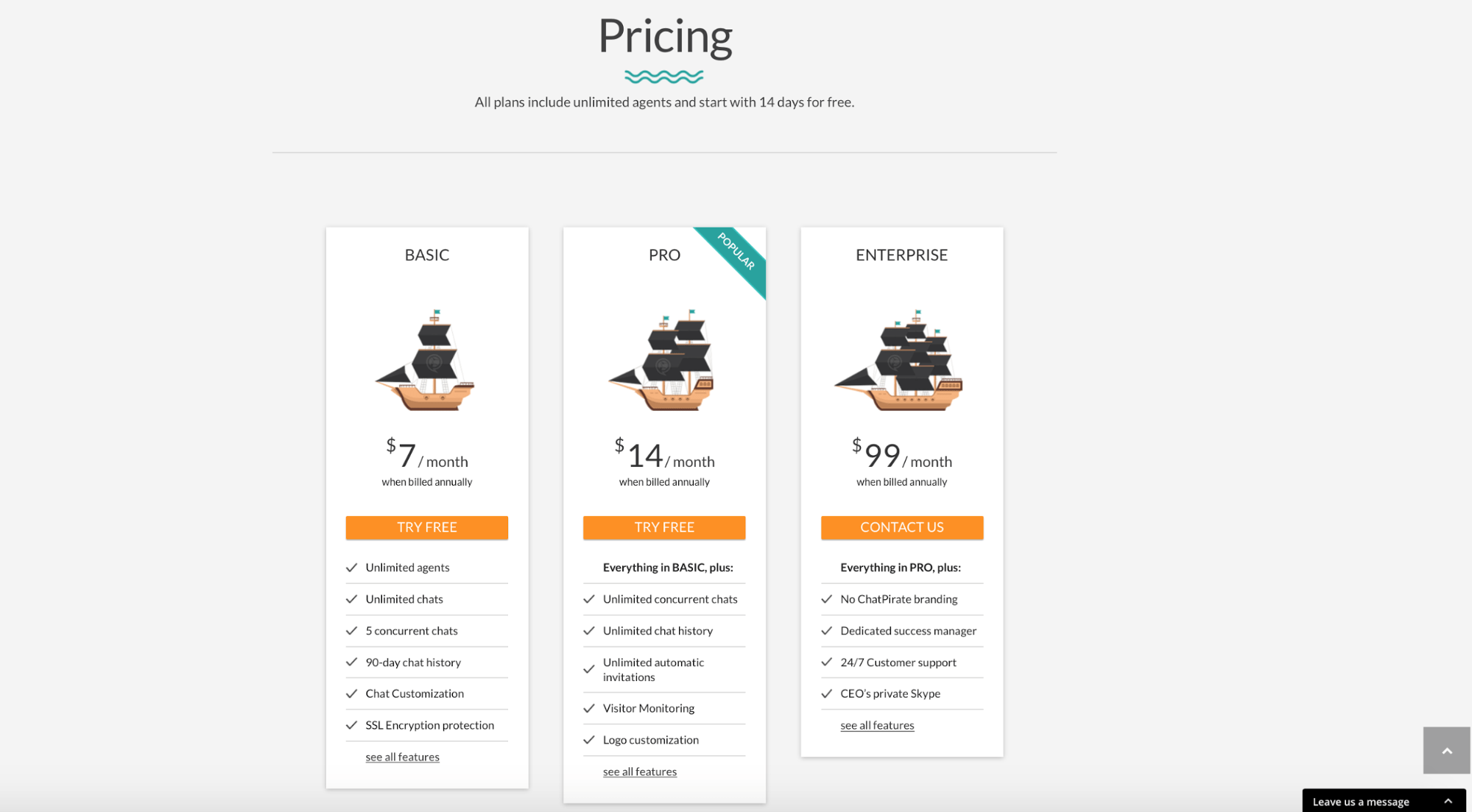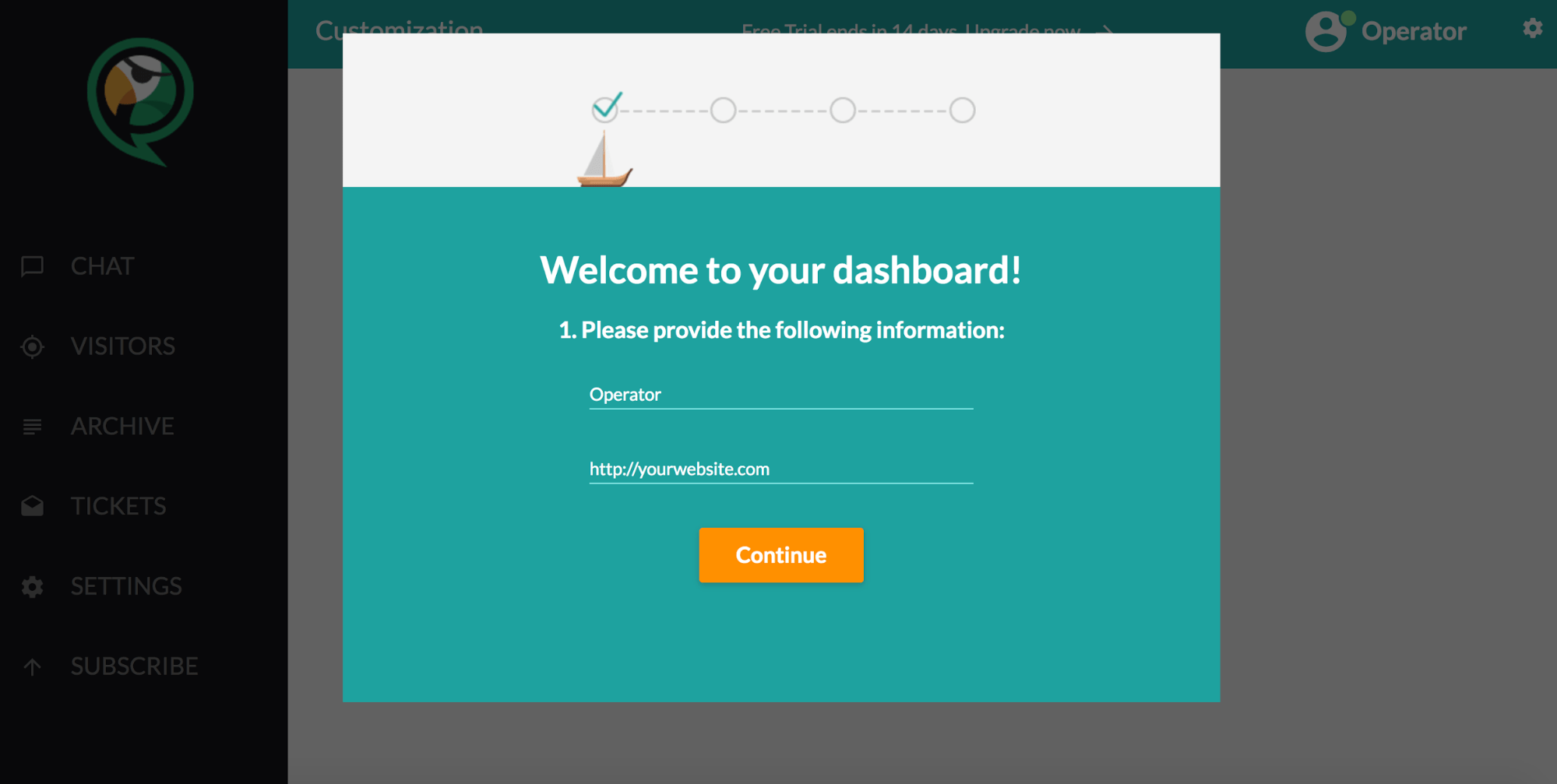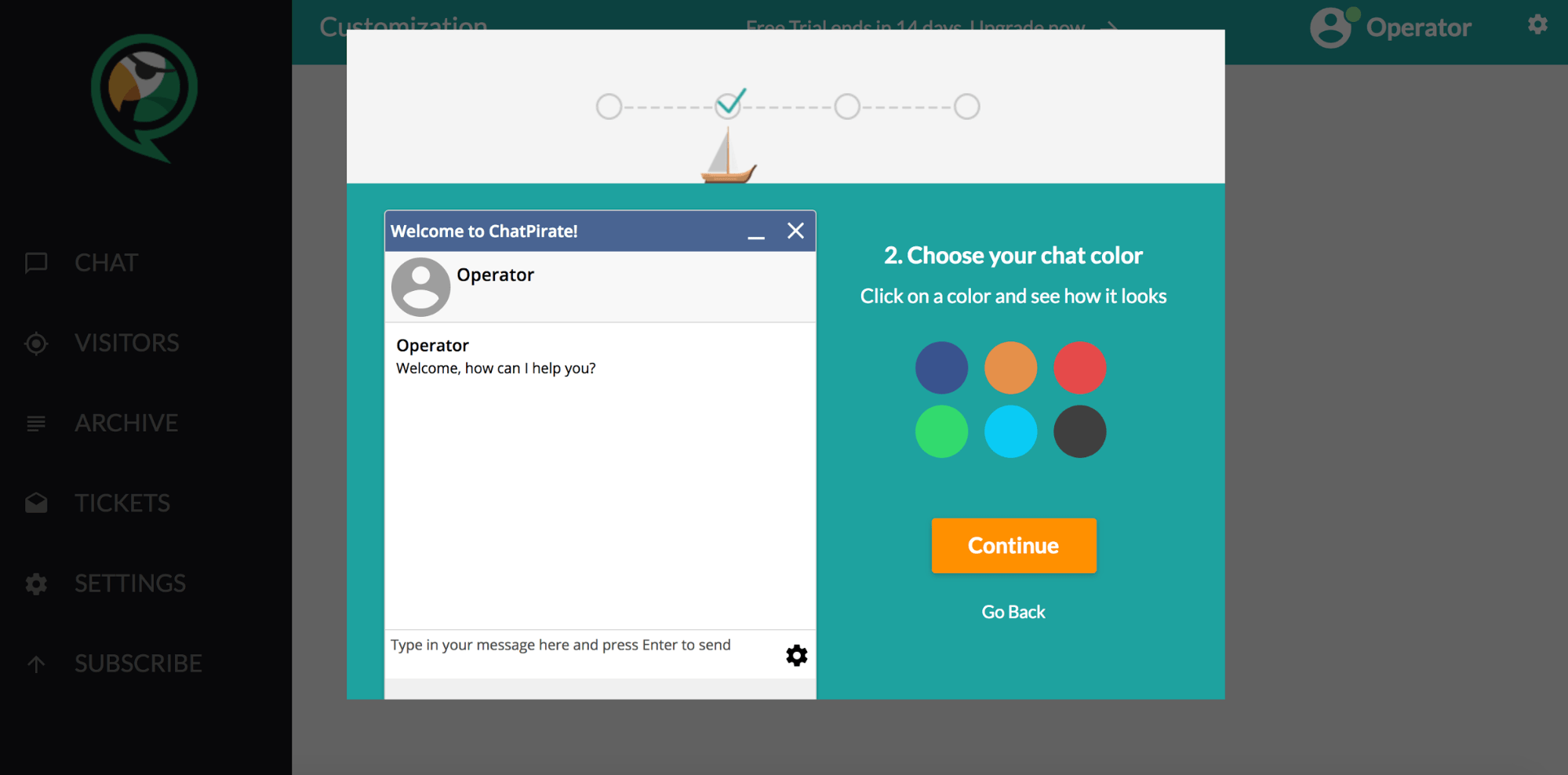 ChatPirate
When you come into ChatPirate website, you can feel a fresh breeze of sea and the thrill of pirates. We can see a lonely island, bottles with letters in the water and a sailing ship with a talking, I mean chatting, parrot on it.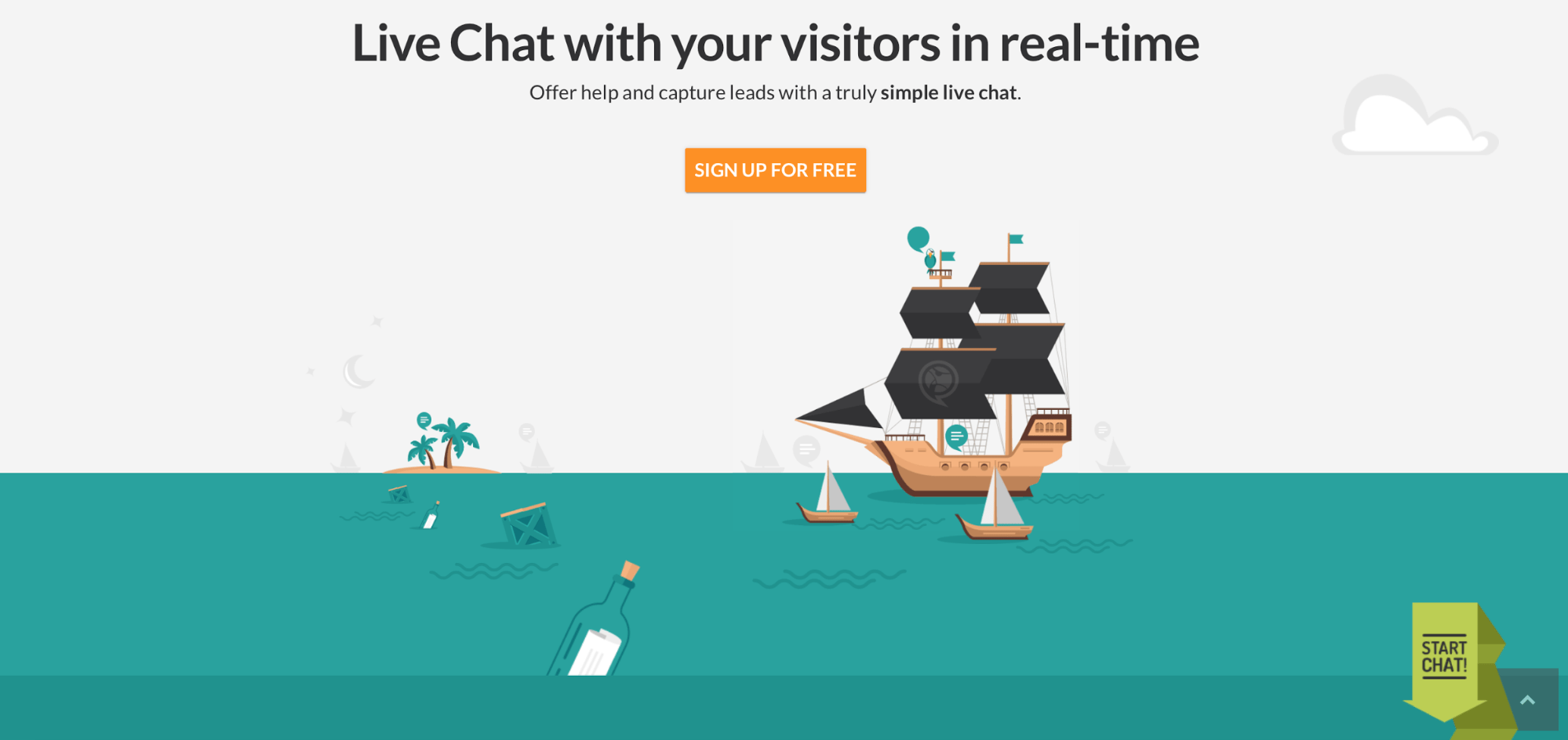 If you want to sign up to ChatPirate, you simply need to click on the button "Sign up for free."
There's a big, orange button in the middle of the website and it's hard to miss it. You click on it and you're ready to set up your account, which turned out to be an easy and pleasant experience.
Once you create an account you can go through a mini on–boarding that helps you set up your live chat. For example you can choose your live chat color, customize your welcoming message and paste ChatPirate's snipped on your website. Going through all these steps mean that you've successfully set up your dashboard.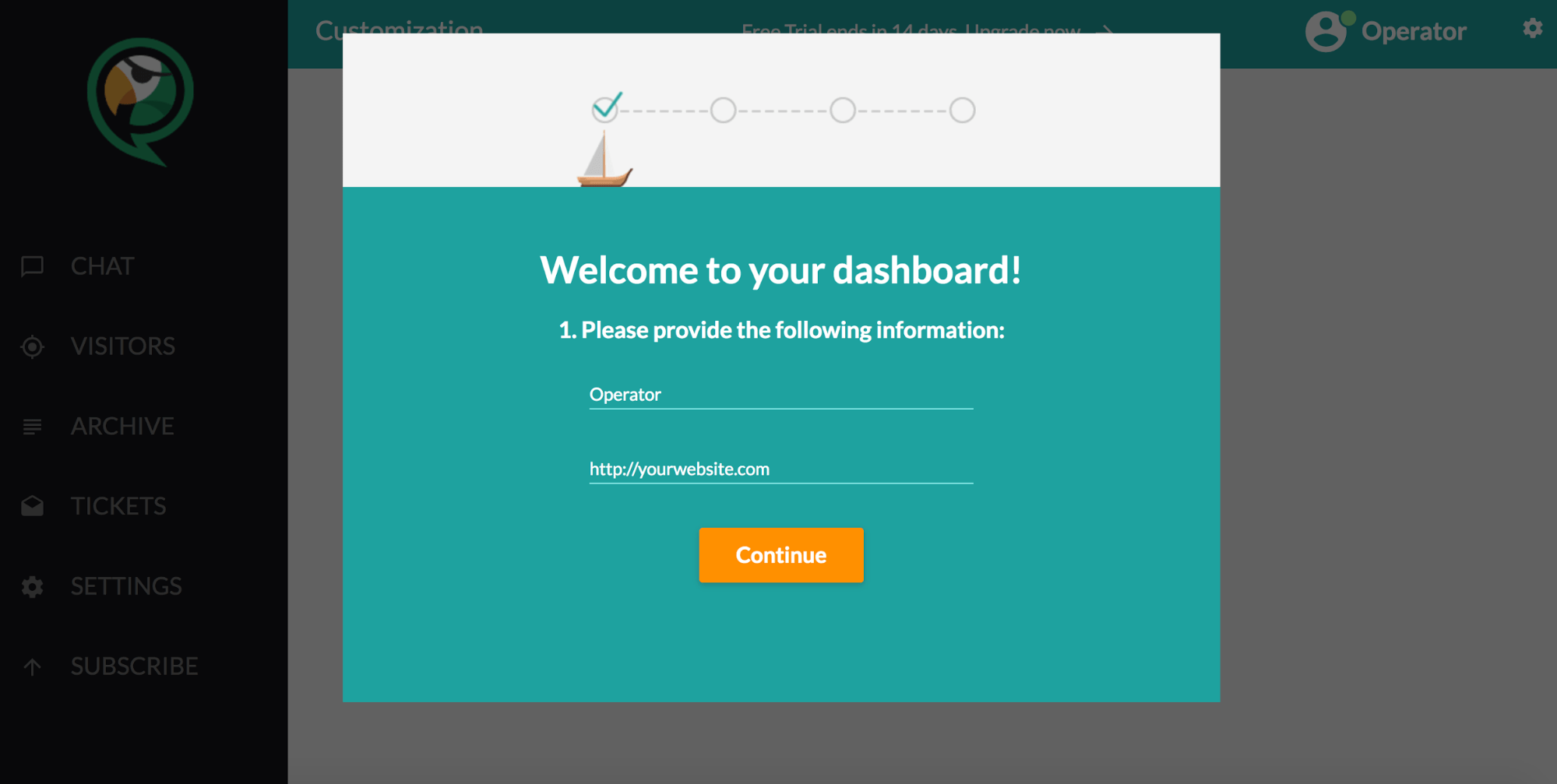 There's a sidebar on the left with a few sections, like Chat, Visitors, Archive, Tickets, Settings and Subscribe. The last one allows you to upgrade your plan and gives you an insight into your current billing.
Live Chat Features
ChatPirate offers some features when it comes to live chat itself, customization, analytics and security. In live chat section they offer sneak peek, where you can see what a visitor types before they hit send. It allows you to react quicker and provide faster support.
It's worth noticing that other live chat providers offer this feature too. Besides that, ChatPirate also offers visitor monitoring, multiple chats, manual chat invitations, e-mailing of transcripts, sending files, behavioral targeting of prospects, away mode for operators and after hours messages. These are definitely nice to have features but it's nothing we haven't seen before.
Customization
You can customize your chat window, integrate with external systems, use different eye-catchers to catch the attention and start a chat.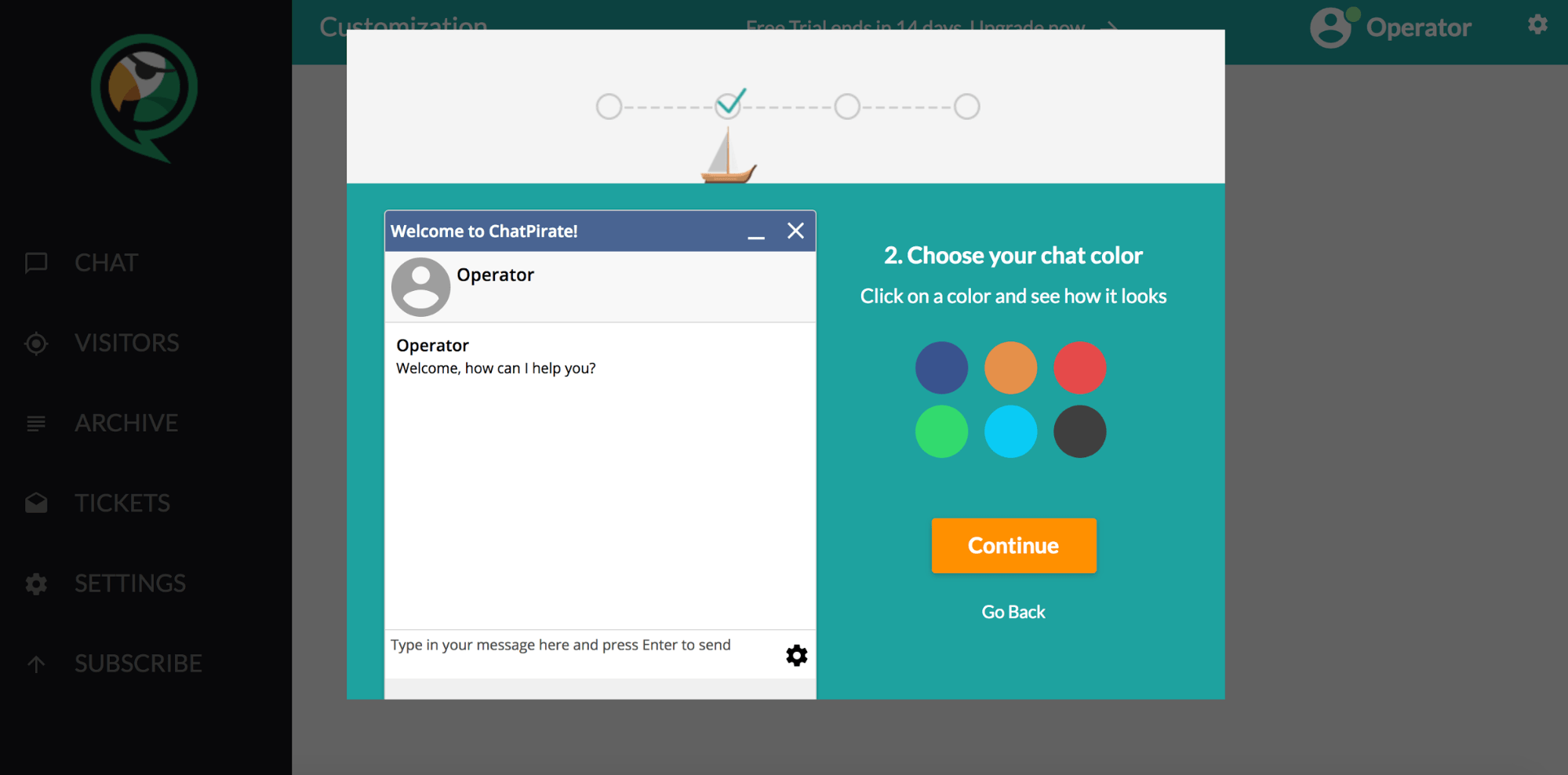 Analytics
When it comes to analytics, all of the features listed on site, like goals and agent rating are still yet to come. It's a big disadvantage compared to other live chat providers. Being able to analyze the traffic on the website, the source of the visitor and how much time does he spends on the site is crucial for ecommerce business.
Security
When it comes to security, they offer SSL Encryption, account permissions – it means you can choose between full or limited access to ChatPirate for your operators.
Integrations
ChatPirate integrates with a few 3d party providers, like BigCommerce, Joomla, Magento, Shopify, Weebly, WooCommerce. it's not a lot but hopefully there's much more to come.
Pricing
ChatPirate offers 3 plans Basic, Pro and Enterprise. All plans include unlimited agents and start with 14 days for free. Basic plan costs $7/ a month when billed annually ($9 when billed monthly), Pro plan costs $14/a month ($18 when billed monthly) and Enterprise is $99 a month. Pro is their most popular plan. It has all the features from the Basic plan plus additional ones. See on the screen.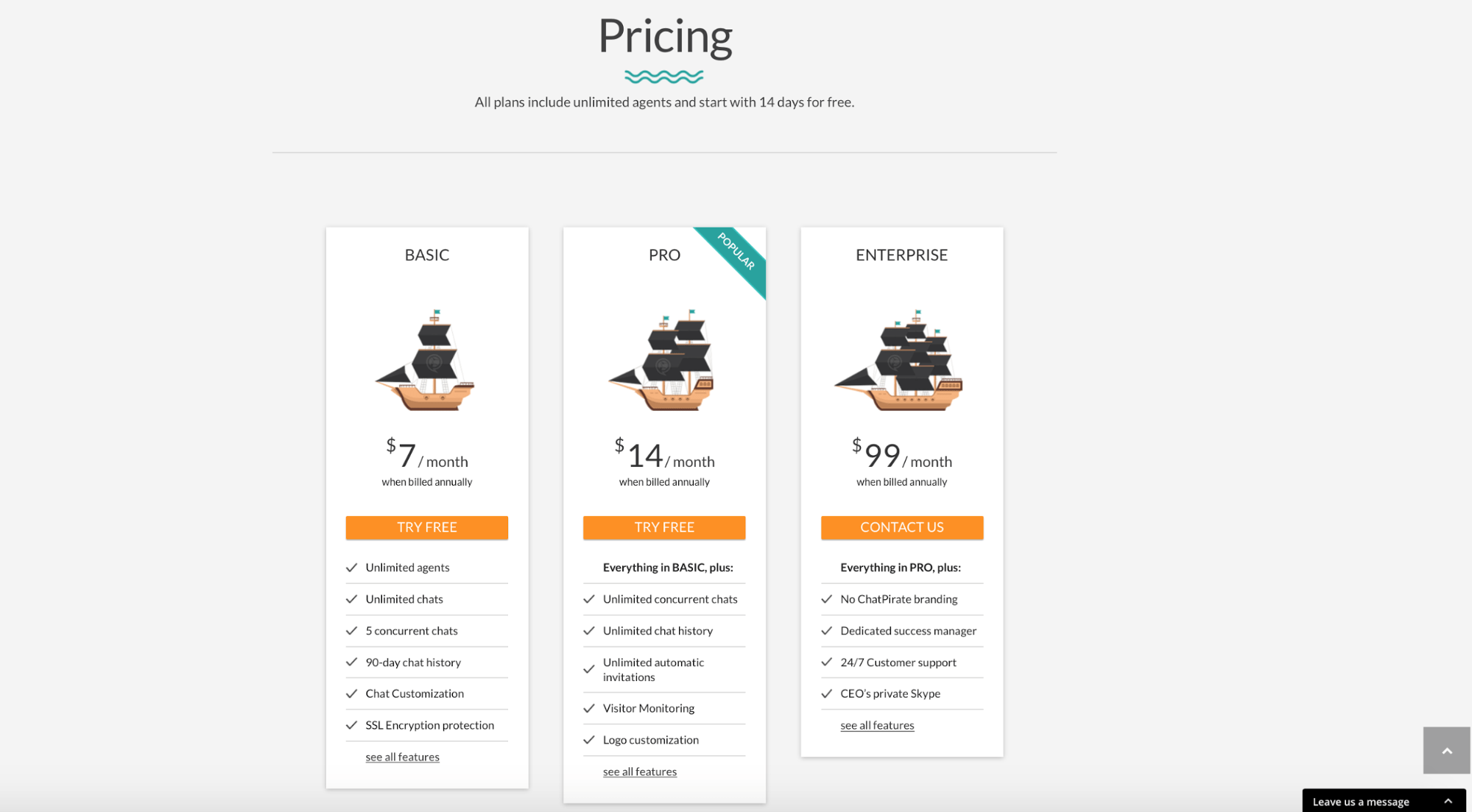 Disadvantages
ChatPirate doesn't have a mobile feature yet. I think it's the biggest disadvantage a live chat can have. It suppose to help you provide better and faster customer service, and without having the app on mobile you won't be able to answer when you're outside the office.
The verdict for ChatPirate
ChatPirate is a nice looking app, but it looks so basic I feel like it still needs a lot of developing. They have basic features but they don't stand out a bit from a competition.
The lack of integrations for example with social media and no mobile feature are crucial in live chat business today. The same as built-in analytics. If you want to provide fast customer service you may want to look somewhere else.