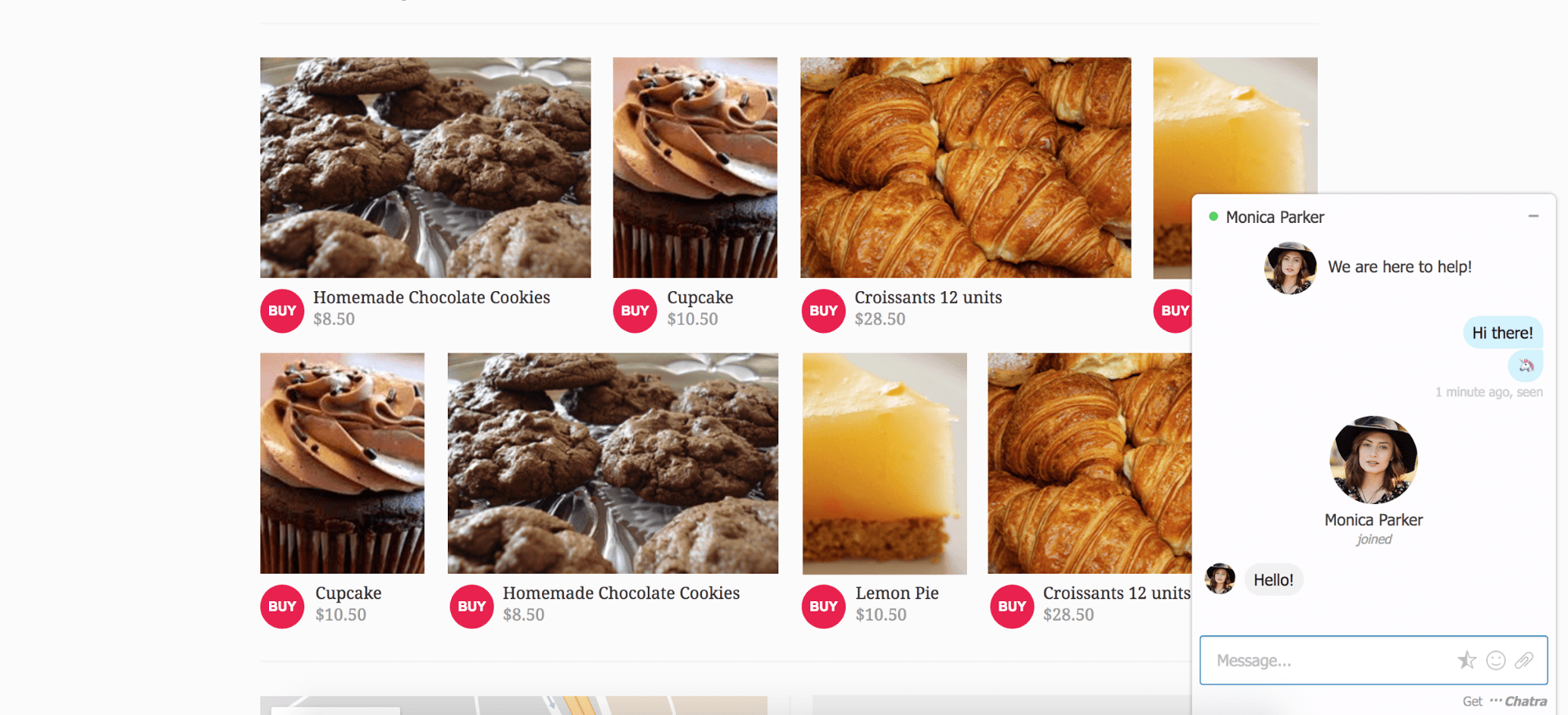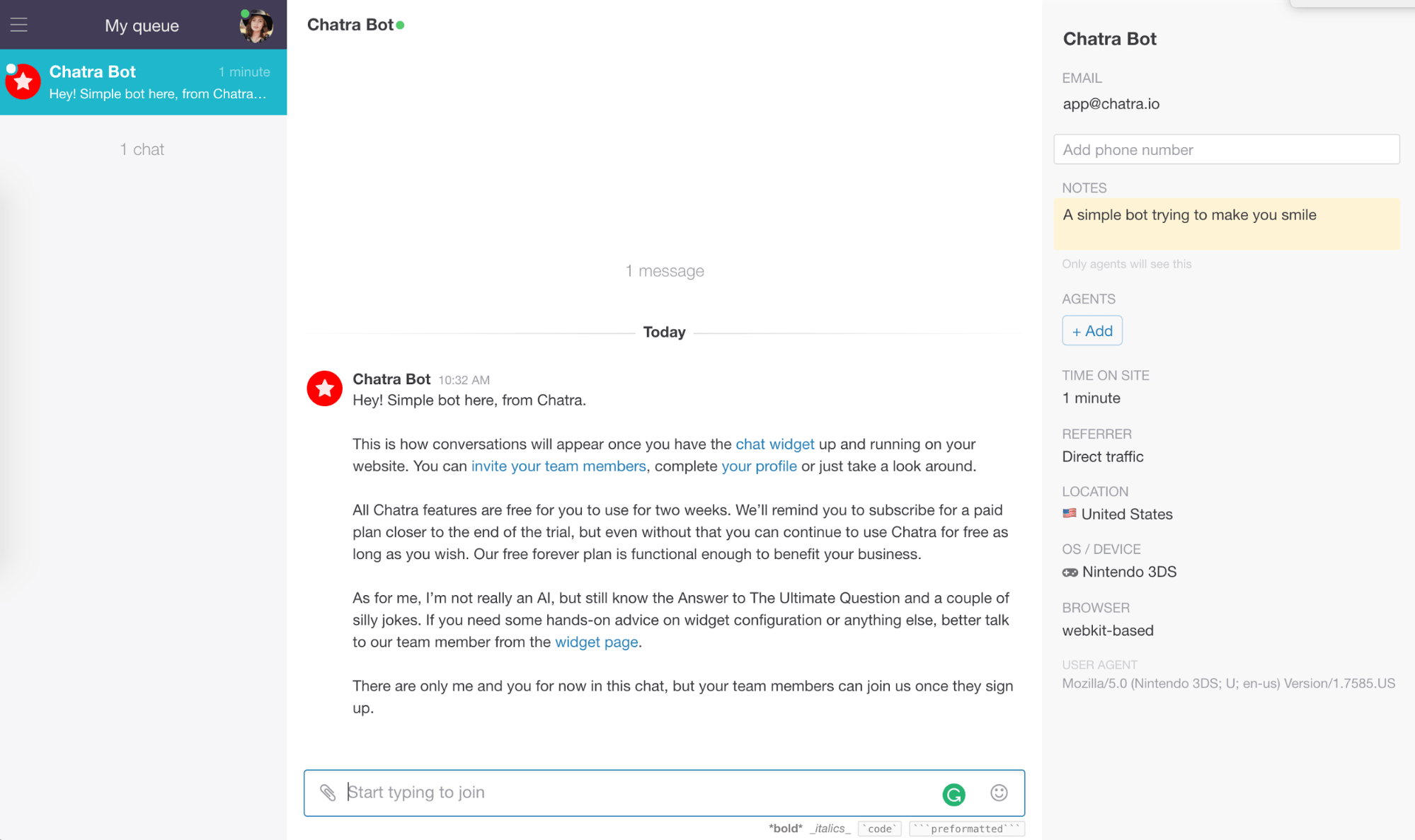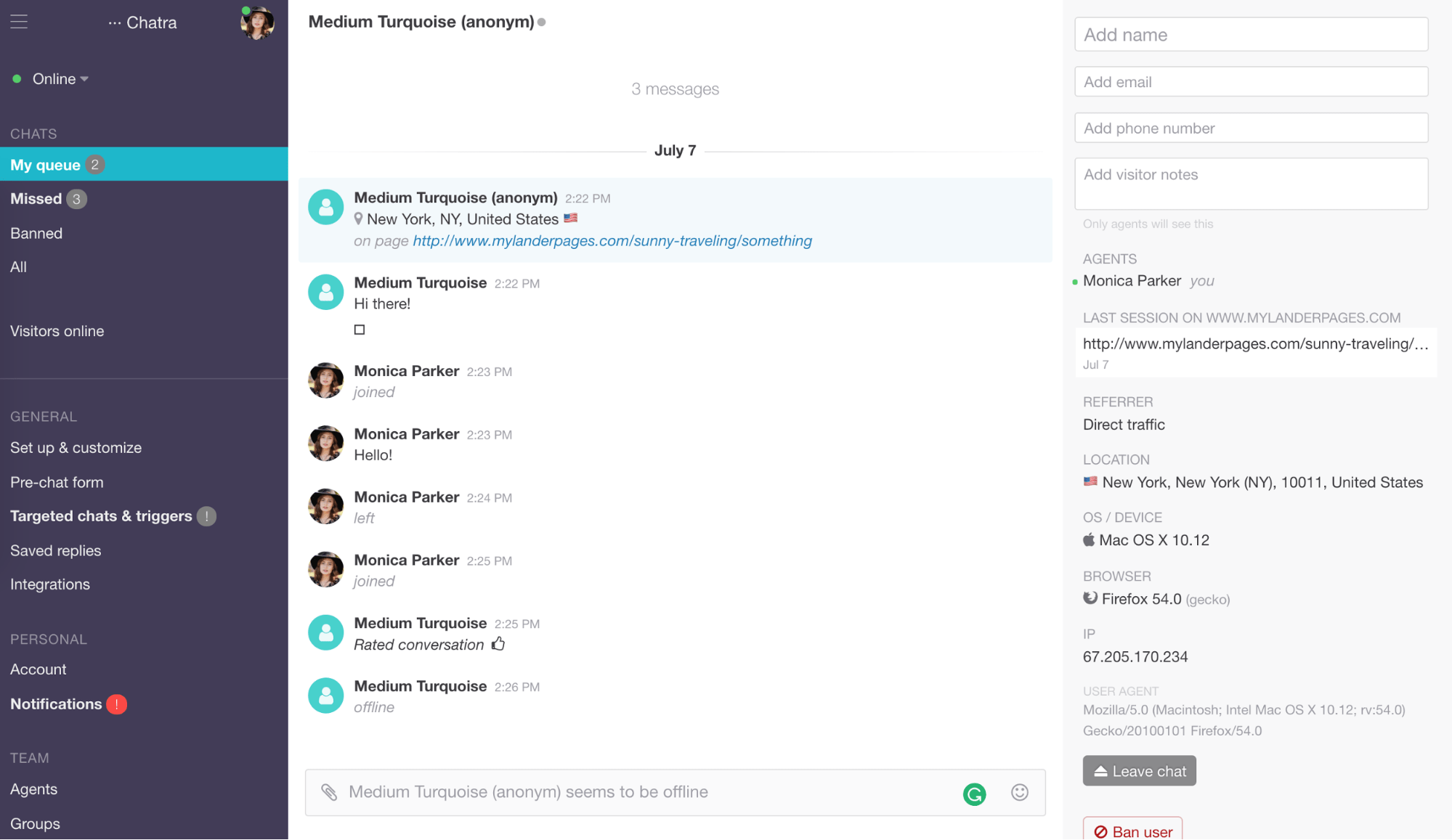 Chatra review
Chatra is a regular live chat application that offers a 14-day free trial and two plans: Free (one agent only and some features are missing) and Paid $19 per agent/mo. Upon signing up, you're taken to application's dashboard. A nice thing about it is that you don't have to install the code to see how talking with customers looks like – you get a message from the Charta Bot.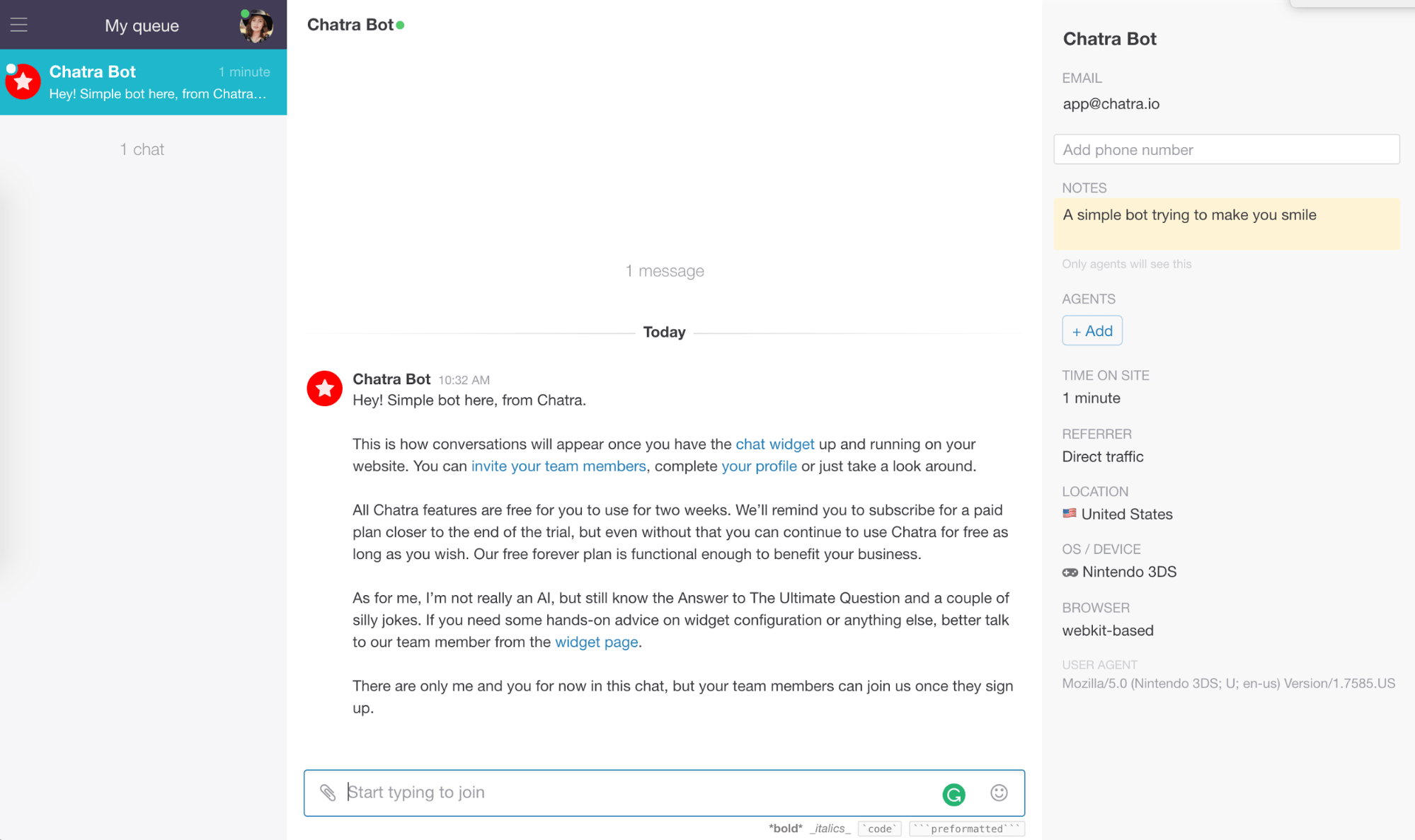 From visitor's side almost everything looks fine: you can send messages and attachments, rate a chat and send emojis.
What I didn't like was the fact that my website visitor received an automated message "We are here to help!" – that seemed like the agent was already taking care of this message. Meanwhile, when I started to type a response, my visitor saw that the agent joined the chat – that's quite weird.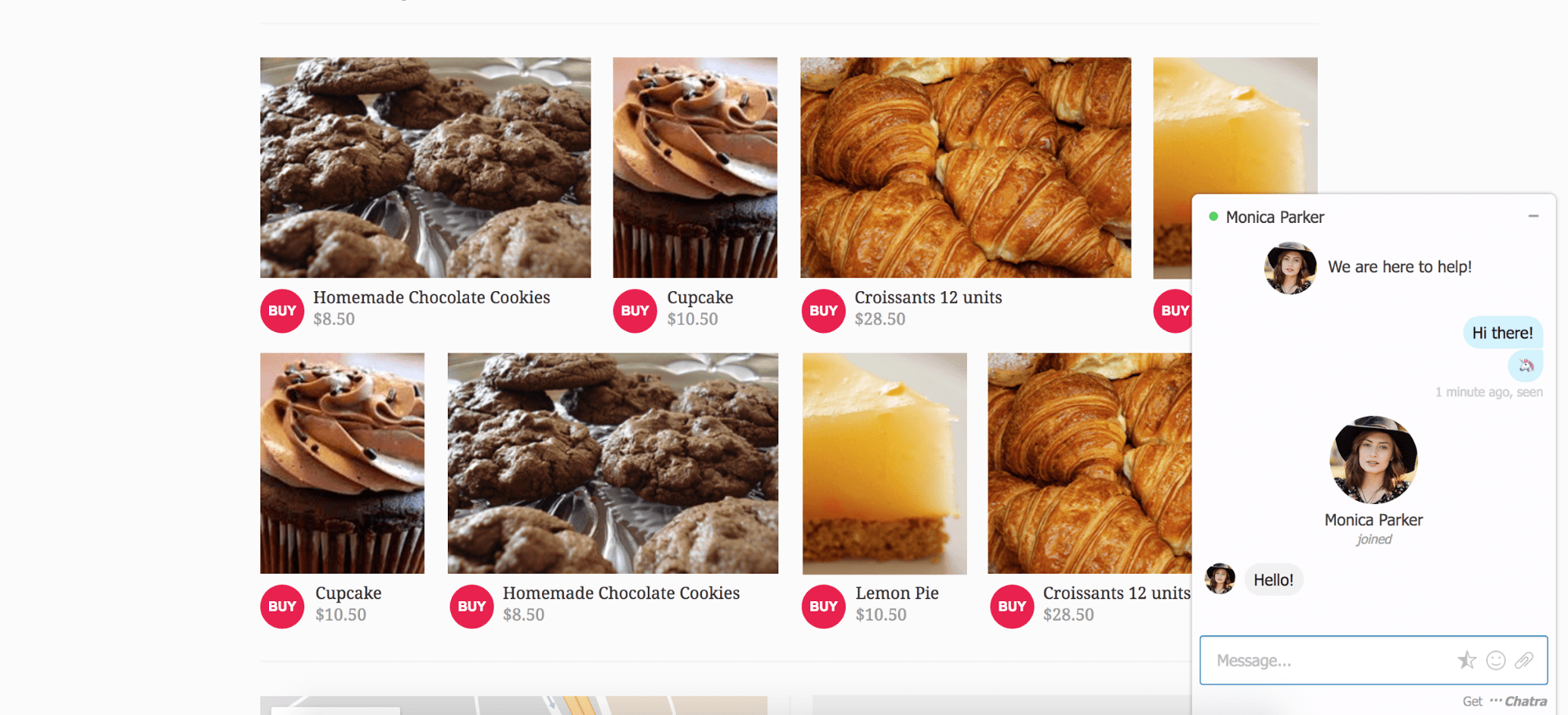 The dashboard is nicely design and makes chatting easy and intuitive. You're able to see how many incoming chats you have, how many visitors are waiting in a queue and how many chats you've missed.
It's easy to customize your window, set up a pre-chat form, turn on targeted chats and triggers (greetings). You can save the most often replies, create groups and check basic reports.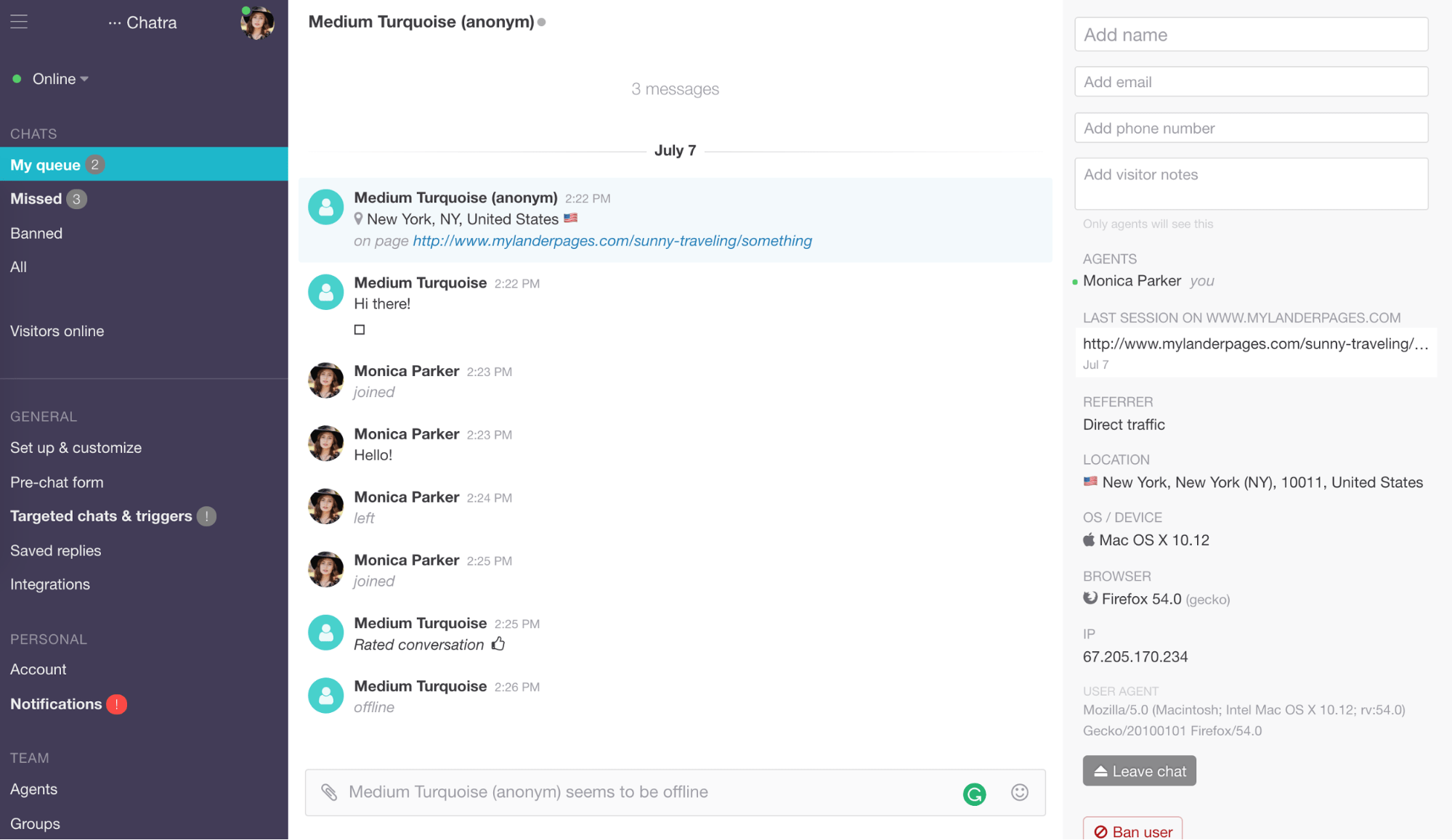 Chatra pros
Chatra is a nice and easy to use live chat software for both: agents and website visitors. It offers a free plan (for one online agent though) and a bunch of standard features that help to chat more effectively.
It also offers useful integrations with Google Analytics, Slack and HelpScout.
Chat window customization
All standard features are present
Desktop and mobile apps
Integrations with Google Analytics, Slack and HelpScout
Chatra cons
The biggest problems I had with Chatra was that it doesn't offer a ticketing system. I also didn't that it offers only basic reporting.
Only 14-days trial
No ticketing system
Basic reporting
The verdict of Chatra
When I read "What makes Chatra unique" section, I was asking myself if their marketing team has done market research. According to this website chat history, premade replies, "Groups" feature, chat distribution or SSL encryption is unique in live chat industry.
Well, it isn't.
Chatra is a fine, basic live chat application that will be suitable for someone who wants to open a new channel of communication with their customers and I would recommend it to small and medium businesses.