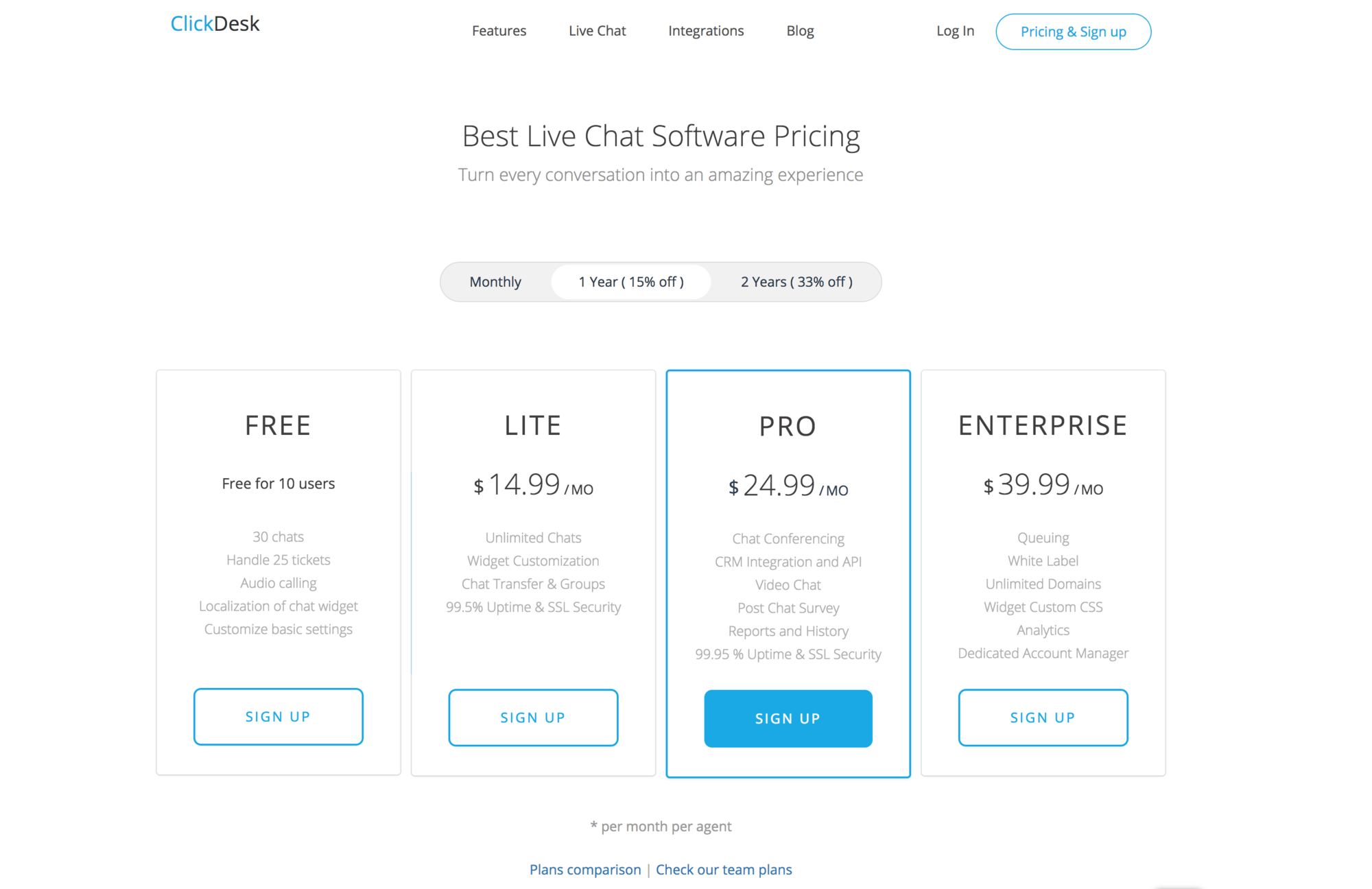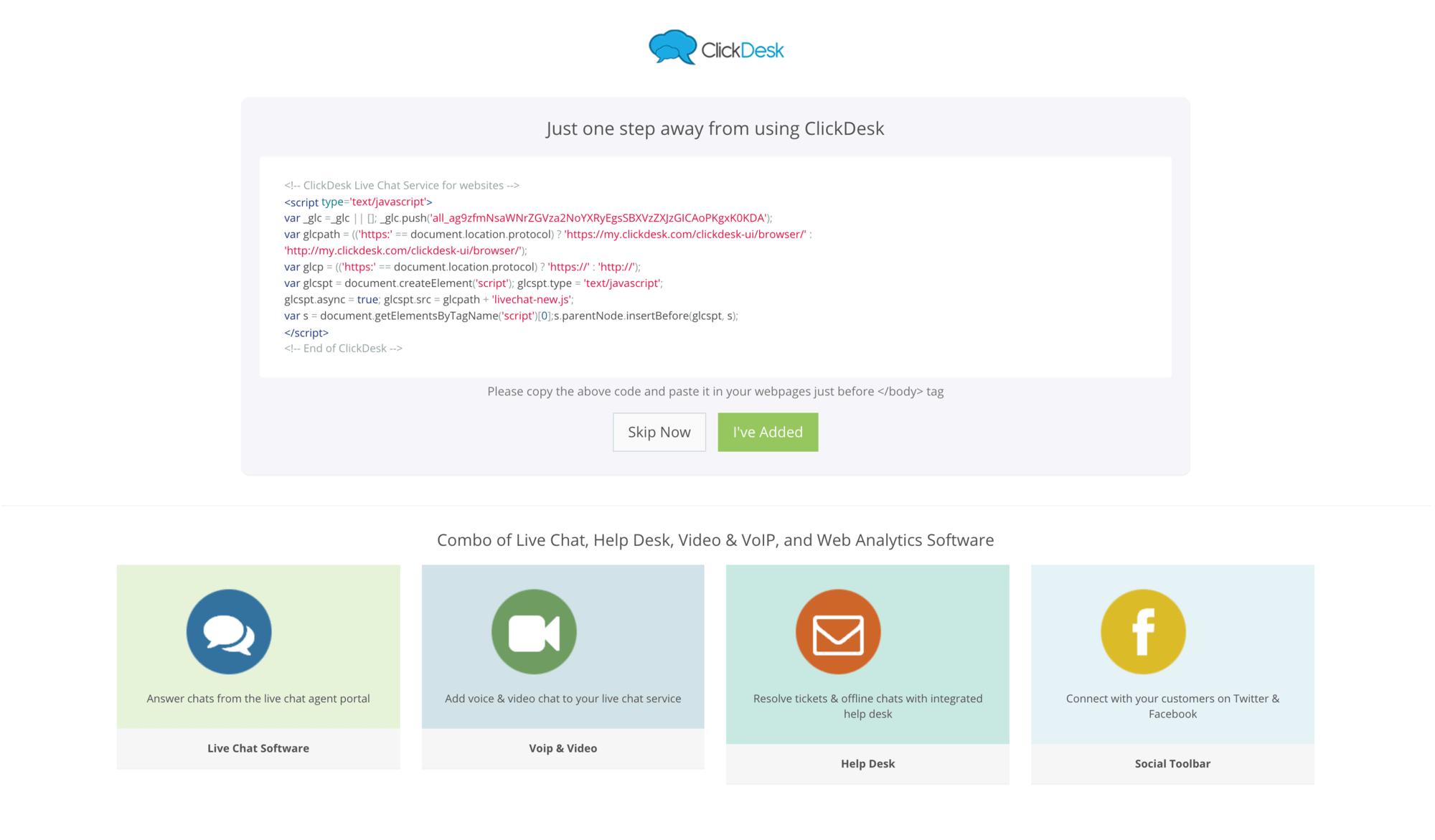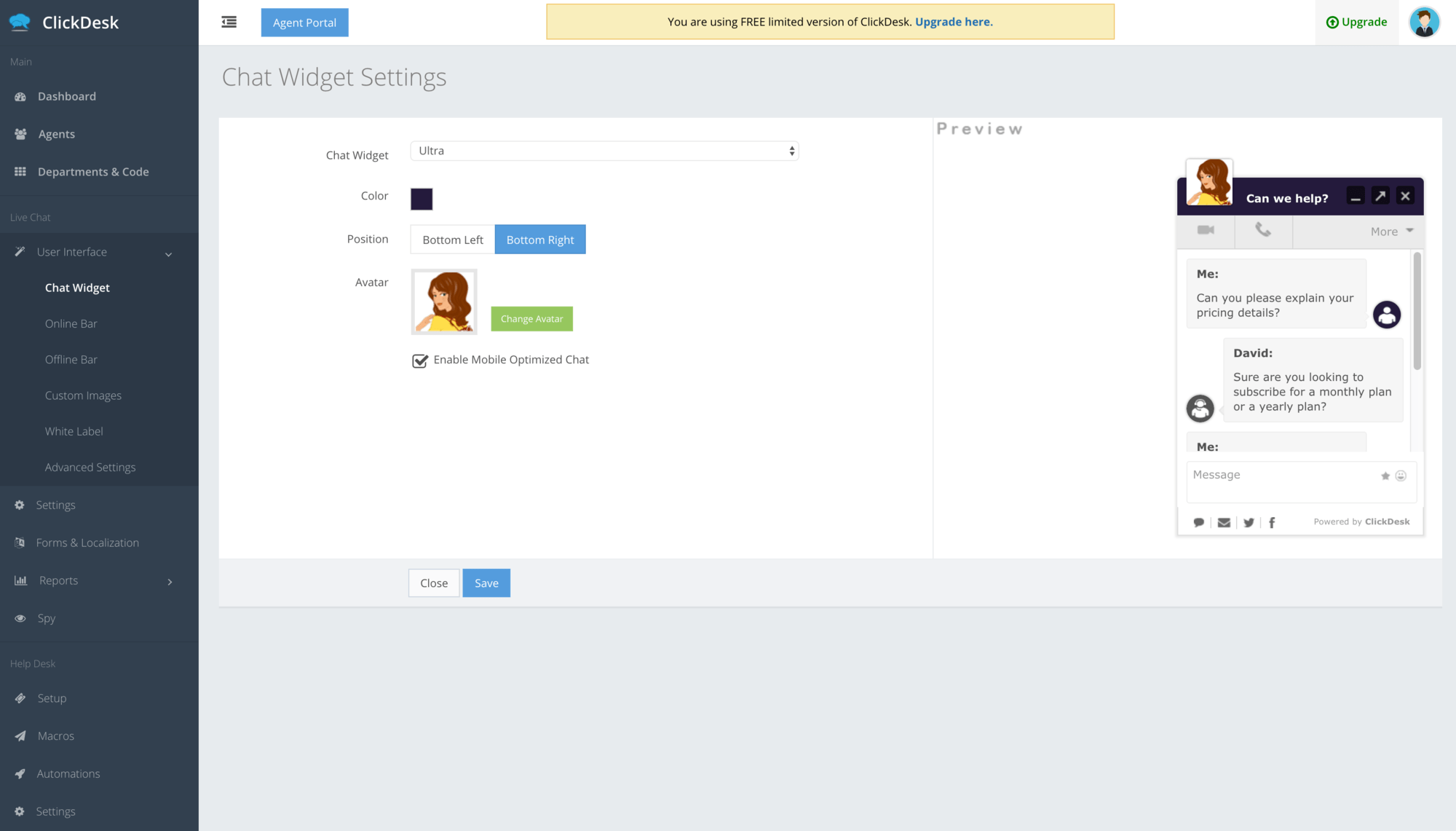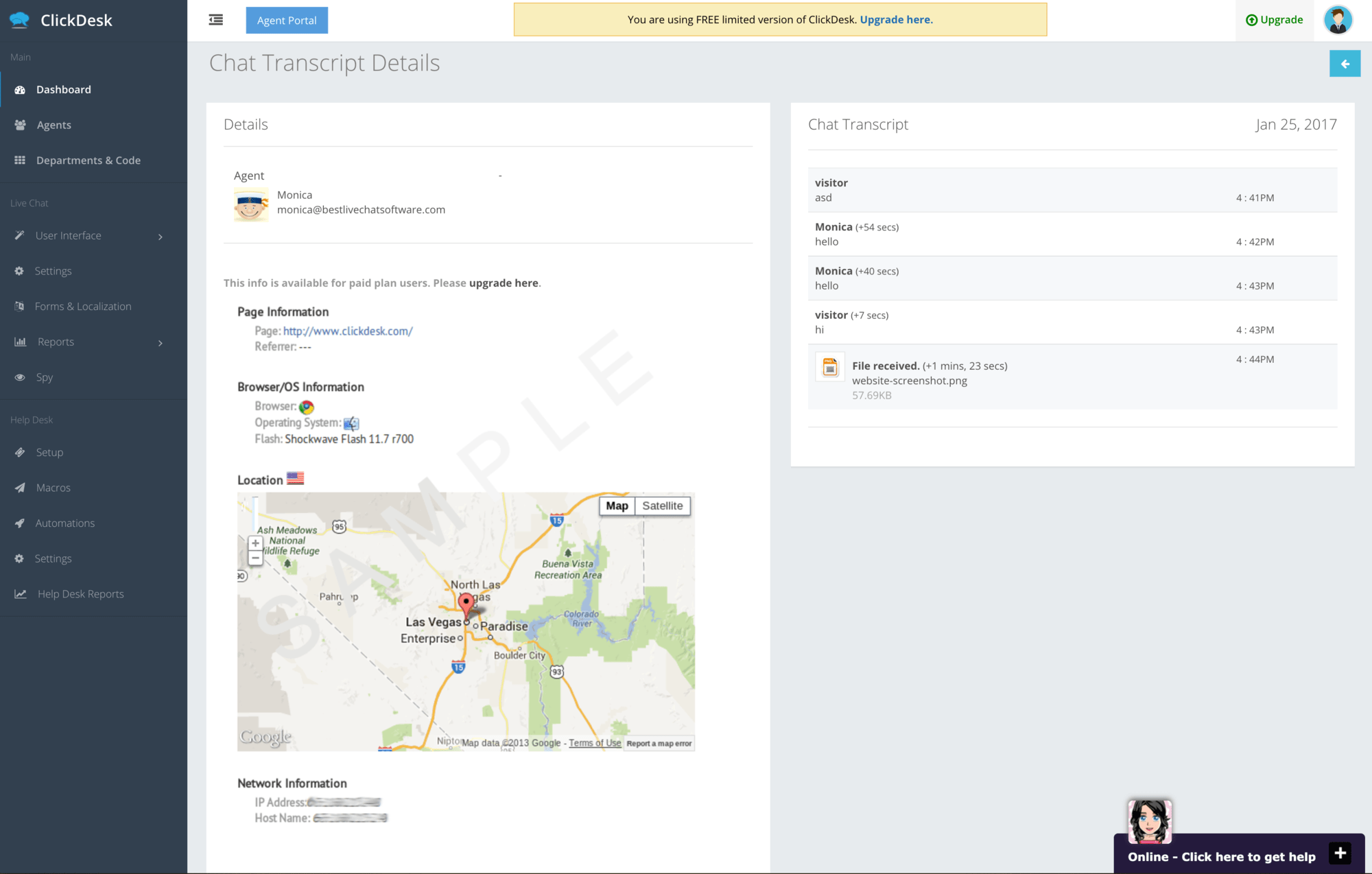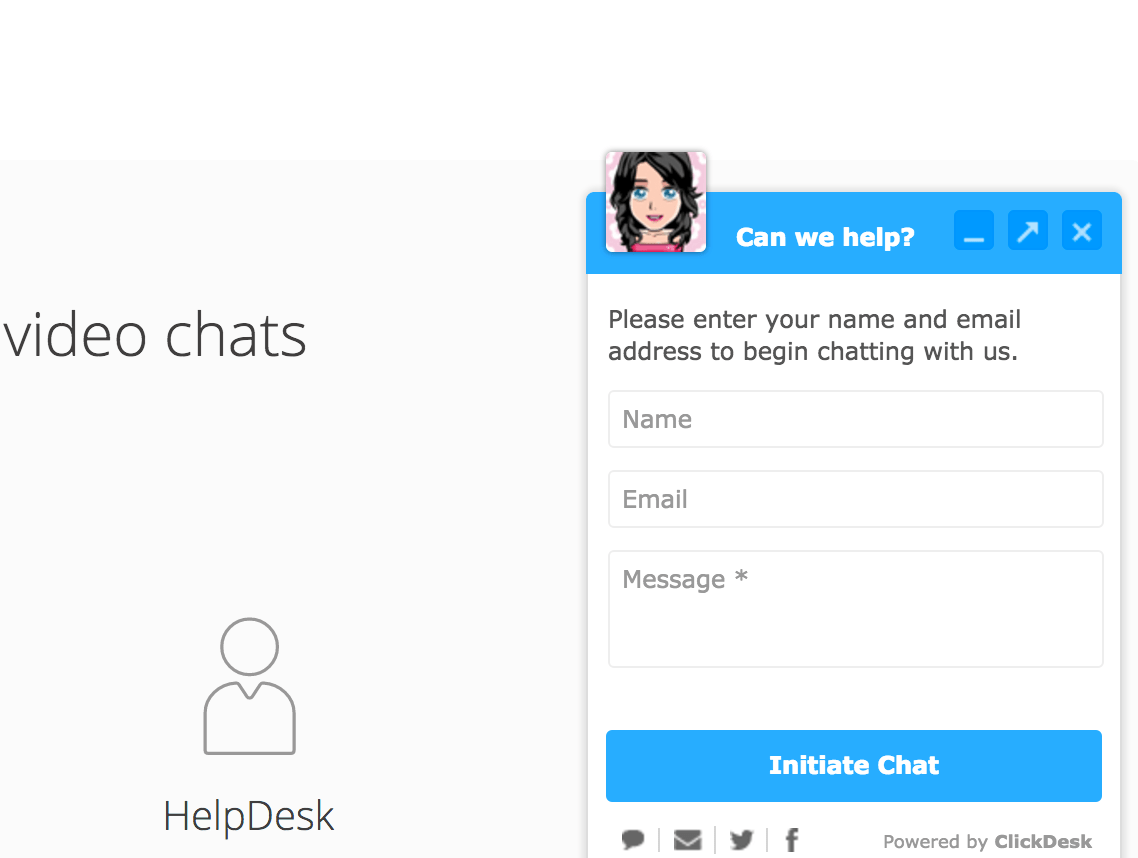 ClickDesk live chat review
ClickDesk is an Indian-based company offering all kinds of customer service related tools: from a help desk, through live chat to video and voice chat.
Today, I'll be looking at their live chat and what it has to offer for your business.
We'll go for the forever-free plan to check out the basic chat functionality. Although ClickDesk offers a 'trial' of their paid plans, the trial comes in the form of a money-back guarantee. You basically need to pay for the test and you can get your money back after the test is done, which is not as consumer-friendly as I'd hope.
ClickDesk live chat setup
After signing up for the forever-free account (which has certain limitations but more on that later) I immediately reached the code setup screen. After placing the code on my website, I tried to validate it but, for some reason, the request wouldn't go through.
To get around that, I simply skipped this step and I was moved to the application screen. The code setup screen is basically all the onboarding you can expect. It's a pity that there's no tutorial showing you the other parts of the app.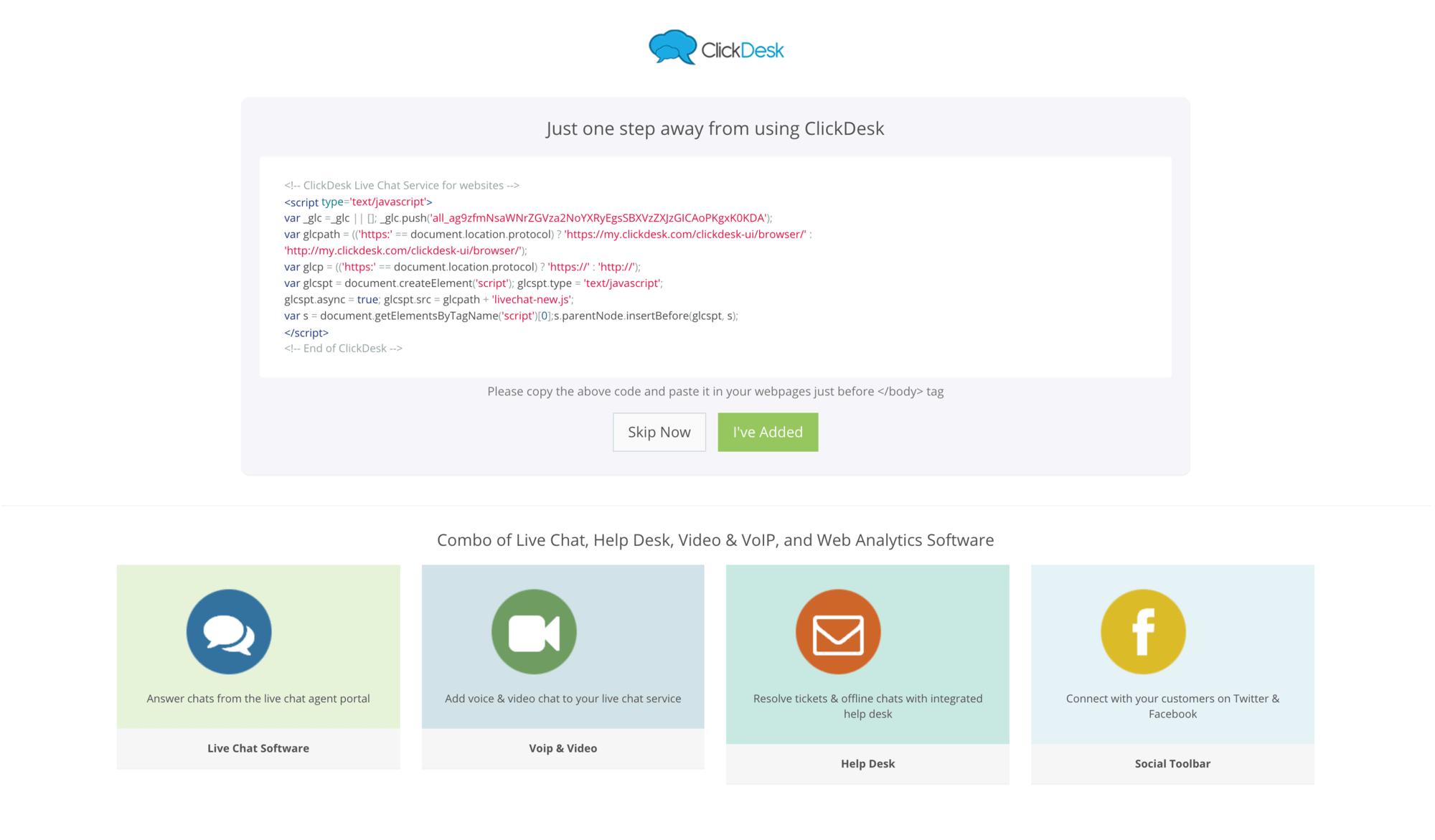 When it comes to the app itself, I discovered that it's actually two separate apps: the Admin app, where you set up all the things and an Agent app, where you chat with customers. Not sure why the ClickDesk team decided to go for that kind of setup. They could just as well place the contents of the Admin app under a 'settings' section of some sorts.
First chat on ClickDesk
After placing the code on my test website, it was time to start the first chat. However, the app didn't seem to be ready.
When I switched to the agent app, I was getting an offline form of the chat window and was only able to leave offline messages. Only after a couple of tries, I managed to get a real live chat going.
The chat window itself is fairly standard (at least in the version I was testing). Customers can either chat or leave a message. There's also an option to leave a rate and one to use emojis in the conversations. However, I couldn't get the latter to work due to some padding bug (every time I tried to select an emoji, the layer closed before I could do anything).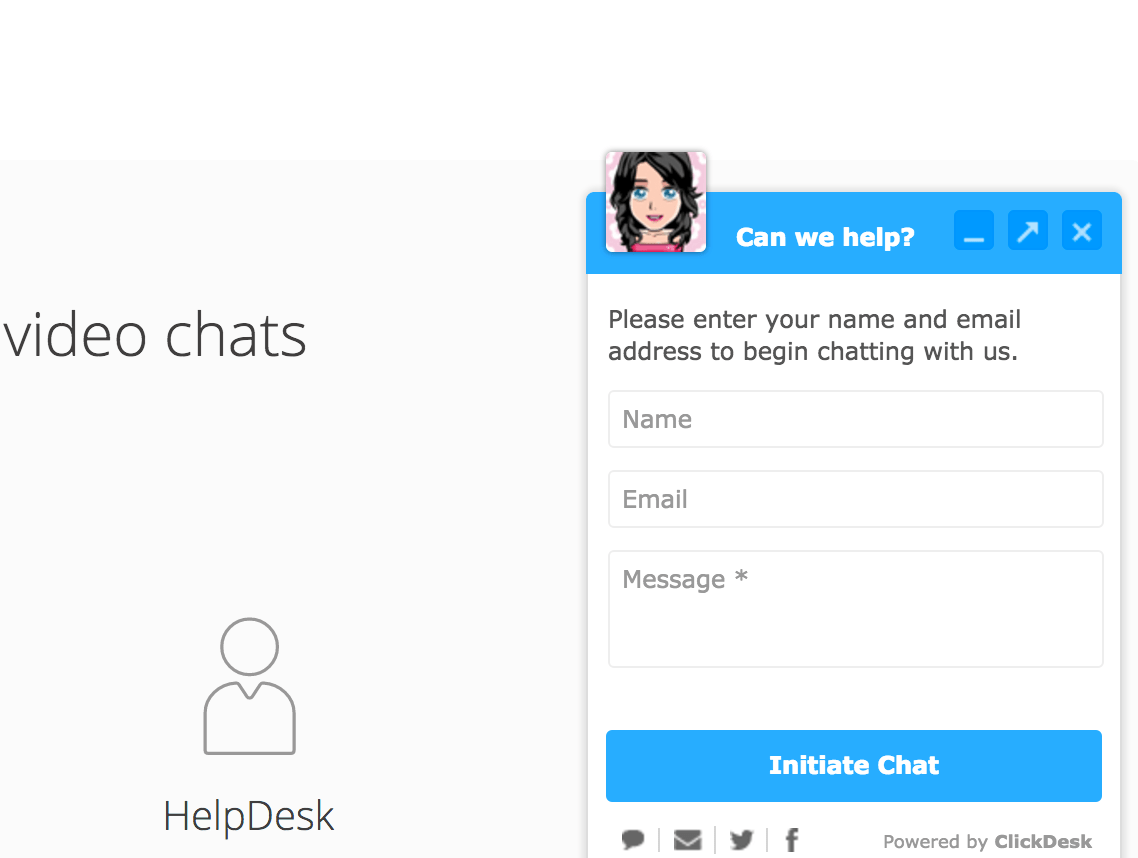 From the agent's perspective, you get a basic chat interface, some shortcuts to speed up the most common action, e.g. closing a chat.
What caught my eye in the agent interface was the ability to capture the screenshot of the screen the customer is seeing.
This potentially makes all matters much simpler for the agent as they don't need to ask the customer to do it and send over the screenshot. However, this is only the case if the screen is exactly the same and not simply re-rendering 'as it should look' vs 'how it actually looks'.
Another thing that jumped at me, both from the agent and customer side, was the way the avatars are handled. You get these default cartoon characters representing you and the customer and I'm not really convinced that it's a good idea.
It could work for less-formal industries like retail or gambling, but I have a really hard time imagining that someone in the legal or real estate fields would like to be represented like this.
Additional ClickDesk live chat features
When you go beyond the free plan, the product becomes much more interesting. According to the information on the ClickDesk website, in the full version of the product you get such option like:
video chat,
voice chat,
social toolbar (a way to grow your social media audience through live chat).
Apart from that, you also get a mobile app (Android only) that allows you to take your live chat with you if necessary.
Since all the paid features can't be tested before you pay for them (even though there's the money-back guarantee), I didn't get the chance to test them. I always try to go for the most likely user scenario and I don't think most users would like to make a blind choice and lock up anywhere from $15 to $40 per agent per month.
About ClickDesk live chat pricing
When it comes to the pricing itself, there's one more thing about it that always bothers me: longer subscription option pre-selected to include a discount and make the product seem cheaper than it really is.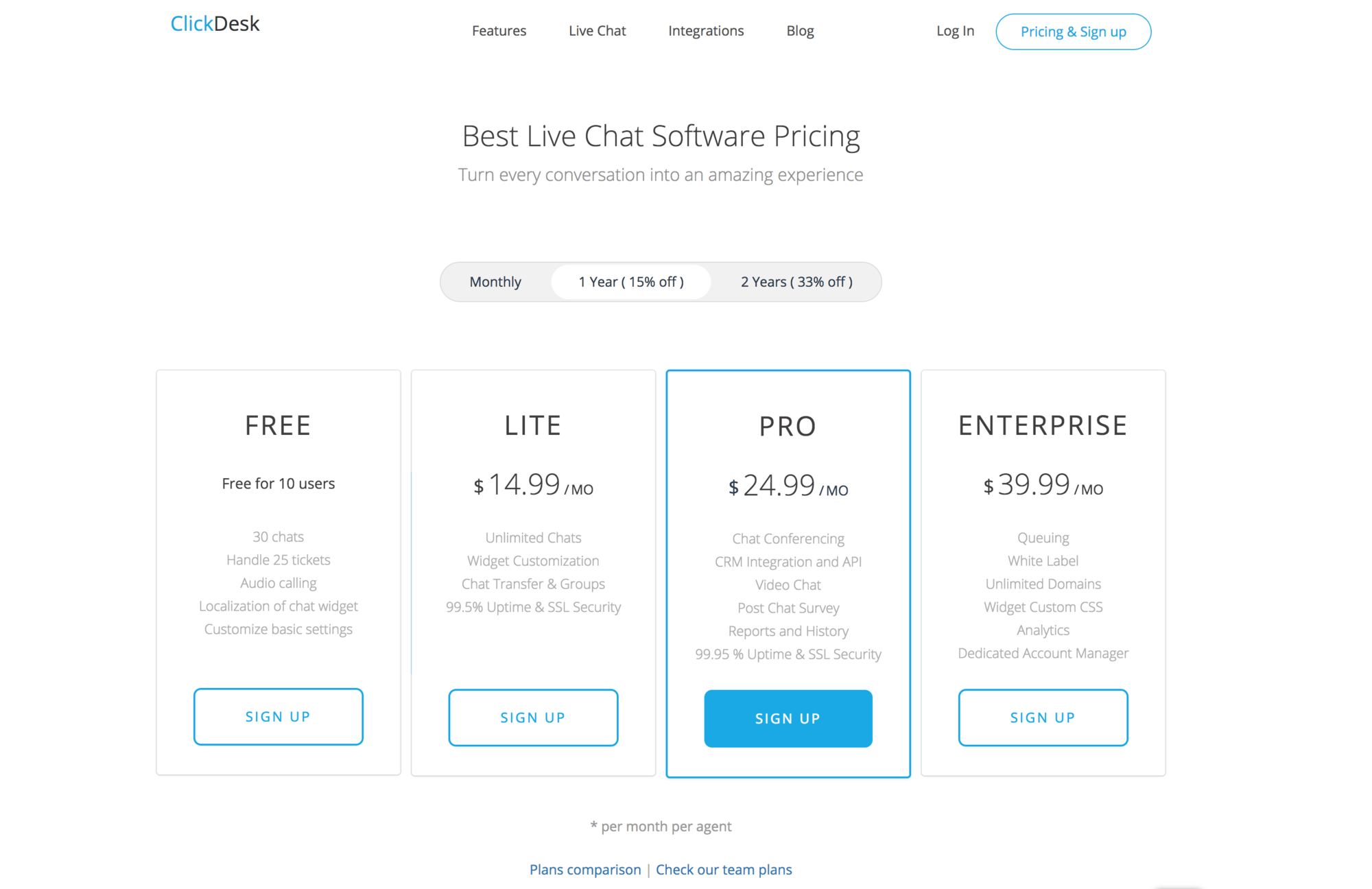 Why not give the real price immediately? It will come up sooner or later (probably when a potential customer goes to checkout) and it will be a big letdown then.
ClickDesk comes in four plans. First, there's the Free plan we already discussed, with core feature set and up to 10 active users/30 chats per month.
Second, the Lite plan, starting at $15 per agent per month, which adds team features like transfers and groups as well as a SLA and security features (I don't really like that they put a price tag on security).
Next, there's the Pro plan at $25 a month per user, with added shared chats, integrations, post-chat surveys, chat history and video chat.
Finally, there's the Enterprise plan at $40 a month per user per month, which adds queueing, a white label option, CSS customization and analytics.
If you ask me, the plans are really weird when it comes to the way the features are split. Such basic feature like history comes in the middle plan, which sets the starting price at $25 if you want to consider ClickDesk. What's more, to get something as basic as queueing (which can help smaller businesses that don't have a lot of staff to handle larger number of chats) or CSS customization comes in the Enterprise plan at $40 per month per user.
ClickDesk live chat review verdict
All in all, I don't think that ClickDesk is really worth it. The pricing structure is constructed in a way that forces you to pick either between the $25 or $40 plans. The 'free' plan is only a glorified trial since the cap on the number of chats you can have is set so low.
All the minor bugs and hiccups I've encountered didn't help with making me feel like the $25 or $40 asking prices were justified.
I think, there's a lot of potential in this product (the screenshot feature or the video chat options being a testament to that) but the ClickDesk team has still lots of work to do before I could recommend it.