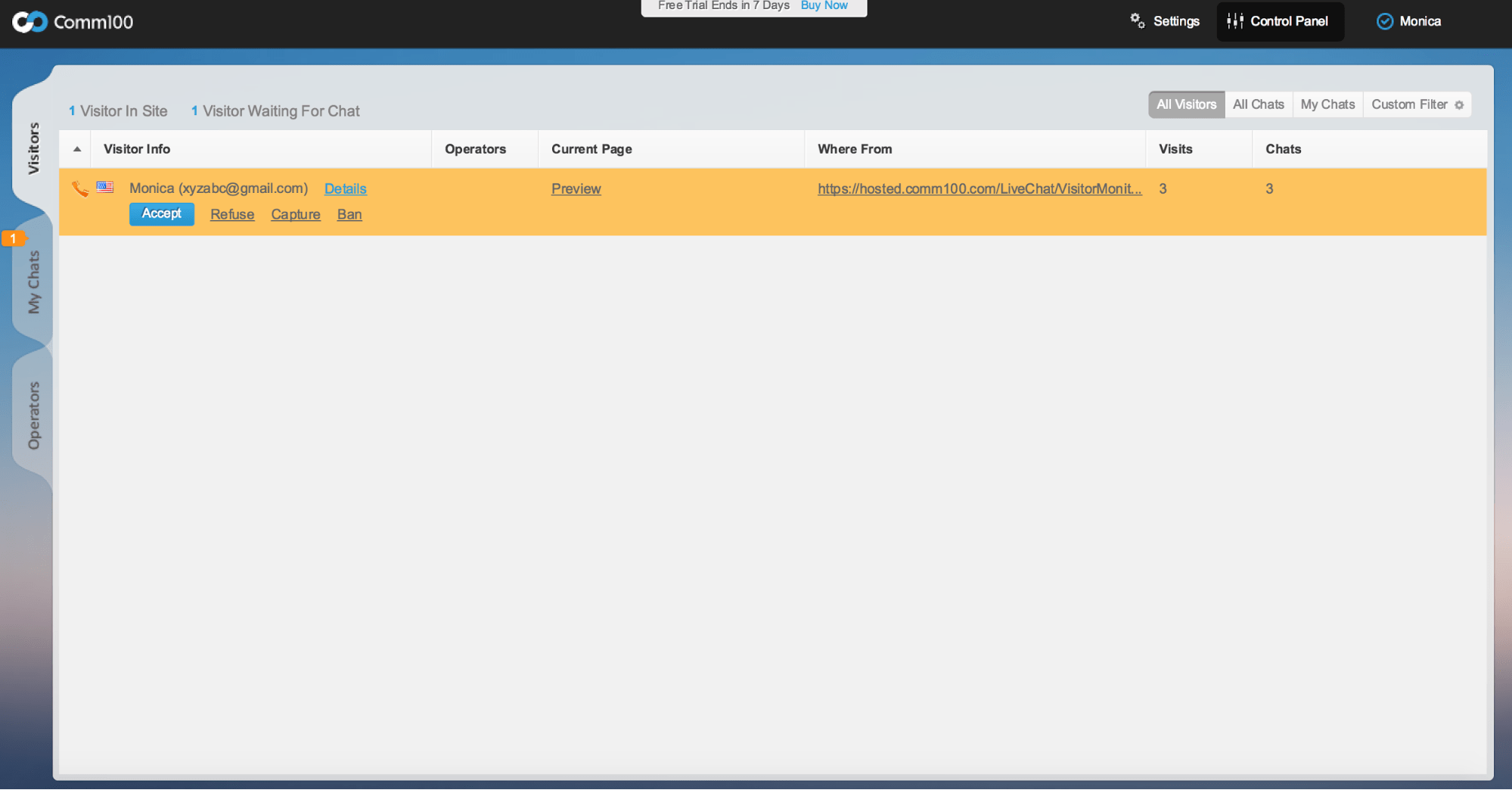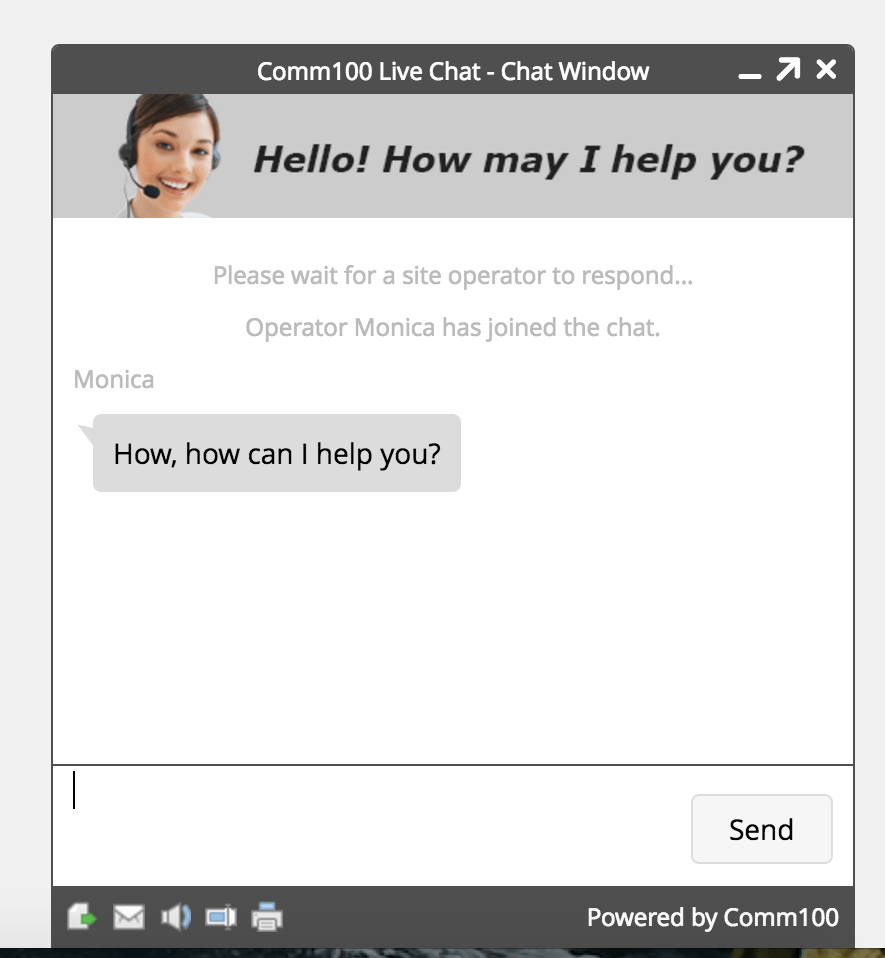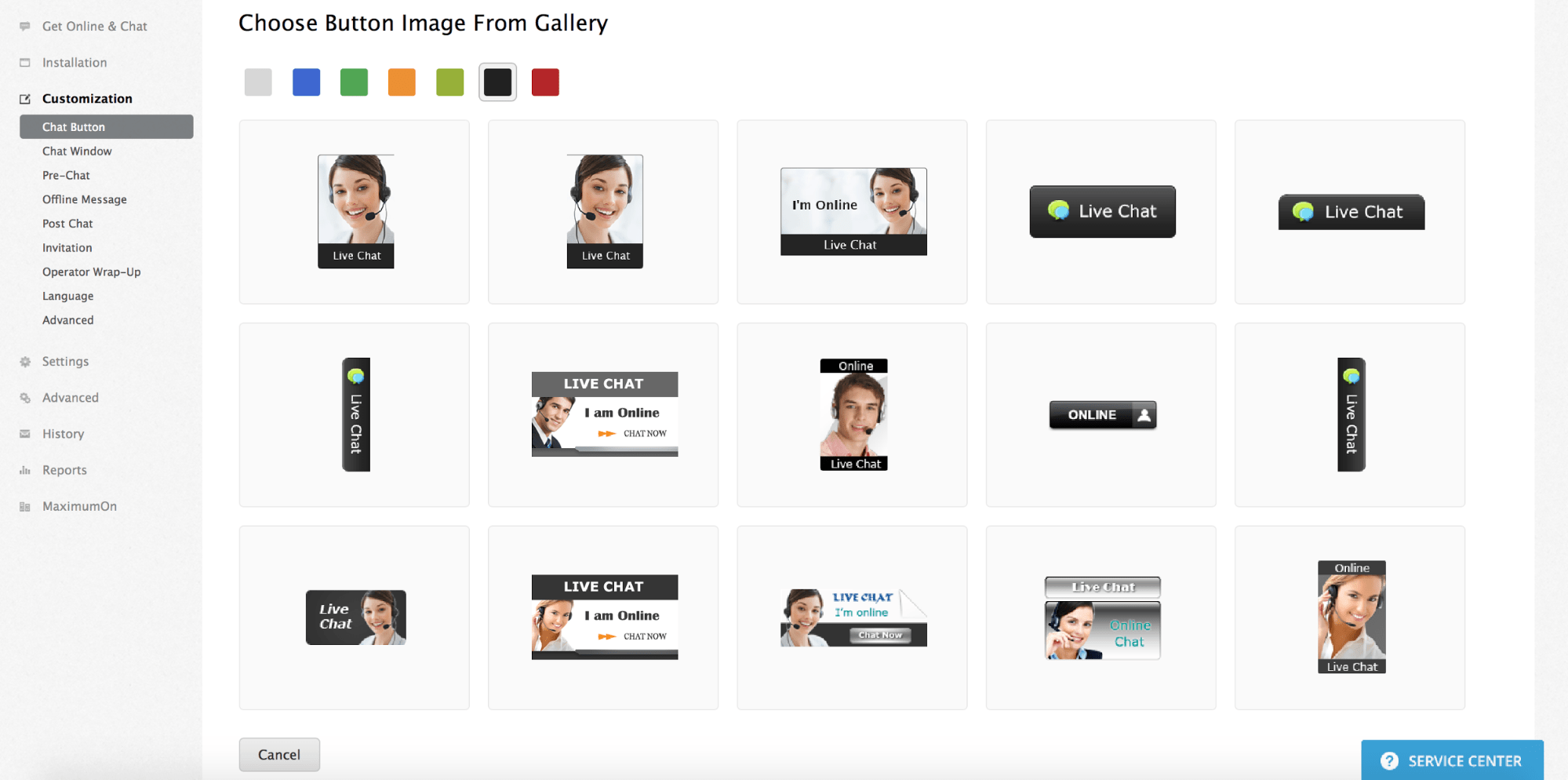 Comm100 live chat review
Comm100 offers 3 plans: Team, Business and Enterprise. You can test Comm100 Live Chat for 15 days, during the trial you will get the business plan.
The installation process is pretty quick. After we've logged in, you will be able to see two tabs. One is live chat, the other is My Account. The live chat features are under the live chat tab. To use Comm100 live, all you need to do is paste a single code snippet into your web page source code. After that you'll be able to launch the Comm100 Live Chat chat console to go online and chat with your visitors. You will also be able to accept chat visitors and invite them to chat. From the visitor perspective the chat button will be showing online and ready to chat.
Pros
Comm100 is full of customizable features to help you gain loyal customers. When it comes to choosing chat button position, you can set it up on the left side, on the right site, on the bottom. Another position style is the button scrolling with your page.
If you want the chat to match your website, Comm100 allows you to pick a style from a list of images and styles in the gallery or upload your own files.
You can customize chat window, add an agent real picture and a company logo. The feature I really like is that you can customize a message style to better suit your website design and sense of style.
You can also customize rules of inviting visitors to chat, such as the number of pages visited. But even with these rules settled, an agent is still able to send an invitation whenever he feels it's right.
During a chat, agents can write notes or client information so that if the customer comes back to chat in the future, a history is already there. When it comes to additional customization, agents are able to build and track chat campaigns in banner ads and emails.
Comm100 is mobile friendly, so customers can chat not only from computers but smartphones and tablets as well. Also employees can chat from their mobile devices which allow them to be available for customers even when they're out of office.
Other features
There's a file sharing in the bottom of the chat window which is a very useful tool for both customers and customer service agents. It gives visitors a very pleasant experience.
Comm100 wants to give their customers confidence that they're reliable and using their business is completely safe. Along with the secure socket layer (SSL), they offer MaximumON technology that enables to achieve 100% uptime. It's essential for larger enterprise companies.
Integrations
Comm100 doesn't offer a super long list of integrations like many other live chat providers but you can find the most popular ones among them, like Google Analytics, Salesforce, Shopify, Zendesk and WordPress. They also have API so if your company is using unsupported or customer-created application, Comm100 allows you to interface with this as well. You can see all of their integrations here.
Pricing
Comm100 offers a price for every operator a month: 29$ for a team plan and 49$ for a business plan (both have 2 months off billed yearly). You can't see a price for an Enterprise Plan, but you can "request a quote" button which brings you to a contact form where you provide information such as company's name, job title, number of chat operators, comments and special requests and submit a contact. I suppose a salesperson contacts you later on with a tailored offer.
Summary
Comm100 has a lot of strengths. They offer a lot of third-party integrations and all kind of customization. However Comm100 offers a pretty high cost per chat agent. I guess the team plan could be a little cheaper, especially with a short period of trial. Besides that there's nothing bad you can say on this live chat solution.