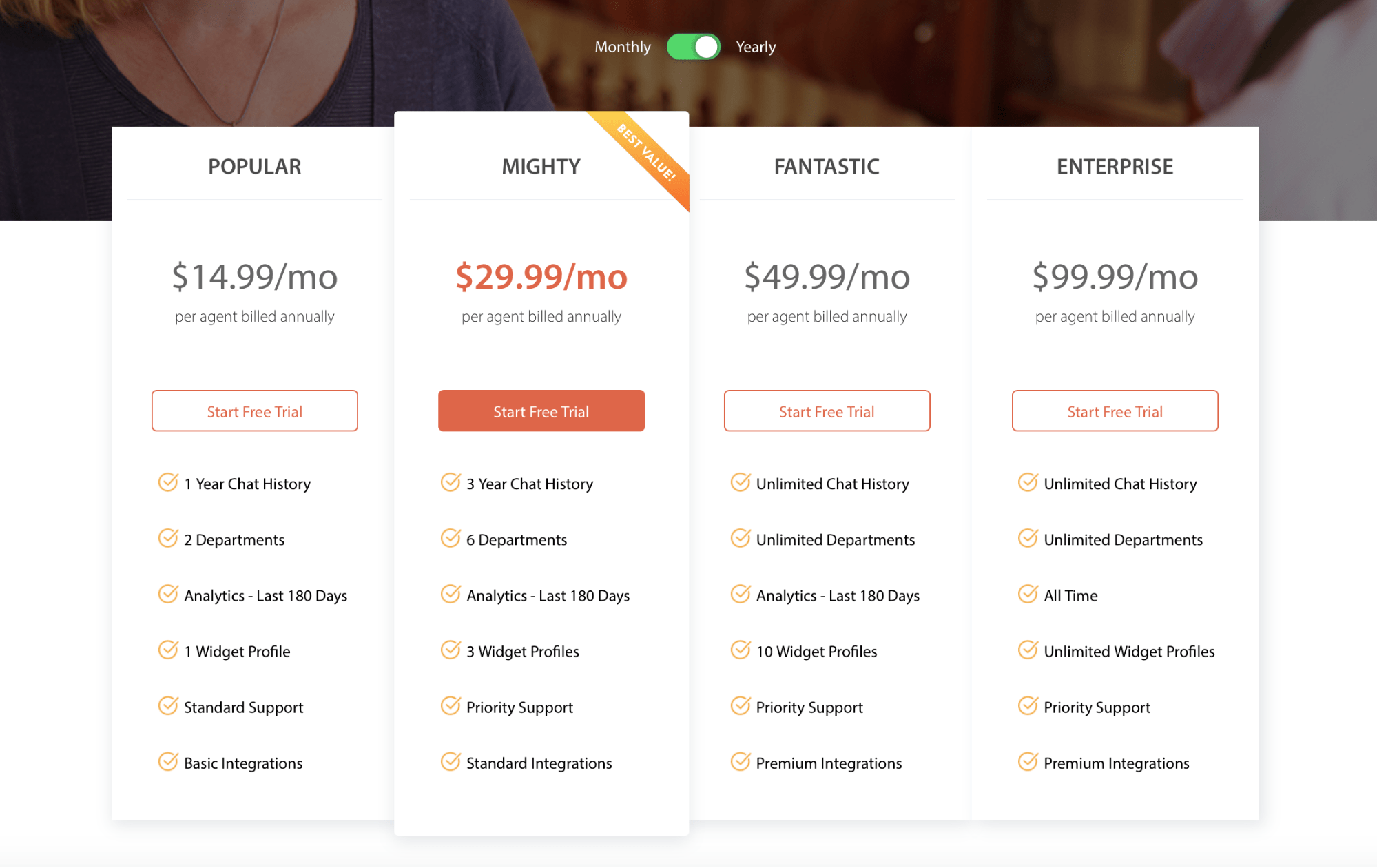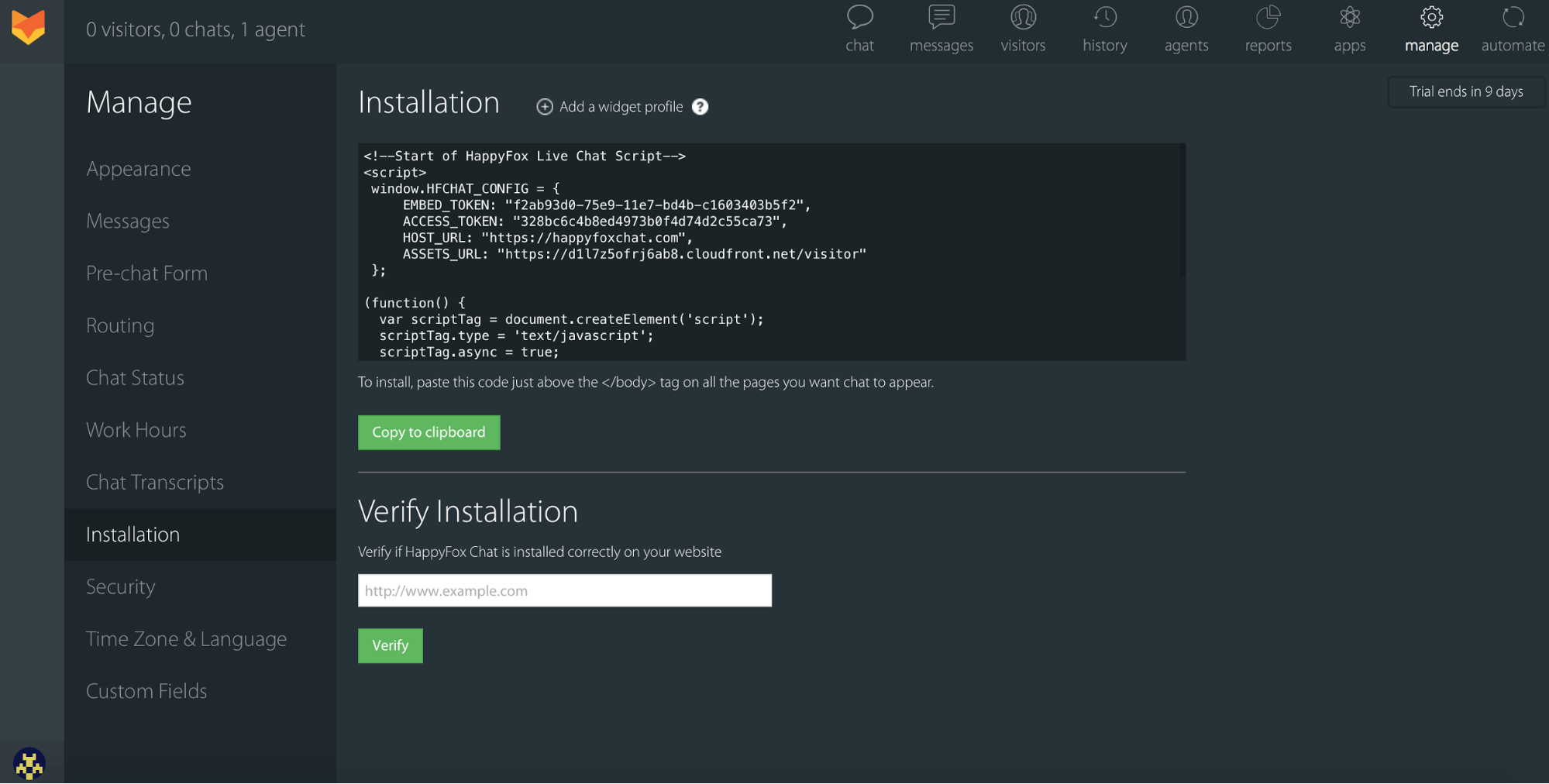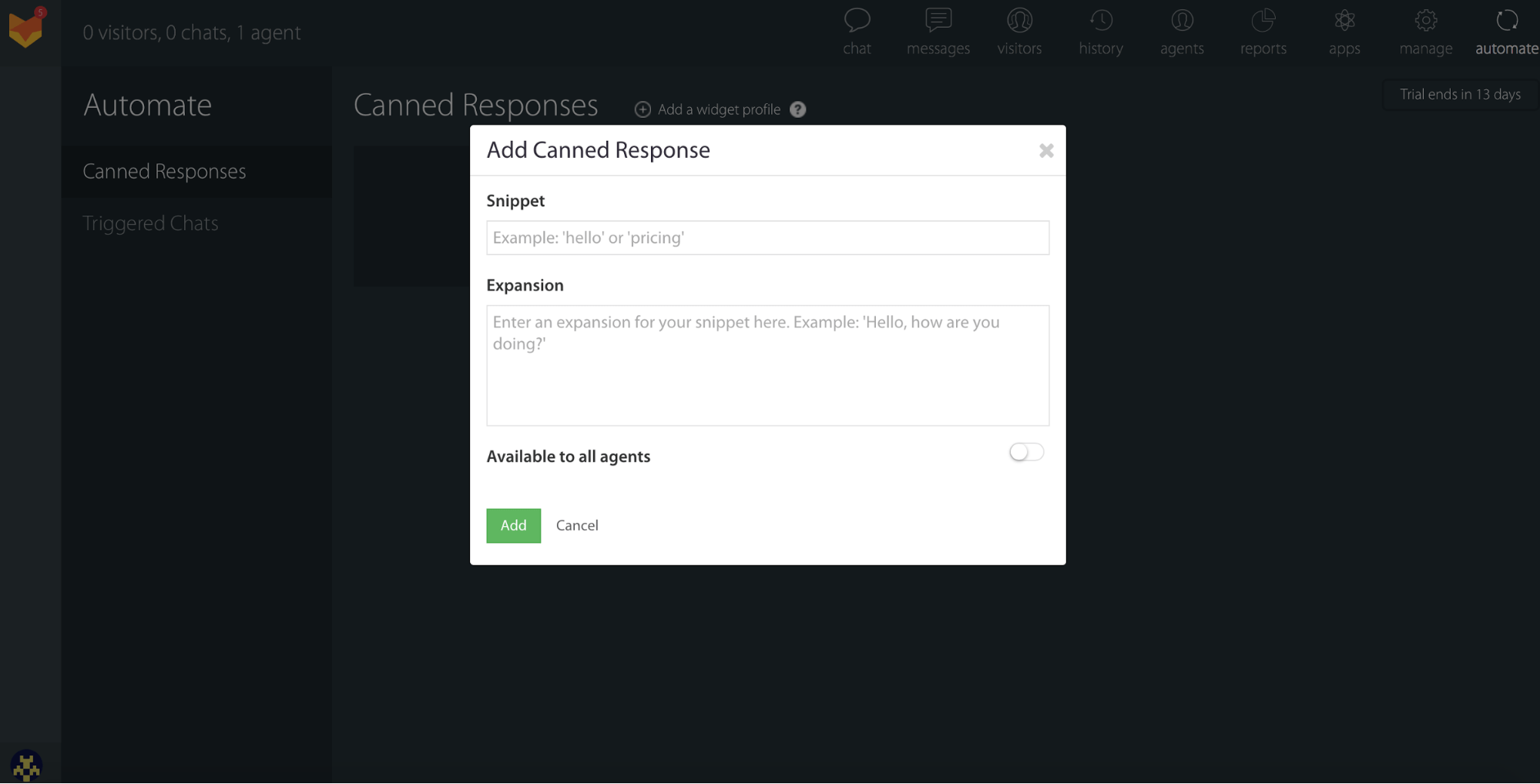 HappyFox Chat review
HappyFox Chat is a live chat software that allows you to "never miss an opportunity to help customers better." As you enter their website, you can see two buttons in the middle: "start free trial" and "watch how it works." I decided to start my 14-day free trial first. I must say, creating an account was simple and pleasant and there's no credit card required.
When I finished my installation, a little box popped out on my screen: "Let's get started and set up your account." I could take a quick tour, add HappyFox Chat to my website or invite my colleagues. I was curious if "inviting my colleagues" means recommending the product on social media but it turned out it was about adding more agents to the chat.
When the box disappeared, I was introduced to the dashboard. I must admit, I like the look of it. It's very neat, simple, and makes me calm. It's a big plus since many live chat software have too much of everything on their websites.
The look of the dashboard
The look of HappyFox Chats makes you want to click on each of their features in the menu. You have a lot to choose from.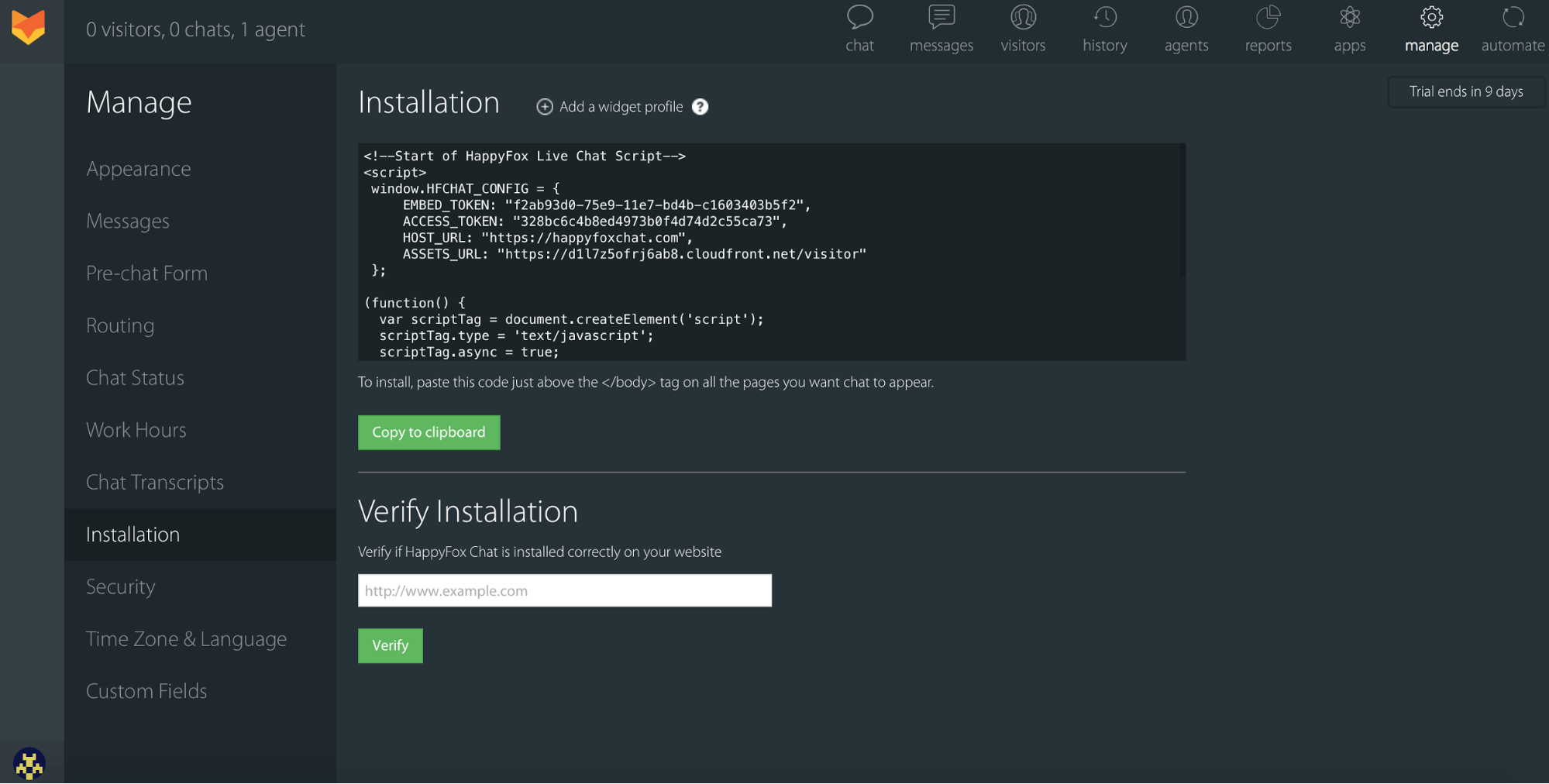 Starting from chats, then messages – I was nicely surprised that they have integration with Facebook Messenger, then we have visitors: and we can browse visitors by page, location, duration, agent and by a filter. We have also history, a list of agents, reports by an activity where we can check the number of chats, missed chats, average chat duration and satisfaction where we can see our chat ratings, average response time and first response time – which are all the metrics agents should work on. In the reports, we can select the dates that interest us and export it to CVS if needed.
We also have Apps section, where everything is filtered/divided by categories. For example helpdesk, e-commerce, CRM, communication, marketing automation, analytics and many more apps we can integrate our HappyFox with. Unfortunately, apps like feedback and survey, contact manager or remote support are still not working. Luckily they have plans on implementing them.
Manage section is nothing else as Settings, where you can change some things in your chat window and adjust the look of it.
Customizing chat
You can set up the look of your chat window, create custom messages in the online and offline window, set up chat status, setup working hours, chat routing, forward chat transcripts, enable single sign on and install the code if you haven't already done it.
The last section is Automate, where you have Canned responses and triggered Chats. These features help you to engage customers in conversations. There are no examples or hints to canned responses, so people with no experience in live chat might not use this feature potential. I'm also not sure about the example we can see in the canned response box, as this example looks more like an invitation to chat and not the answer to most popular questions customers ask. But I might be wrong.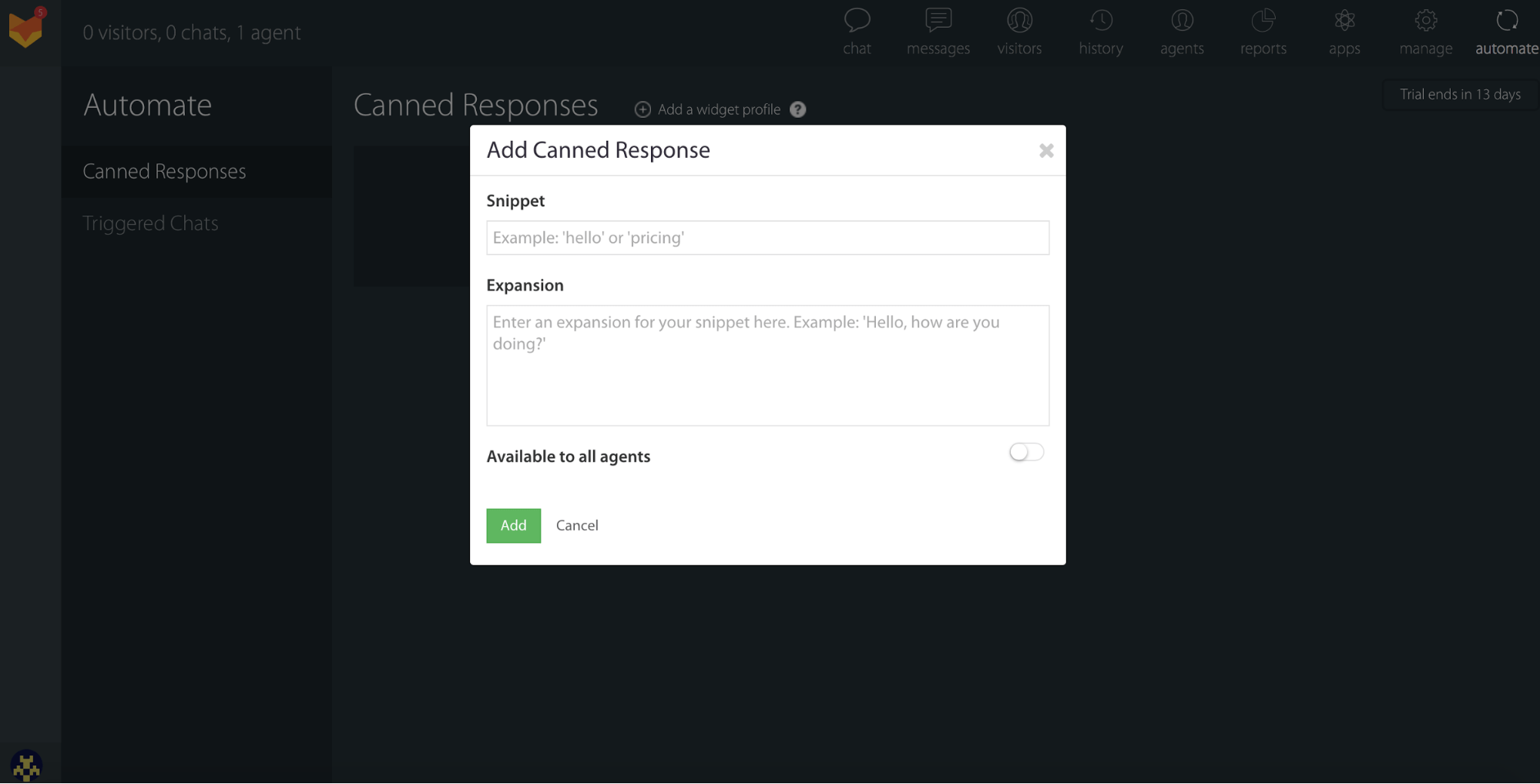 "Trigger chat" feature below allows us to set up a chat invitation according to proper conditions. Not many of them, but the basic three, as the time a visitor spends on a page, page URL a visitor came from and type of visitor (new or repeat).
We also have updates in the middle left. You can barely see it, but at least they're not intrusive.
As I click on my name in the left bottom, I can see that I'm on "Fantastic Trial." I love it. From there, I have access to my Billing, Support, Product Updates, I can edit my agent profile or logo out. It's all very nice looking, and I must tell you I don't want to leave this app.
Pricing
HappyFox offers four pricing tiers ranging from $19 monthly per user to $69 per user. Signing up for a year in advance nets you a significant cost savings of $10 monthly for each user. I think it's a fair price.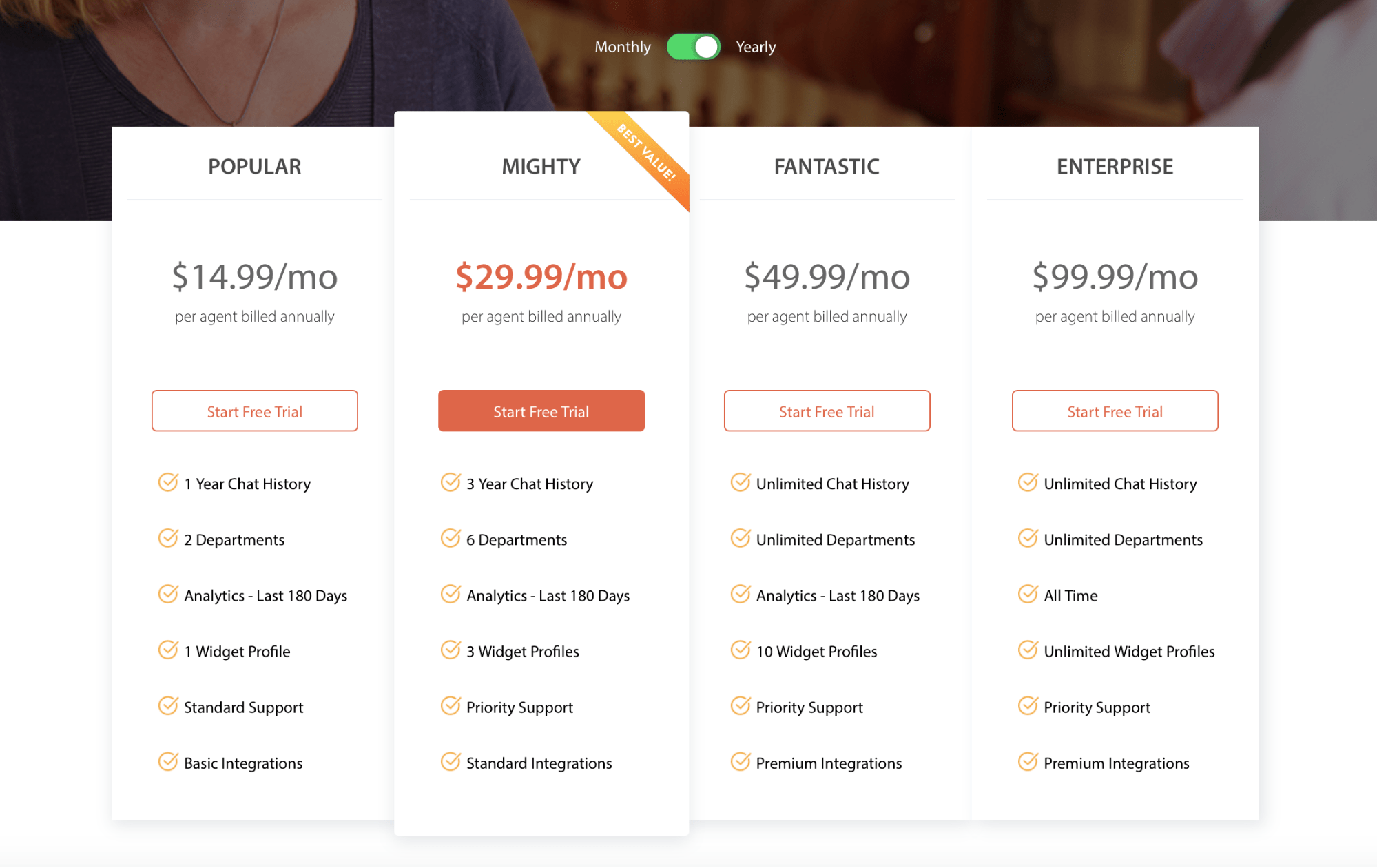 Disadvantages
HappyFox doesn't have many disadvantages. Some features like automation and role assignments may lack the flexibility necessary for larger organizations. There are limited integrations on free accounts, which is bad for small businesses. The customization is also limited and chat history is only 1 or 3 years in cheaper plans.
The verdict of HappyFox Chat
HappyFox Chat is a really great live chat tool. It's a nice looking and very useful software. It might lack some of the flexibility in role assignments and automation that might bother larger organizations. If you're one, you might want to look for some enterprise-class features and full support elsewhere. If not, I think you'll be happy with this chat.