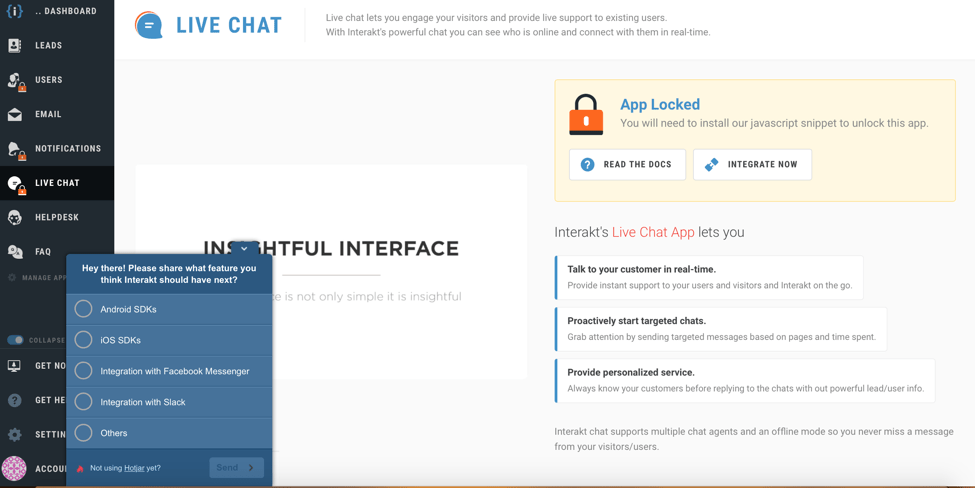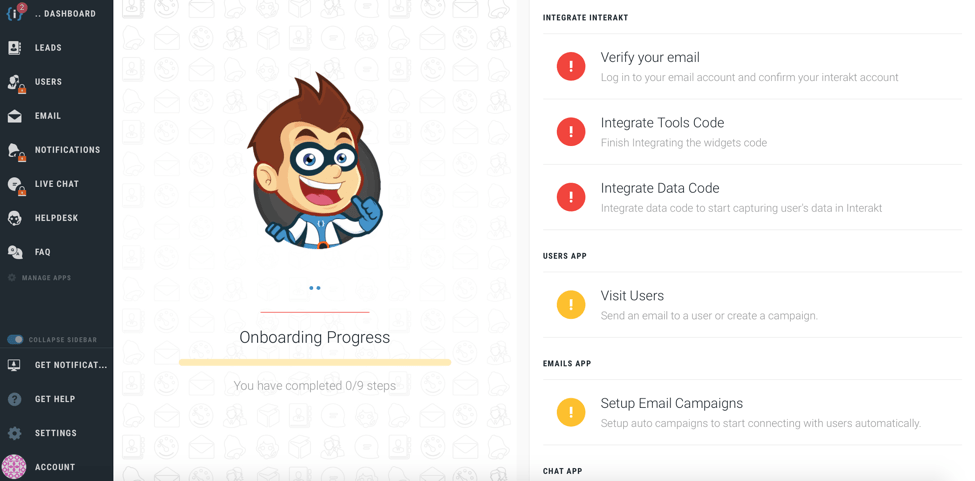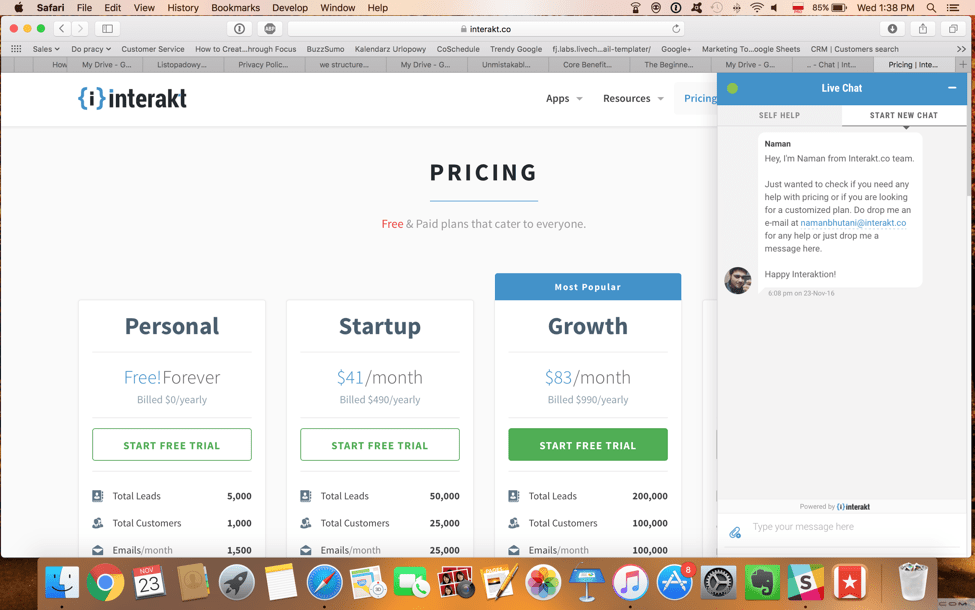 Interakt live chat review
Interakt is a cloud–based customer relationship management CRM solution. It provides an integrated crm, email marketing and live chat all in one, which allows you to engage, retain and support customers from one single dashboard. Interakt has a customer database where users can track customer sessions and activities. Interakt also features email automation, which includes customizable templates and sends automated marketing emails. A live chat module is of course included in the system. Users can engage new visitors and provide live support for existing customers.
Creating a free account in Interakt is very easy. Simply click the big banner "get started – free forever" (Personal account) on the website or Create a Free account in the menu. I personally started from checking out their "Pricing" website to see what plans they offer. It turned out they provide four plans and they offer free trials for all of them.
After creating an account, you're brought to the application. I really like the "Onboarding process" in the dashboard. For example I could see I completed 3 out of 9 steps.
There's also an arrow you can click on, rozwija sie? and there's a little survey from the team. "Hi there! Please share what feature you think Interakt should have next."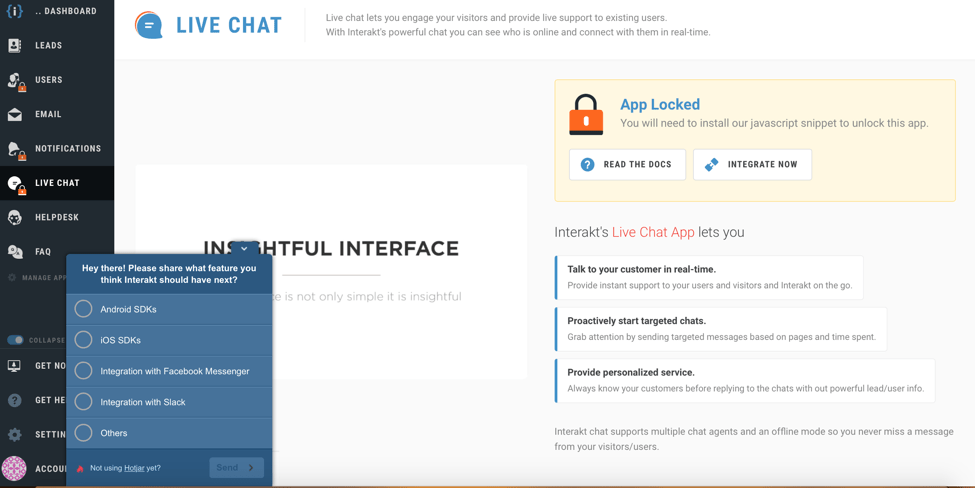 Pros
When you go to the Interakt website and click on the Resources, you see a bunch of possibilities, like Interakt blog, Integrations or Support Docs. What particularly caught my attention was the Demo option. You can enter your website's address and see how the chat would look like on your website. It's very useful, because it's easier to do than setting up a trail and pasting the code on the website to see the final look. Here's how it looked like on our website.
When it comes to the application itself, the interface is very tidy and easy to use. It looks like this: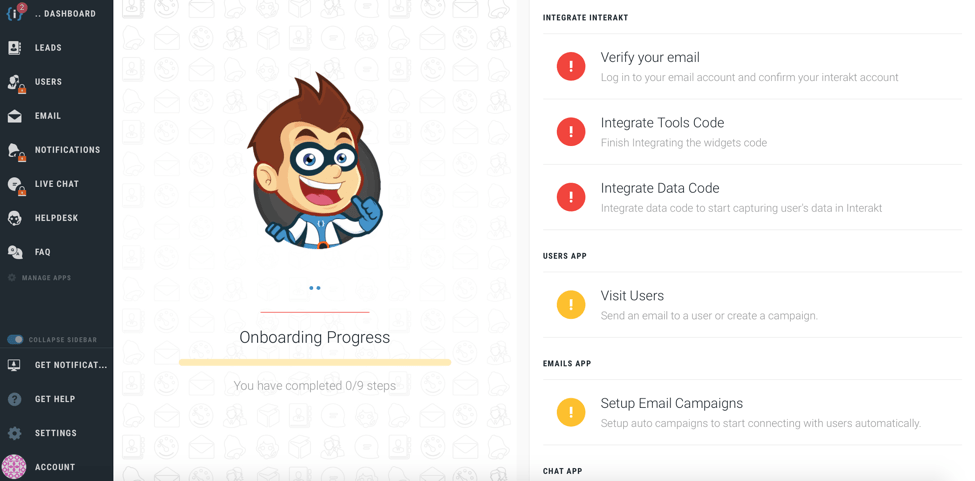 Take a look at the sections on the left.
Cons
Depending on the dashboard, you can see new customers you've gained over the past month or days til the launch of your new product. That's great, but the data isn't directly actionable. To take any action on data you have to jump to another application. That's not the case for marketing – the dashboard is part of the app where you do your work.
Integrations
Interakt live chat offers a few integrations. They integrate with web platforms and ecommerce platforms like Zapier, BigCommerce, Shopify and Magento.
Pricing
Interakt offers fours plans: Personal, Startup, Growth and Company. They offer free trials for each of their plans for 14 days, no credit card required. The basic plan called Personal is free and you can have up to 1000 customers, and 5000 leads in this plan. You can pay in the monthly or annually system. You can save a lot on the annual subscriptions. For example Growth plan costs 99$ a month and 83$ a month in annually subscription.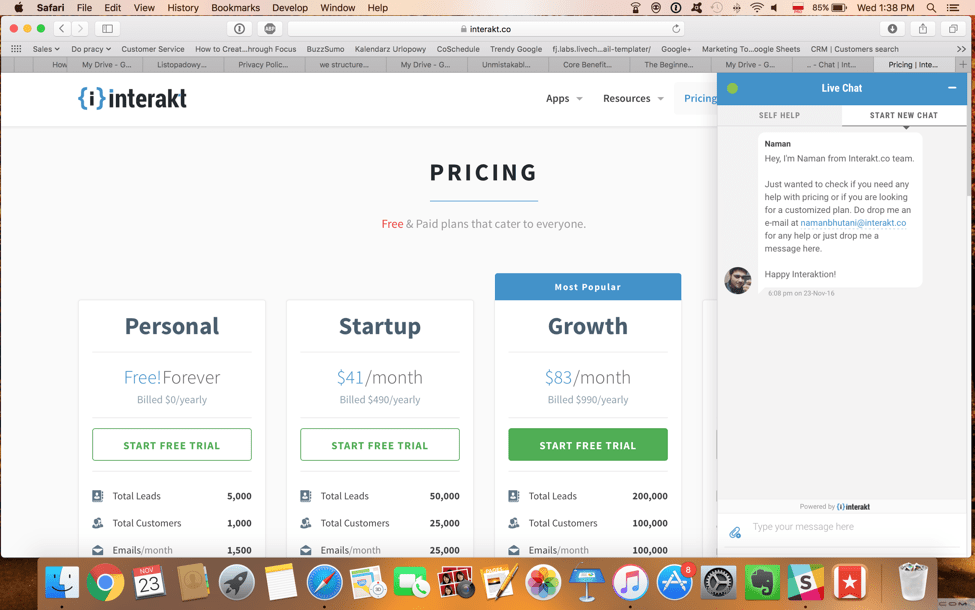 Interakt also offers customized enterprise plan.
The verdict of Interakt live chat
Interakt is a very nice platform that is basically used for capturing, engaging and retaining leads and users. It's a lot more than just a simple live chat solution. It can be a good thing, depending on what you're looking for.