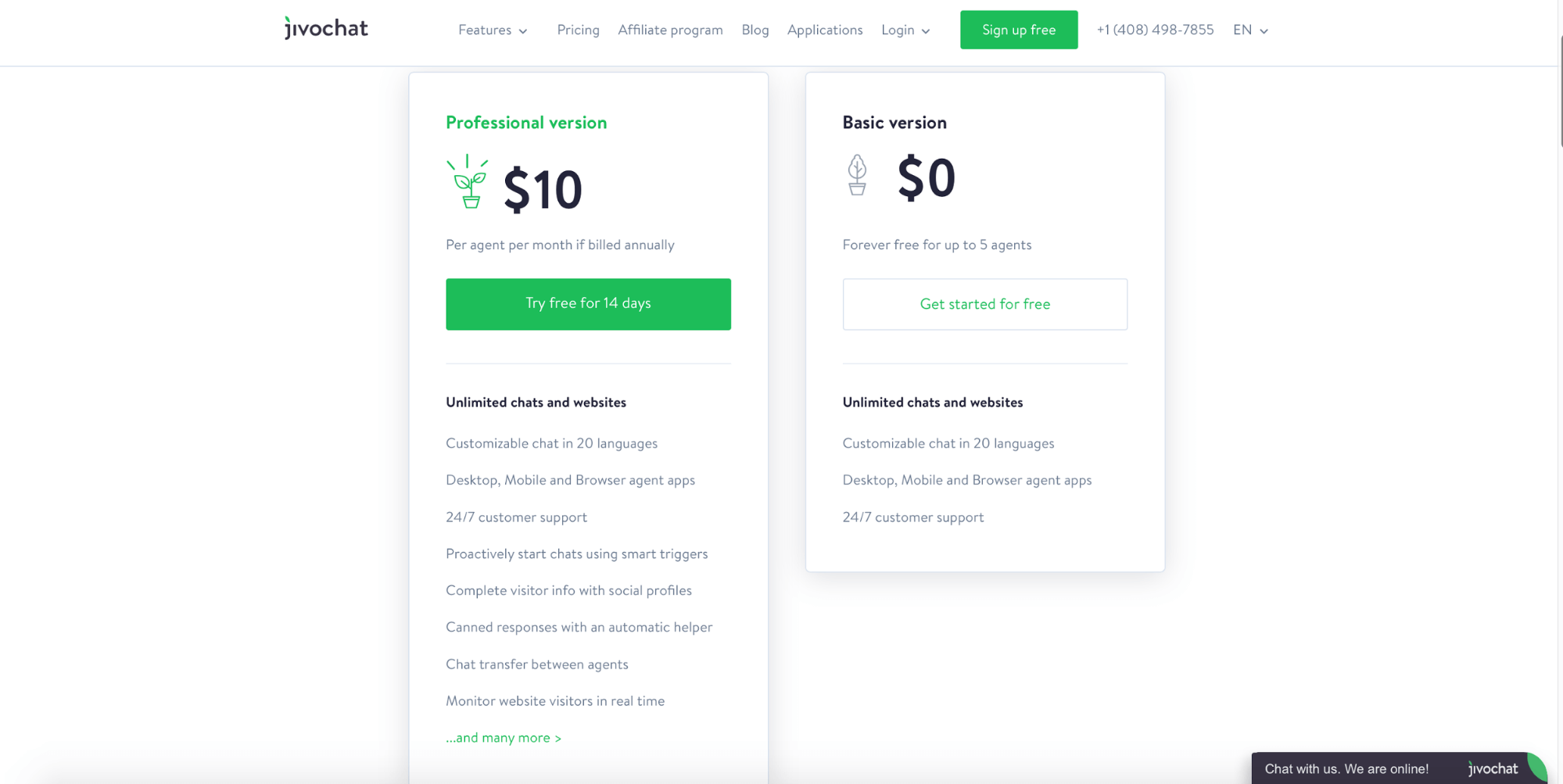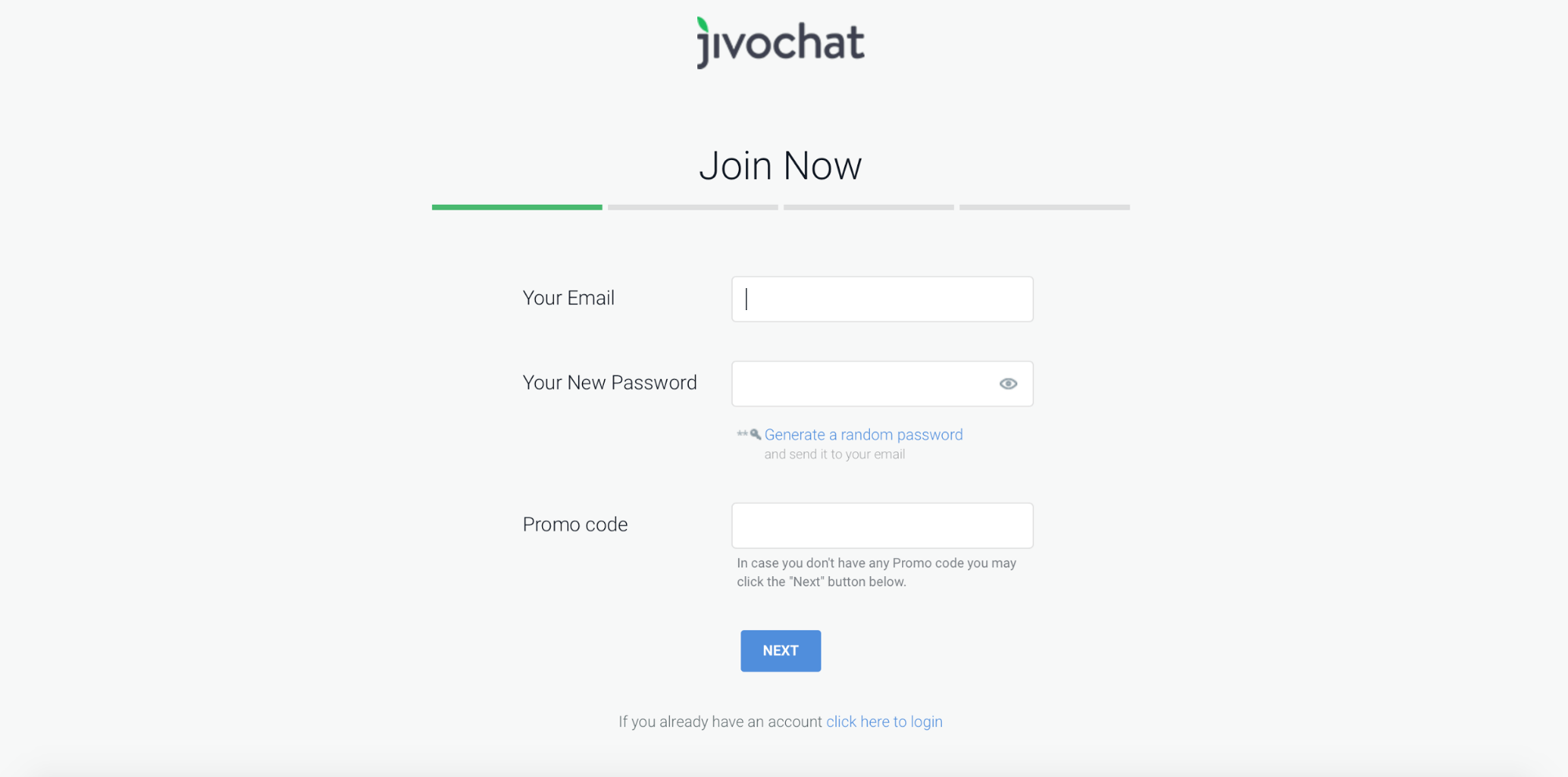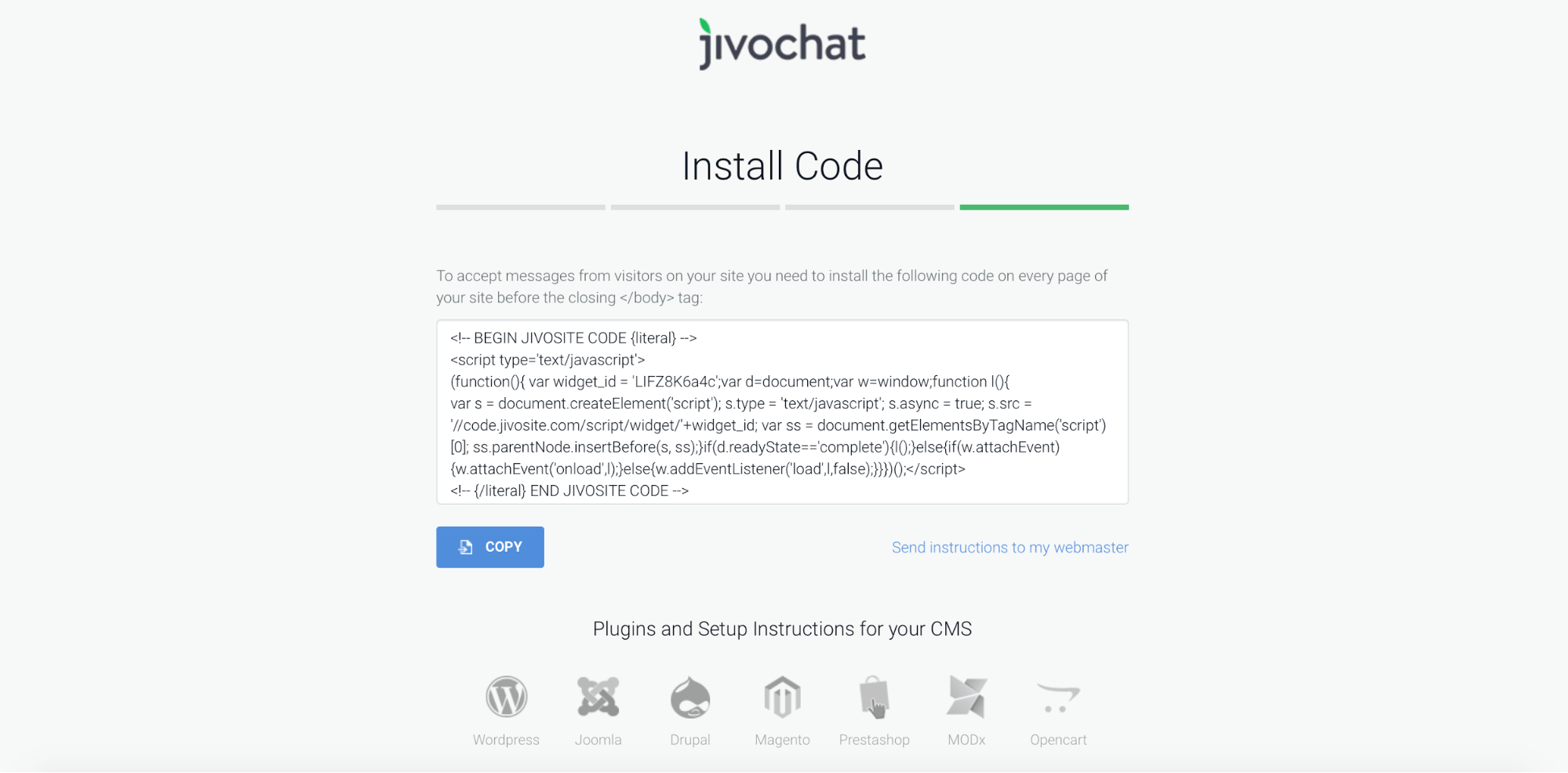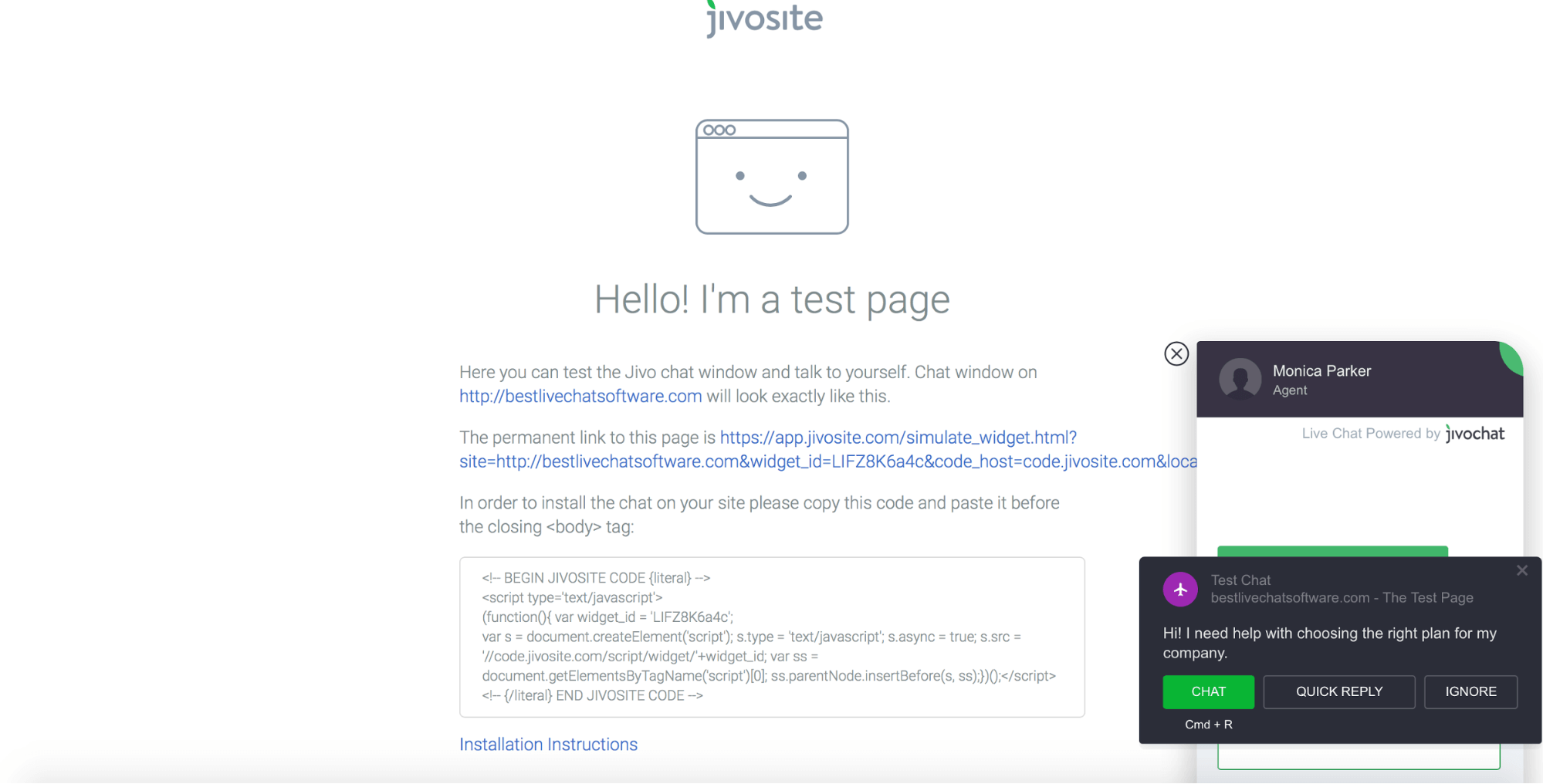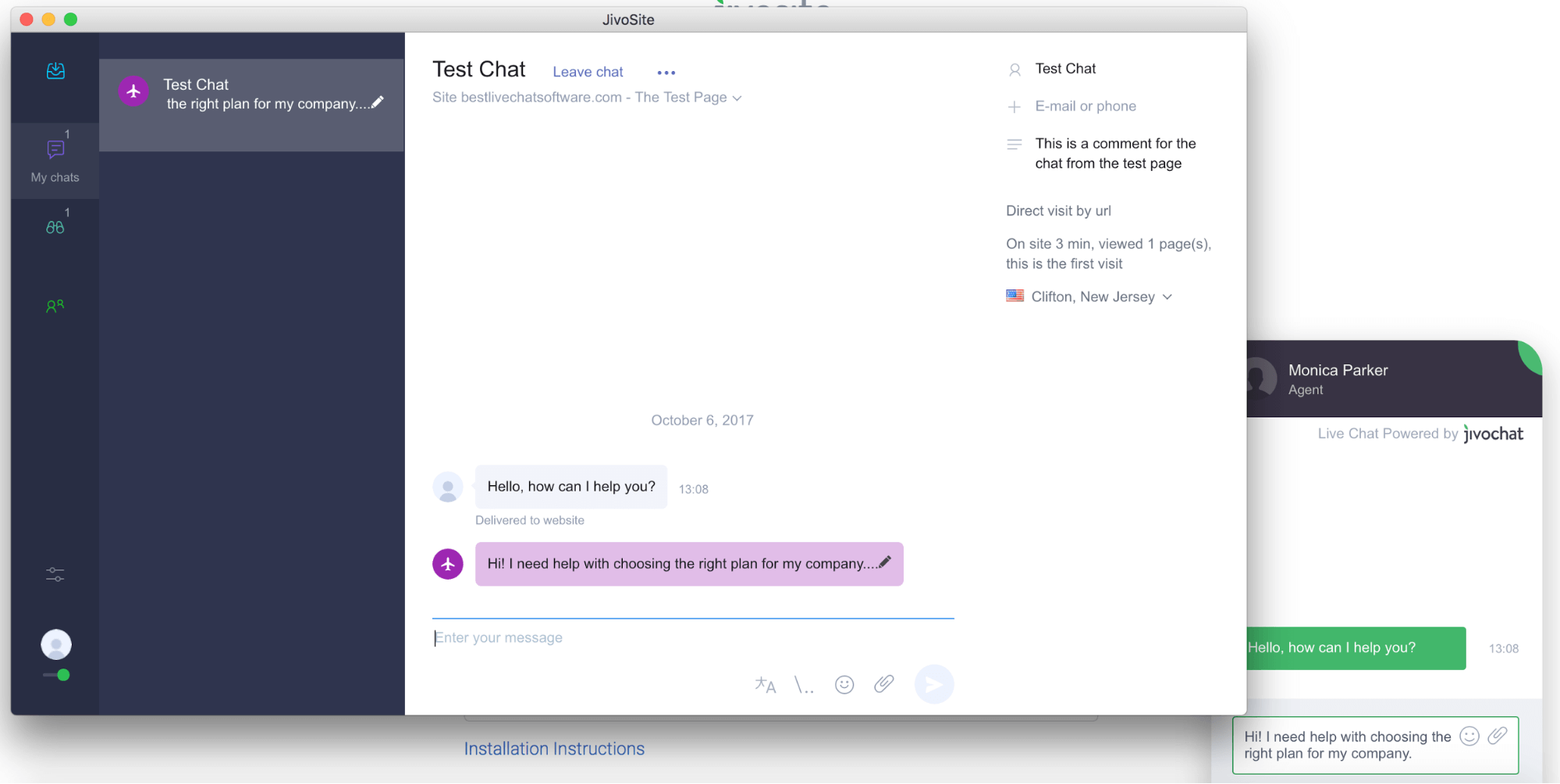 JivoChat review
Let's start with JivoChat's home page. As a big fan of green and all that's connected to nature, a leaf above their logo and green background immediately made me feel calm. Well played, JivoChat!
Their main slogan is: "Turn your website visitors into paying customers with JivoChat."
It's a free tool to help you monitor and talk to clients visiting your Website, Facebook, Telegram, and Viber – all of that in real time. To start a journey with this live chat tool, all I have to do is to click on the sign up free button.
I was asked about my email, password and a Promo code. I didn't have any, but I assume this is what potential customers like best: discounts!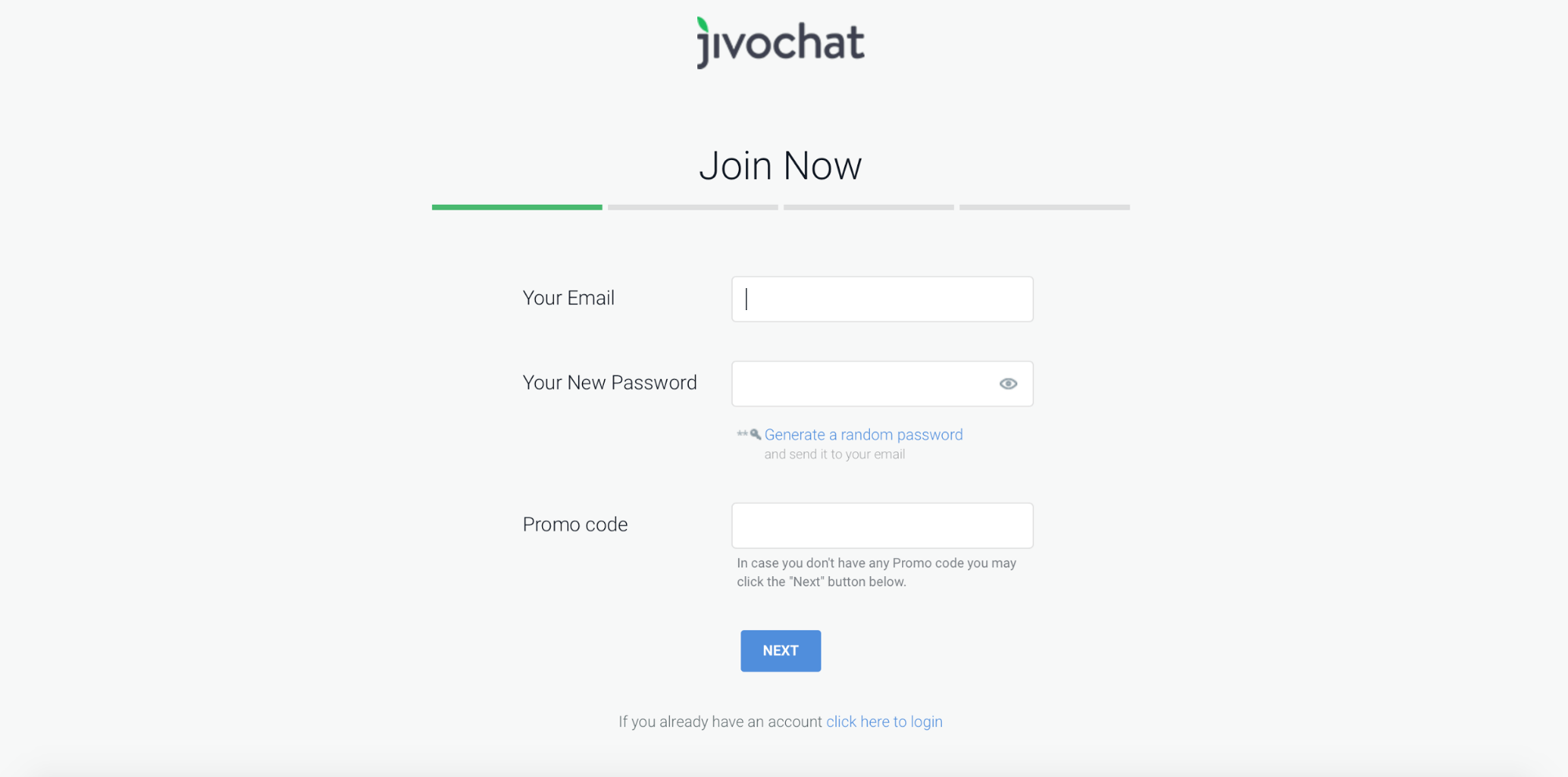 Overview
What I liked about the signing up process is that I could see how many steps are still left. Here's a quick preview of the last step, installing your JivoChat code.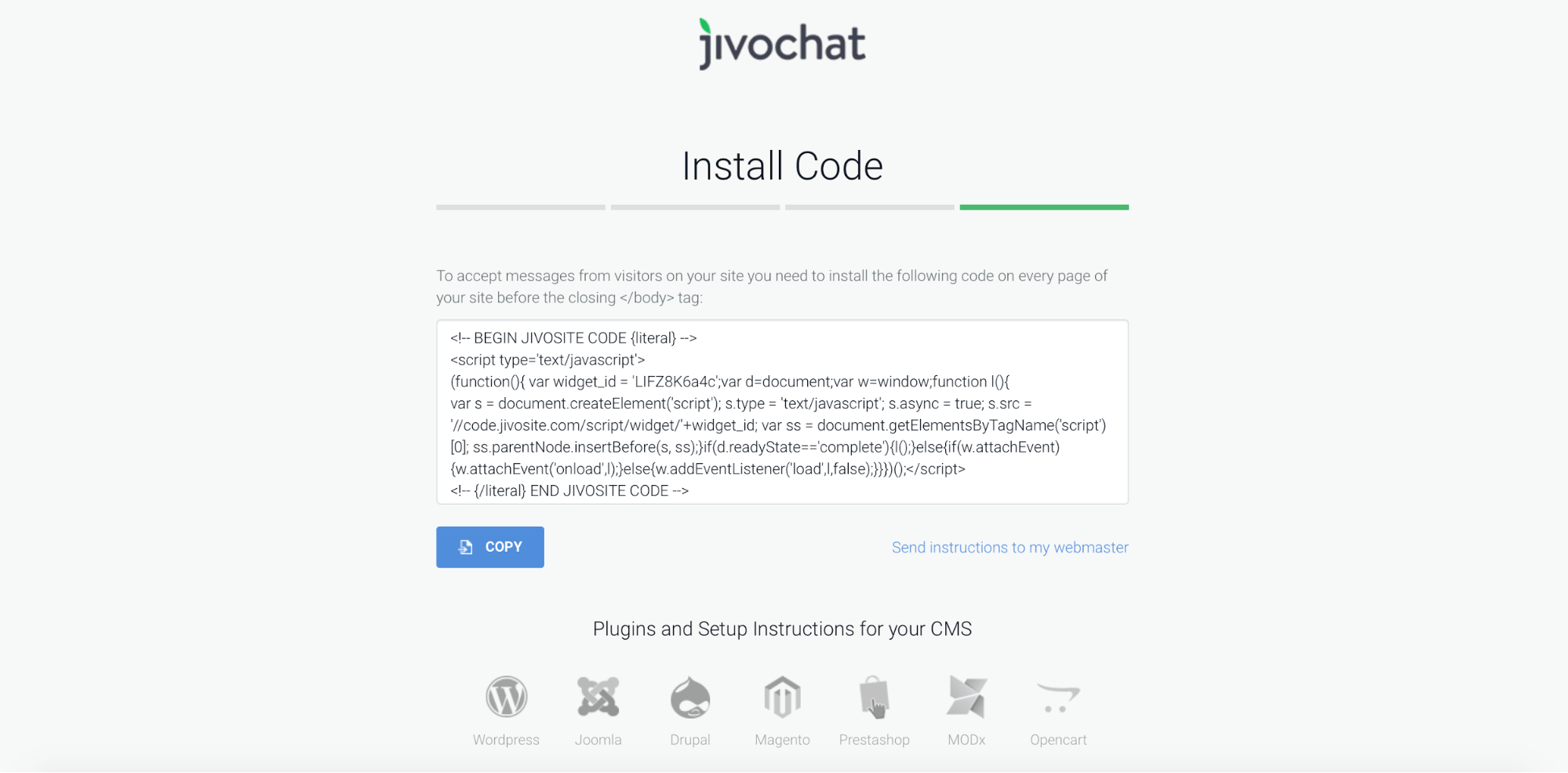 Once I signed up, I installed the desktop application and I have to say that it's very neat. There's the Inbox section, available in the app's sidebar – there land all of the incoming requests from your customers. Then, we have a section Chats, where you can see your current conversations. It looks like this: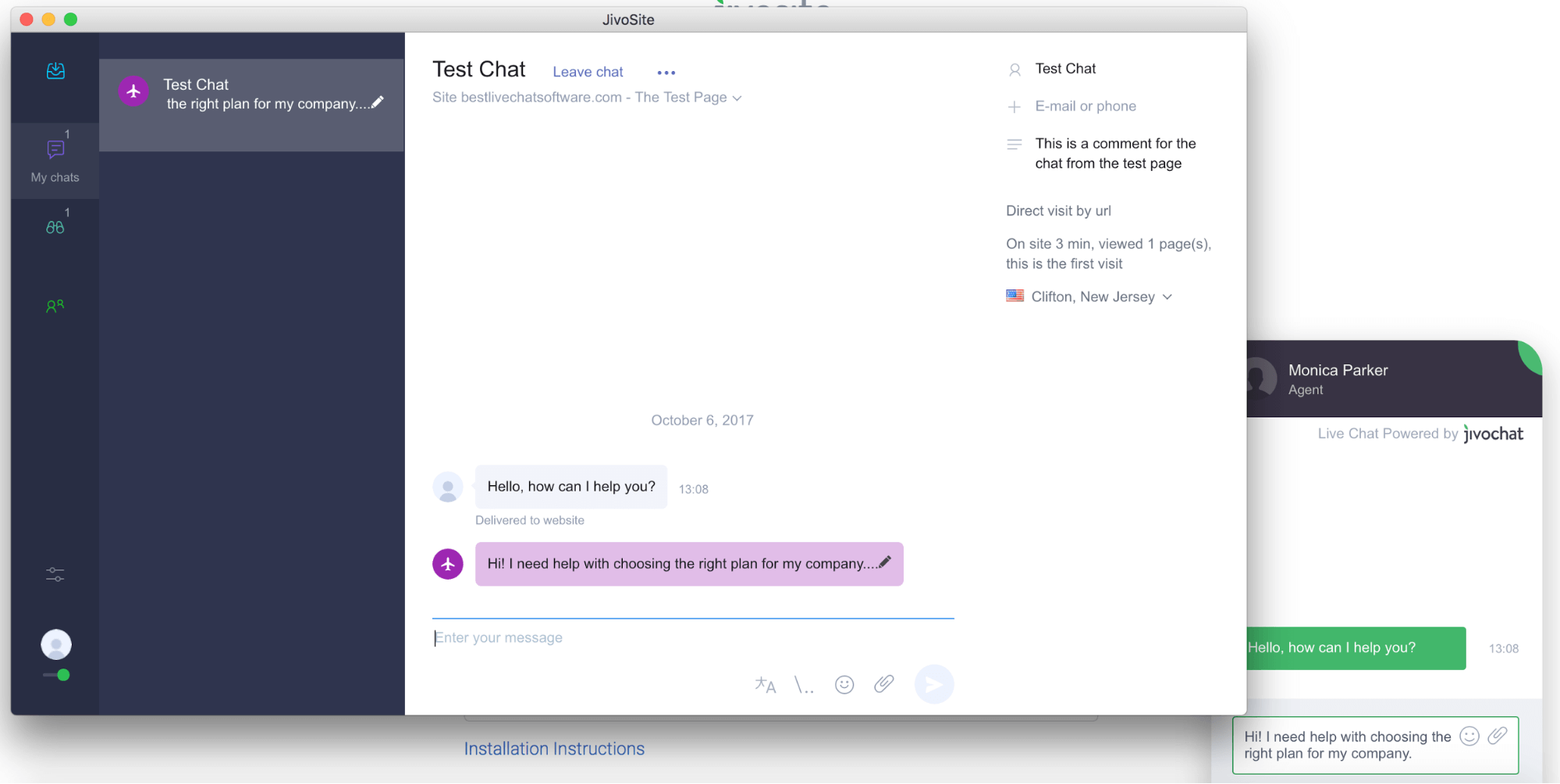 When chatting with your customers you can immediately check their data – this convenient little feature is placed on the right and it's invaluable when targeting your customers' needs. What's more, below we have website visitors section, informing us about all of the people on our website.
Speaking of visitors on your website – the "invitation to chat" feature is available only in the Professional Version. It offers you a wide range of options for pop up invitations.
I like the snippet option included in the application. It allows you to see what a user writers to you before he or she sends it. It makes responding to your customers' queries much faster.
Additionally, when a visitors write a message, an agent get the small pop up on the right bottom, asking if they want to chat, quick reply or ignore (which, of course, you shouldn't do! ).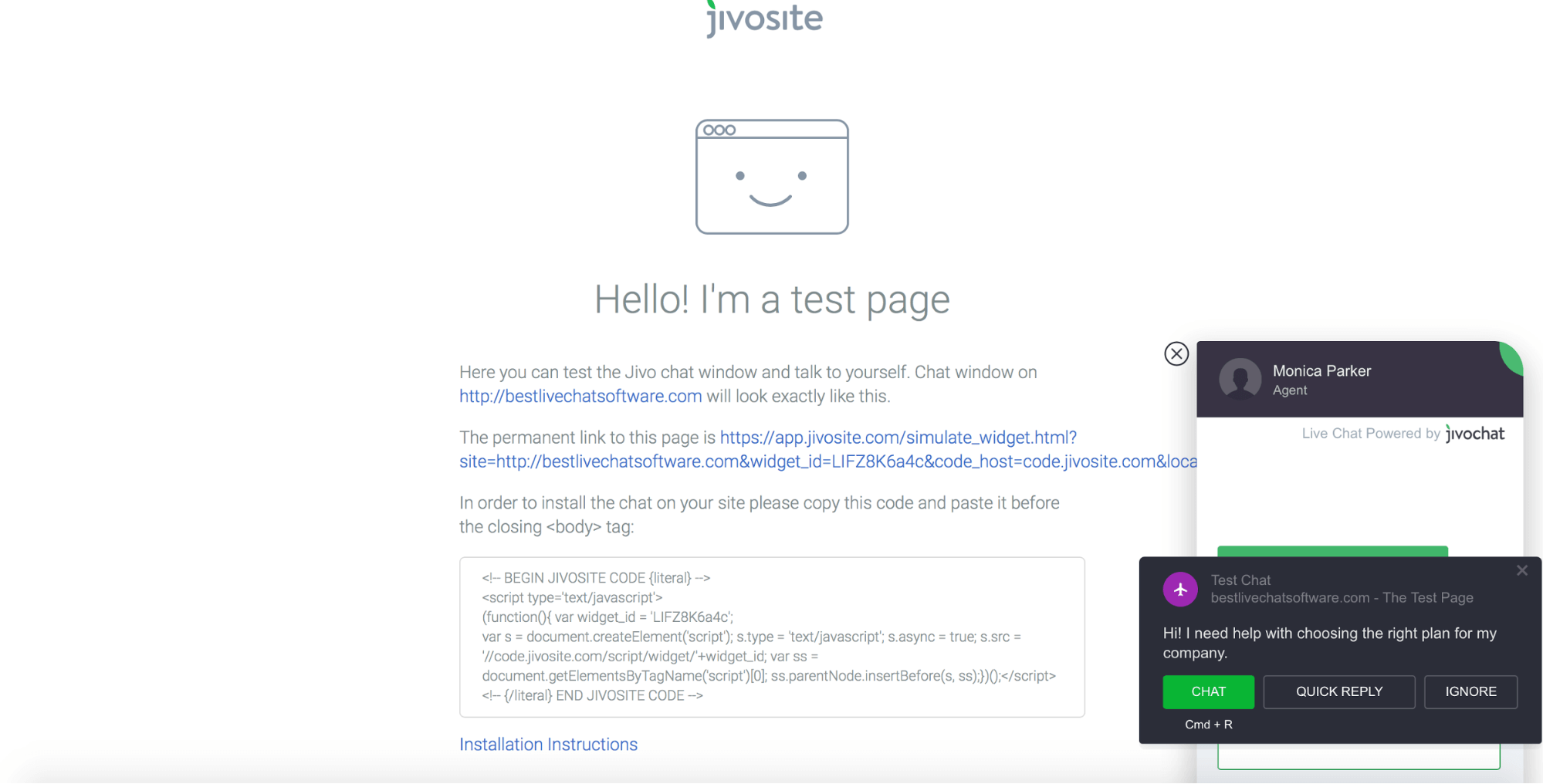 Features
A nice addition that they offer is what they call a Callback feature. What it does is that visitors can leave you their number and you can call them back at your earliest convenience. On their website they're saying: "Chat is convenient for delicately accompanying customers on the website, and instant callbacks are perfect for actively completing transactions."
It also works when nobody is available on chat. You can easily get back in touch with your potential leads later.
JivoChats is integrated with Facebook Messenger, which means the customer can receive your responds right to their Facebook. When it comes to you as an agent, Jivo will not force you to switch between the apps to reply. All messages from social networks appear directly in the JivoChat desktop and/or mobile app.
Another of their additions is the Mobile SDK, which allows you to add live chat support to your Android and iOS native apps. If your customers are spending a lot of time browsing through your store on mobile, they will definitely find it very convenient.
If that's not enough, they're throwing an API for developers, which is the whole documentation developers can use if they want to integrate JivoChat with their own app or CRM solution.
Other
JivoChat works across all major devices: Windows, Mac, Android, iPhone and Web browsers. It's translated into 20 languages and to keep their customers even more satisfied, they also offer reports that monitor the quality of your customer service.
In terms of the design, the whole website looks really nice and I can also say that UX does not lack in that department. There's one thing that confused me though: when I was on the main website, I clicked on the chat window three times, before I realized I need to click exactly on "Chat with us. We are online!" prompt. That could have been done smoother. The great news is that whenever I needed something, there was always somebody on chat!
Integrations
JivoChat don't have a lot of integrations yet but they have been on the market only for 4 years – and this thing takes time and resources.
They offer basic integrations for both small and medium businesses. For example: WordPress, Drupal, Joomla, Magento, Opencart, PrestaShop and Google Analytics.
Recently, they've integrated with Shopify, which is a great news for all e-commerce businesses. It only proves JivoChat keeps evolving and, more importantly, their growth is dictated by their customers' demand.
Pricing
JivoChat offers two pricing plans. The basic version costs nothing. It's forever free and it includes up to 5 agents. It offers customizable chat in 20 languages, various apps (including desktop and mobile) and 24⁄7 customer support.
The other plan is a Professional Version: for $10/agent per month if billed annually. It offers much more features. Take a look at the screenshot below: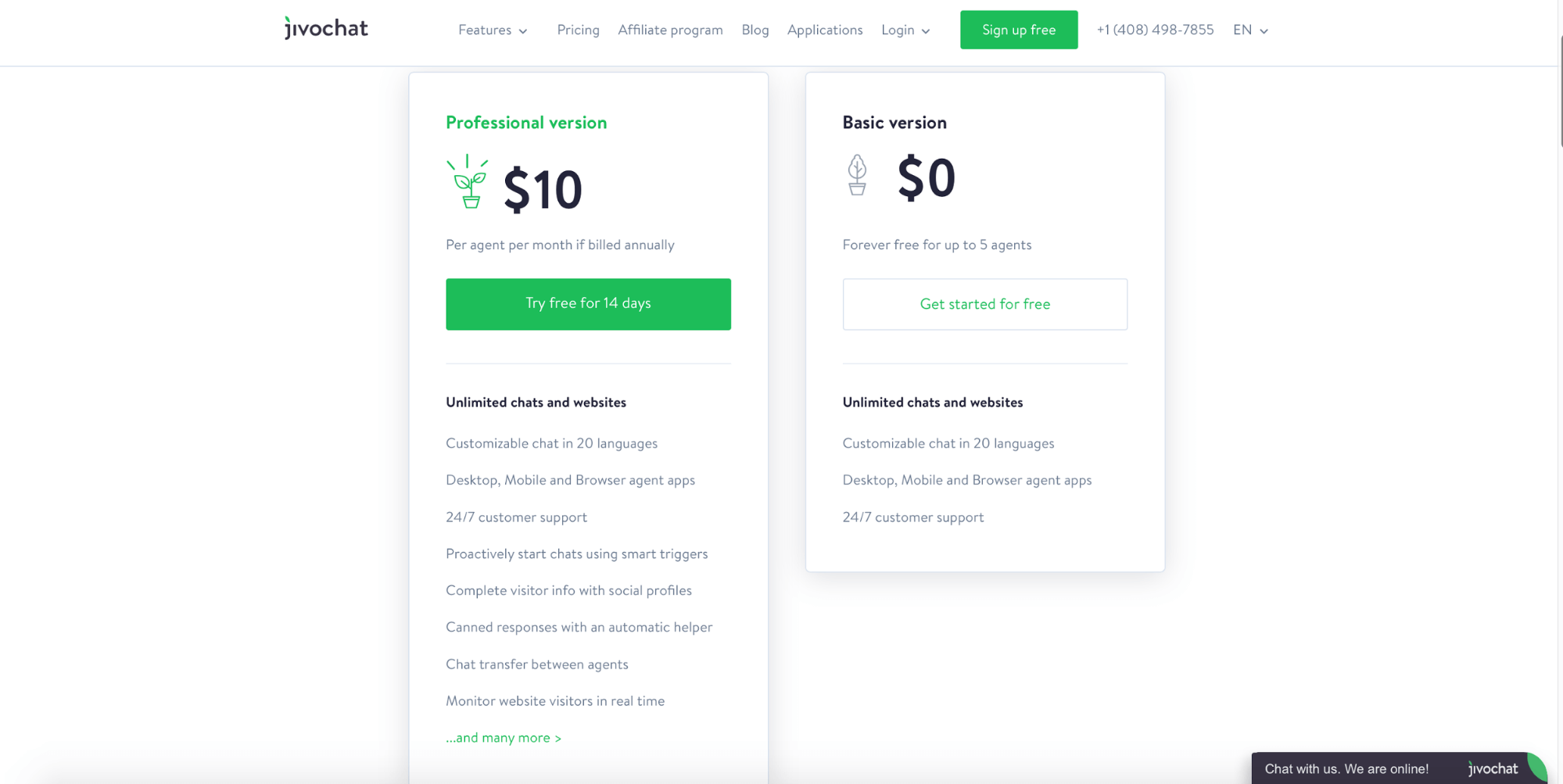 JivoChat comes at a fair price. I guess, the only thing that is missing is that it's not very scalable. You have only two plans: one is very basic and the other one might not be enough if you're working with enterprises businesses. But, as always, it all depends on your needs.
The verdict of JivoChat
JivoChat is a good looking solution that does its job. For companies who're looking for a basic live chat solution, it truly does come for a fair price.
But don't take (only) my word for it! Do a little research, try it out and see if it works for you – maybe you're in the market for a bigger solution or maybe it'll be just perfect for you? I believe that they're really good in what they offer, and I believe they will be scaling and providing other plans with a wider range of features to satisfy their future customers.