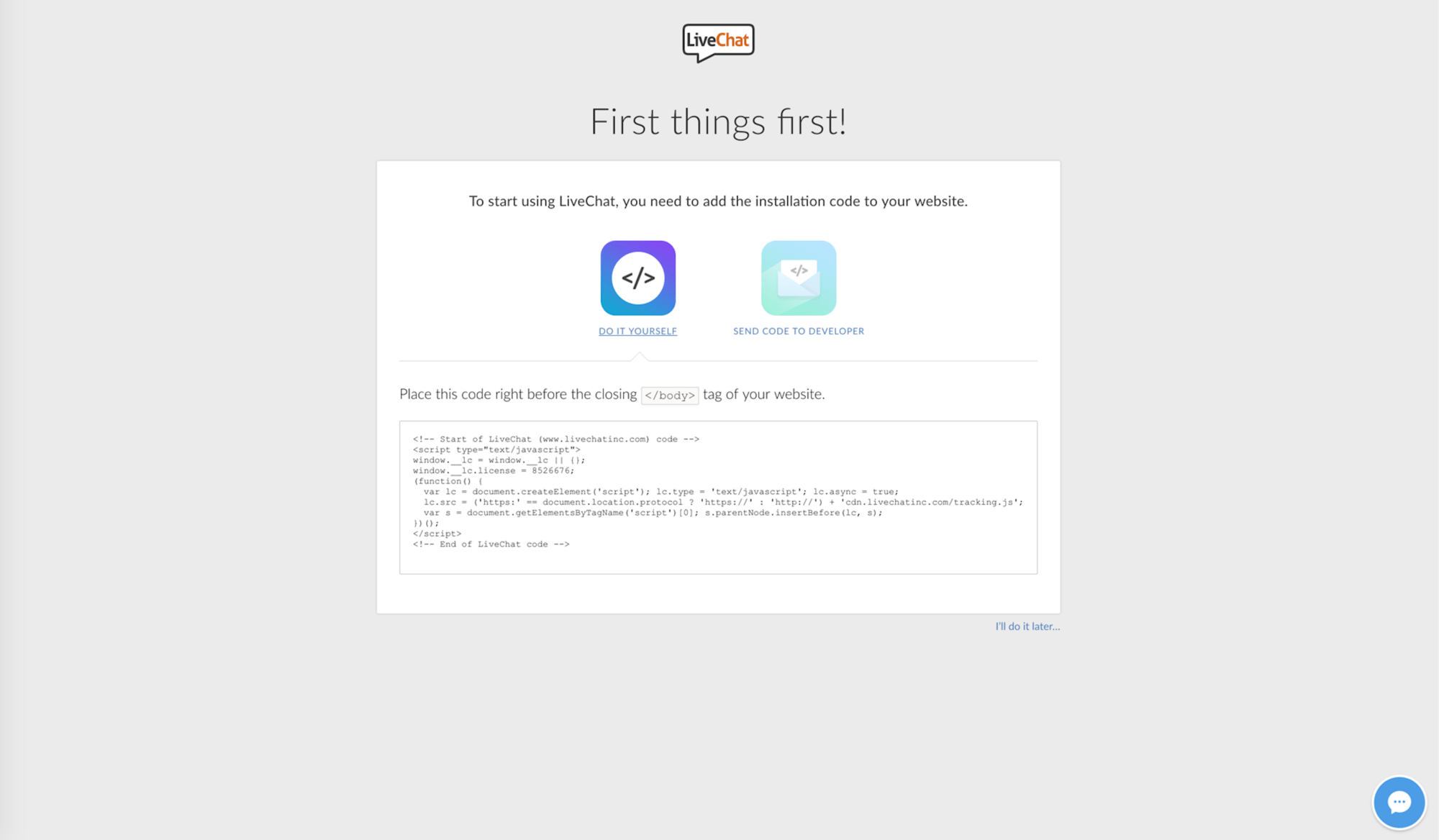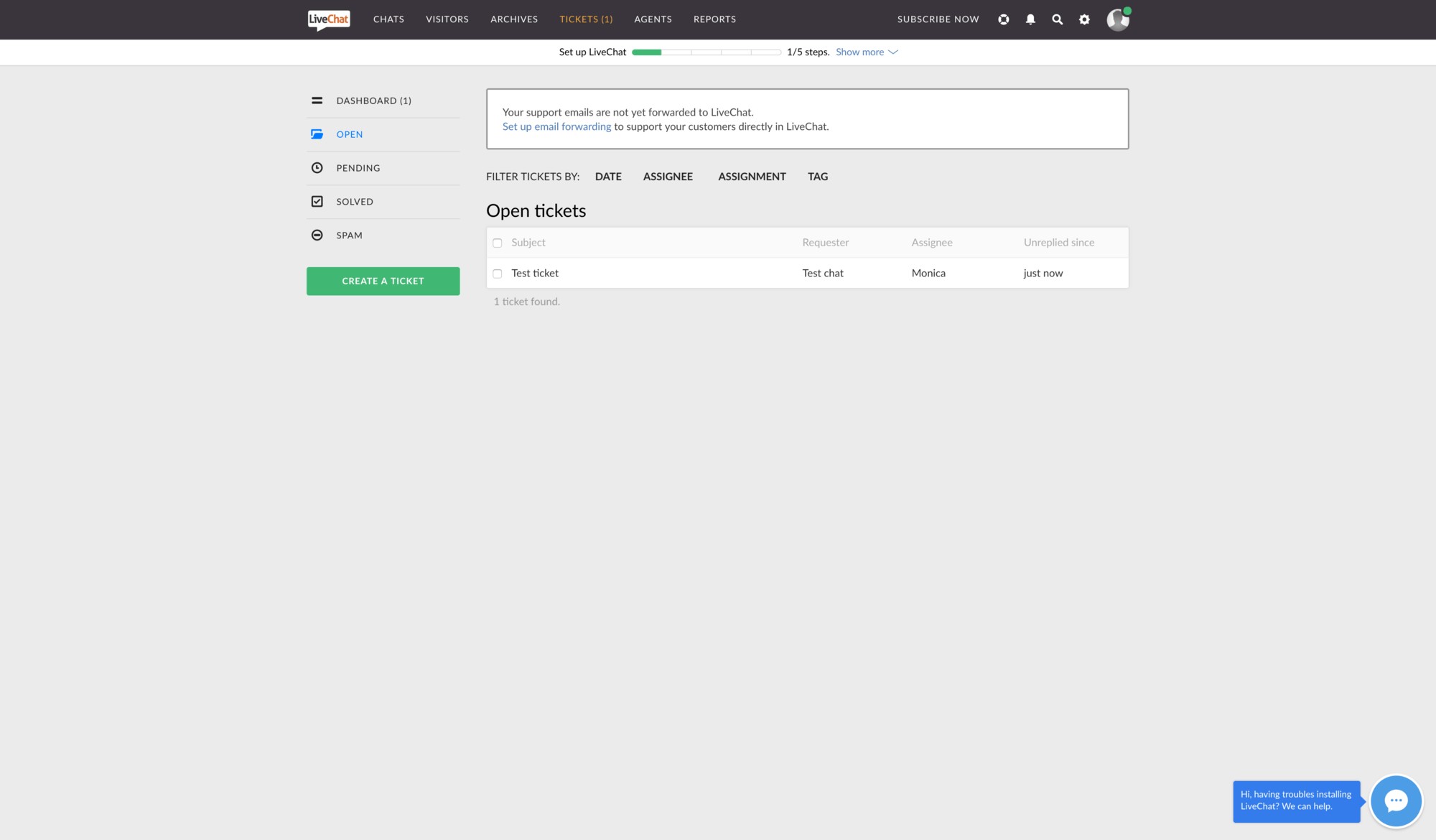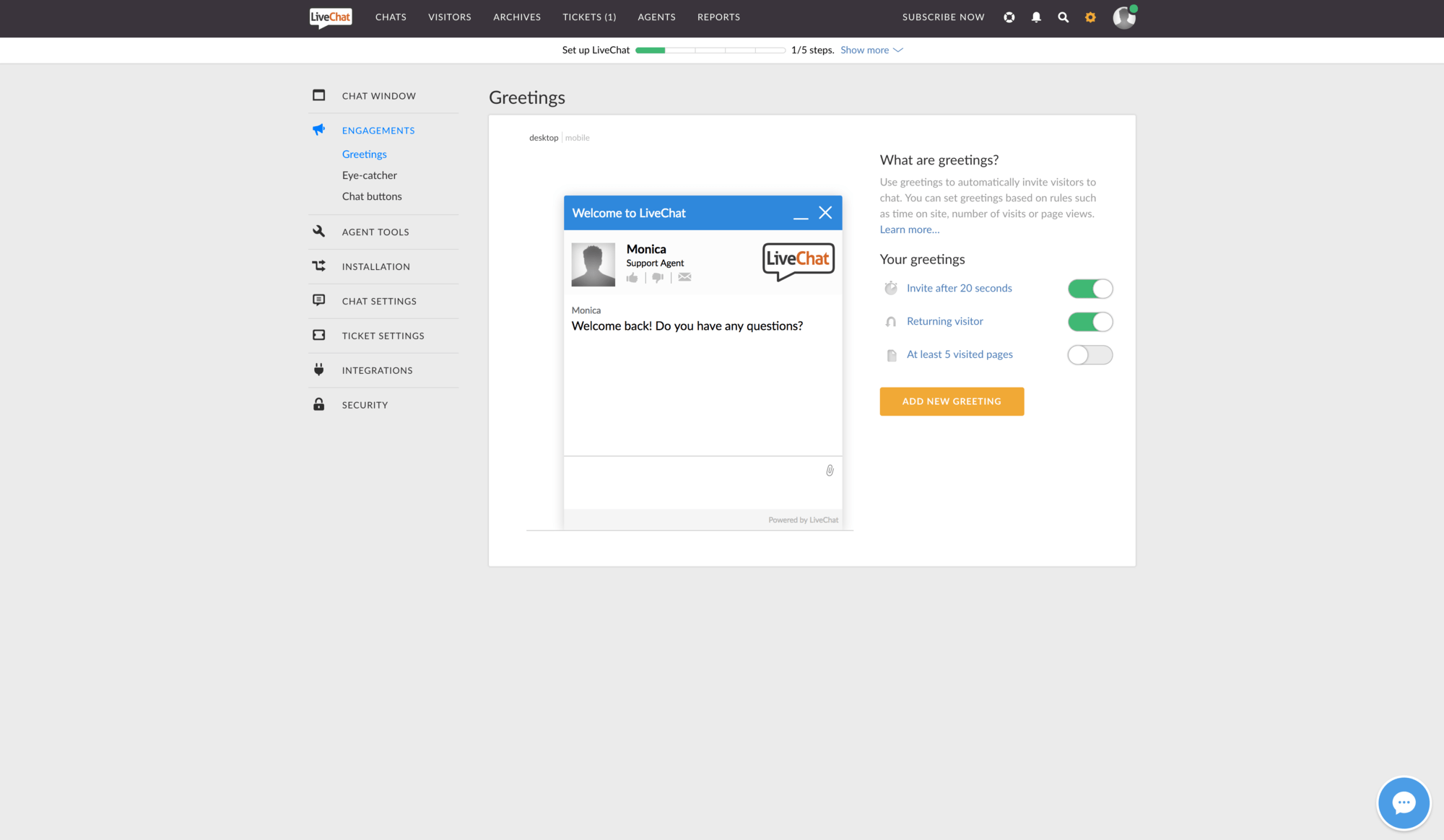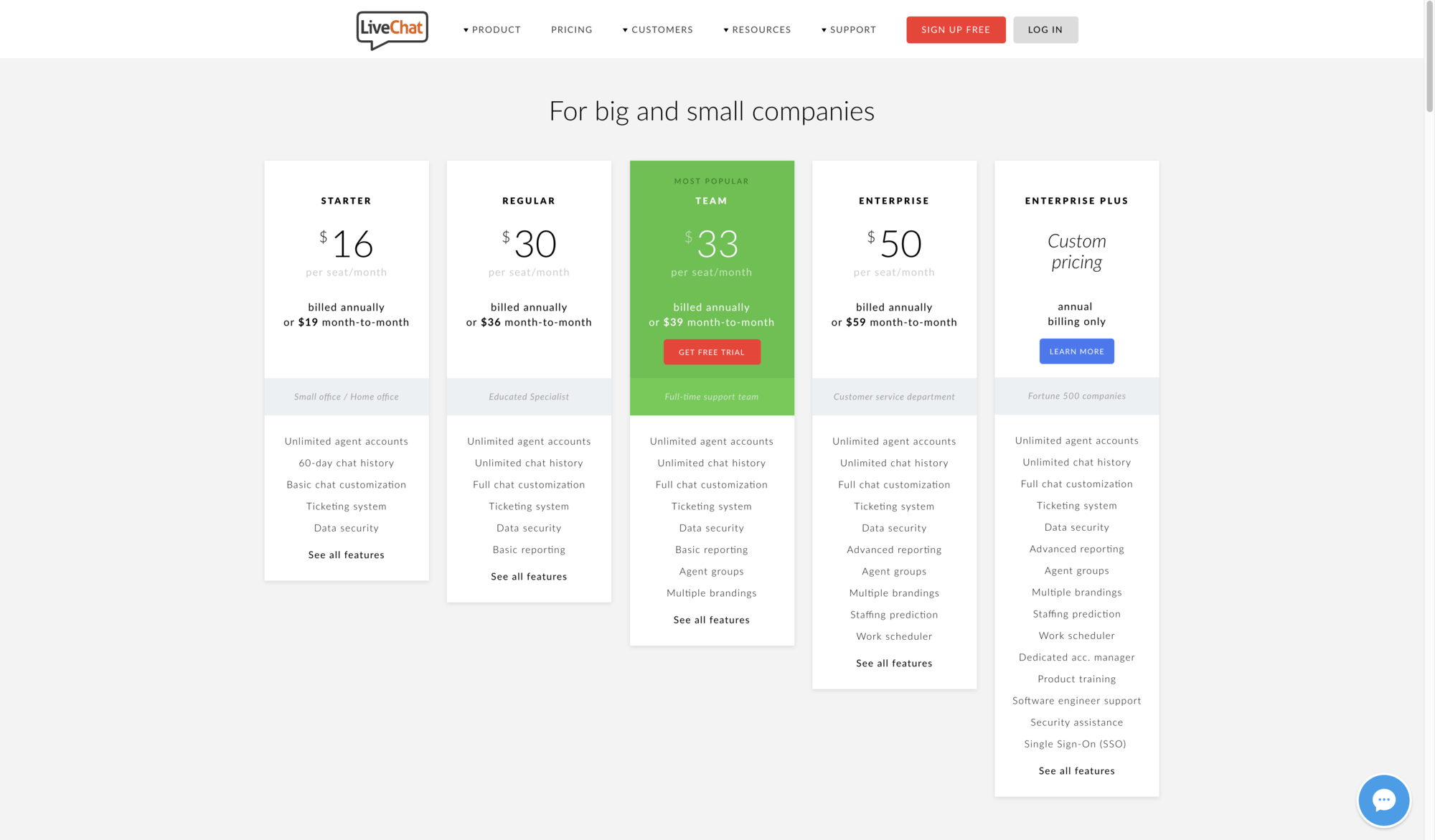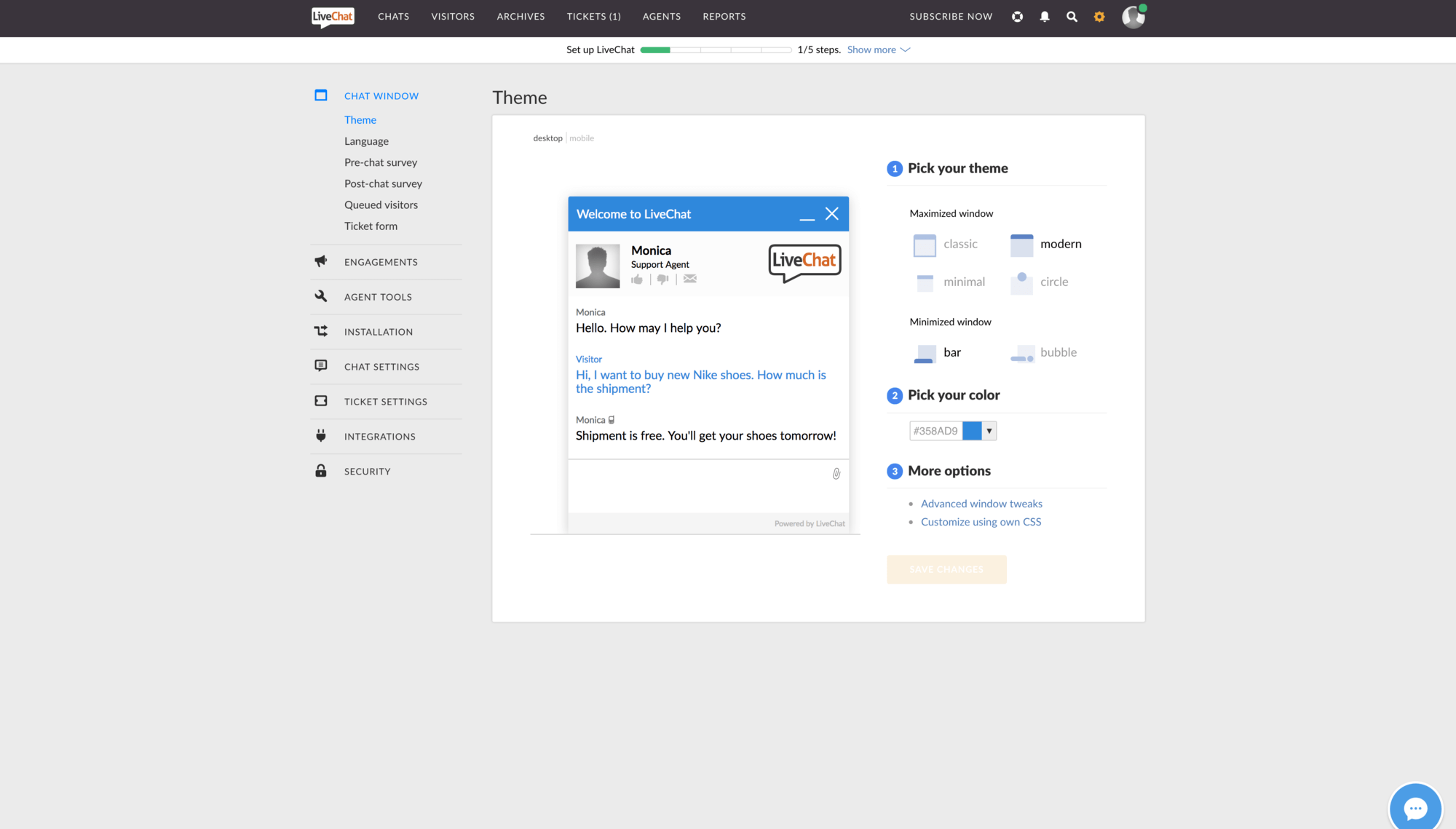 LiveChat live chat review
Today I'll be looking at one of the biggest live chat providers: LiveChat. The aptly named software is made by LiveChart, Inc., a Polish-based company. With 17,000 customers, it's a big player on the live chat scene. Let's take a look if all the customers made a good decision.
Setting up LiveChat
LiveChat offers a free 30-day trial in their Team plan, which includes most of their features. The signup process seems pretty smooth. To set up an account, you need to provide your email and answer a bunch of questions about your business, e.g. which industry you represent or how big is your company.
After filling out the form, you're thrown straight into the app. And in the app, there's a sort of checklist onboarding waiting for you. The onboarding includes several tasks you need to do to acquaint yourself with the app and generally start using it on your website.
I must say, I really like this form of onboarding. It's nice because you're not forced to go through it at the beginning of your trial and immediately forgot what you were doing. You can do one tasks at a time and come back to it whenever you feel like it. Even though the app doesn't force you to do it all immediately, it will still remind you about the most important part: LiveChat code installation.
Installing the code is pretty standard. It's done in pretty much the same way other providers do it. You get a piece of code and need to copy and paste it into your website's code. However, there's a nice addition to this process: if you're not going to install the code yourself, you can email it to your IT person and have them handle it. A small addition but can make all the difference.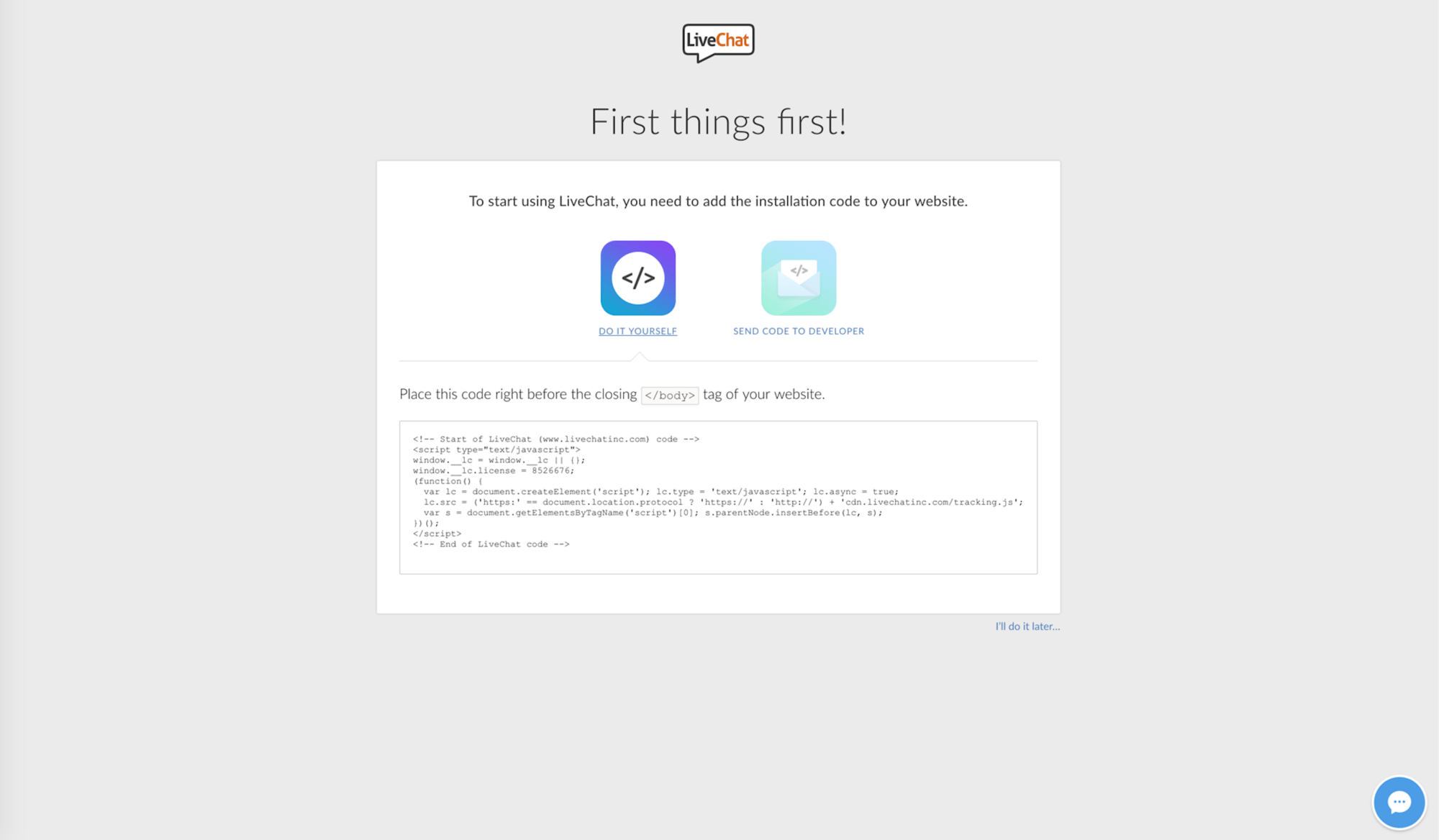 First chat with LiveChat
To test LiveChat out, I installed the code on my test page to see how it will behave. The first chat went pretty OK.
When signing in to chat, potential customers get the chance to fill out a short survey and provide basic personal information. Alternatively, they can use their Facebook account to log in with one click. The chat goes immediately to the agent and there is no wait time involved.
Chat users can rate agents, request the chat transcript or send a file or an image via the chat window.
When it comes to what the agents get, there seems to be a lot of options available right out of the box. Agent get access to basic customer information like name, email, location. They can tag the chat to make it easier to find later on. For example, the can add a 'sales' tag to be able to easily find it for a potential follow up.
Agents also get to use pre-made responses. For example, if you find yourself repeating a particular answer a lot, you can add it as a canned response and recall it during chat with just a few keystrokes. That seems like something that could save you a ton of time.
Agents can also transfer chats to other agents or flat out ban visitors who are abusive.
There's also an option that allows you to attach an image or a file and another one that allows you to create a ticket from the current chat. That's right, LiveChat live chat has a built-in ticketing system that comes at no additional price! A nice two-for-one deal right there!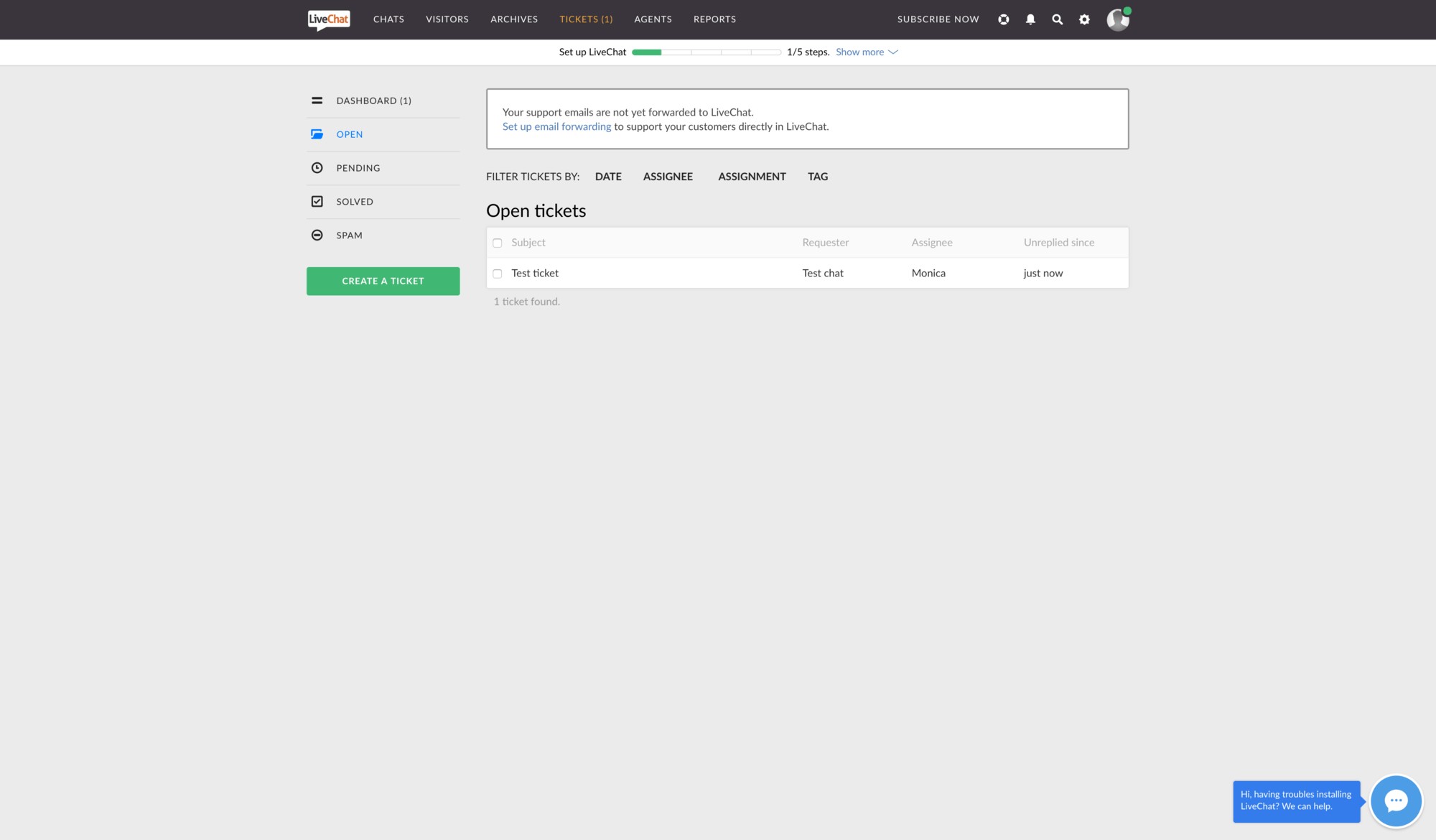 Additional LiveChat features
If this seems like a lot, you can do more if you customize the chat a bit. This includes 3rd party integrations that allow you to expand the capabilities of the chat window. For example, you can hook your LiveChat to your CRM and have the contact information from the CRM appear directly in the app.
Apart from what happens during chat, there's a pretty beefy set of settings and a reporting module that gives you even more power.
One of them, the Greetings, allows you to create automatic invitations that trigger based on what the user is doing on the website. I imagine this could be a pretty good source of extra chats if the triggers are set correctly.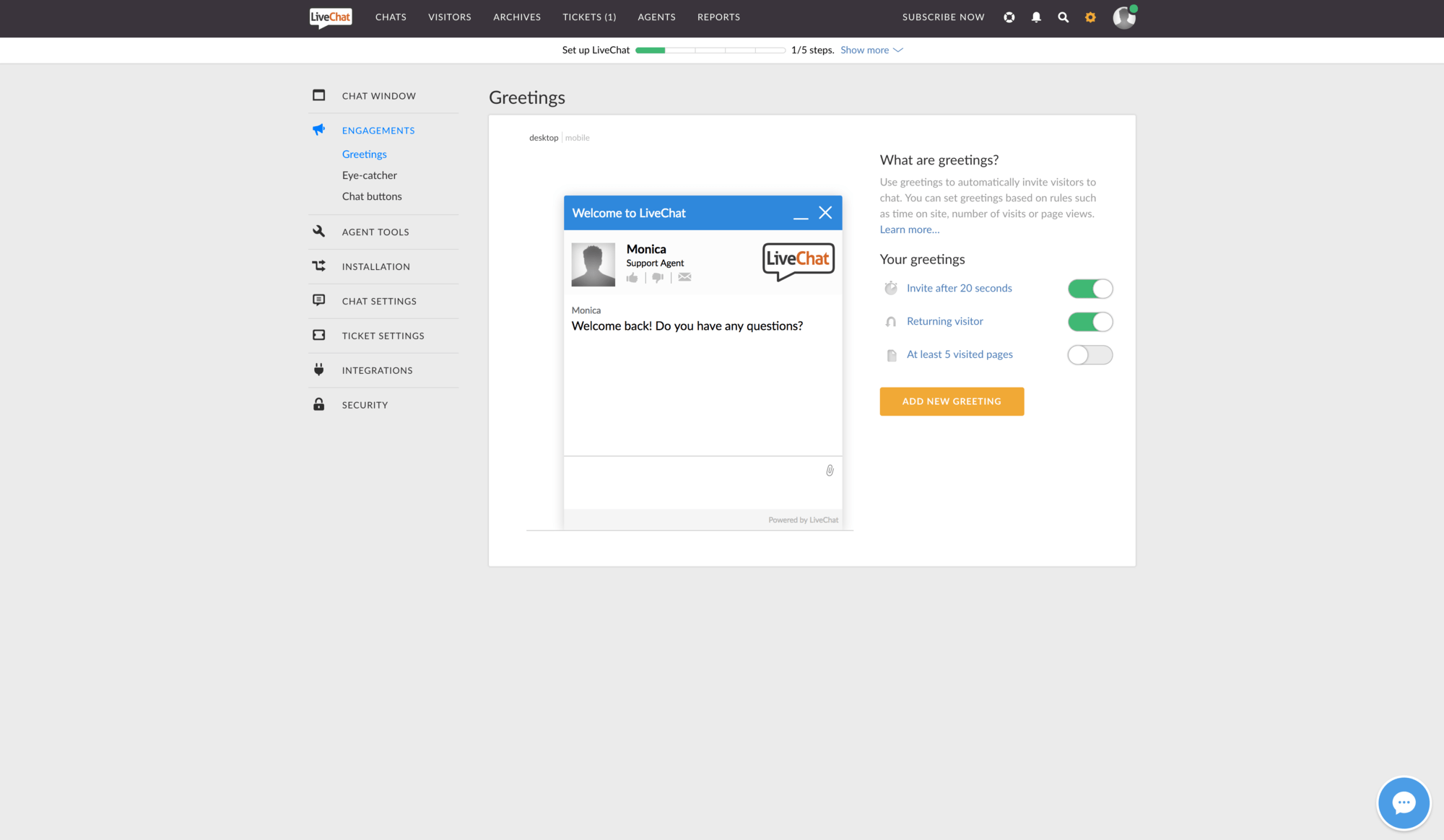 You can also configure goals to see how much of a return you're getting from having LiveChat live chat on your website. This gives you a look at the entire funnel from a visitor, through a chatter and to a customer.
The reporting module itself offers a ton of metrics you'd want to track as a manager. They have metrics for both chat and tickets available. There's also an export option available for higher plans that allows you to get all the data and crunch it yourself.
About LiveChat live chat pricing
The Team plan you can test out is available for $39 per seat/month. The lowest pricing plan, Starter, is priced at $19 a week.
The plans are clearly geared toward companies of different sizes and do not really limit your business.
For example, a smaller company will have no use of the team-oriented features and it will be able to get by with the Starter or Regular plan features.
Additionally, there'a discount available if you want to make a longer commitment and get an annual subscription.
Verdict for LiveChat
All in all, LiveChat offers a pretty good package at a reasonable price. It's hard to name another solution that offers a similar, rich feature set at this price point. What's more, there support is amazing and ready to help you at any time.
On top of that, the app looks and feels great. But hey, people don't call LiveChat the Mac of live chat software for no reason.