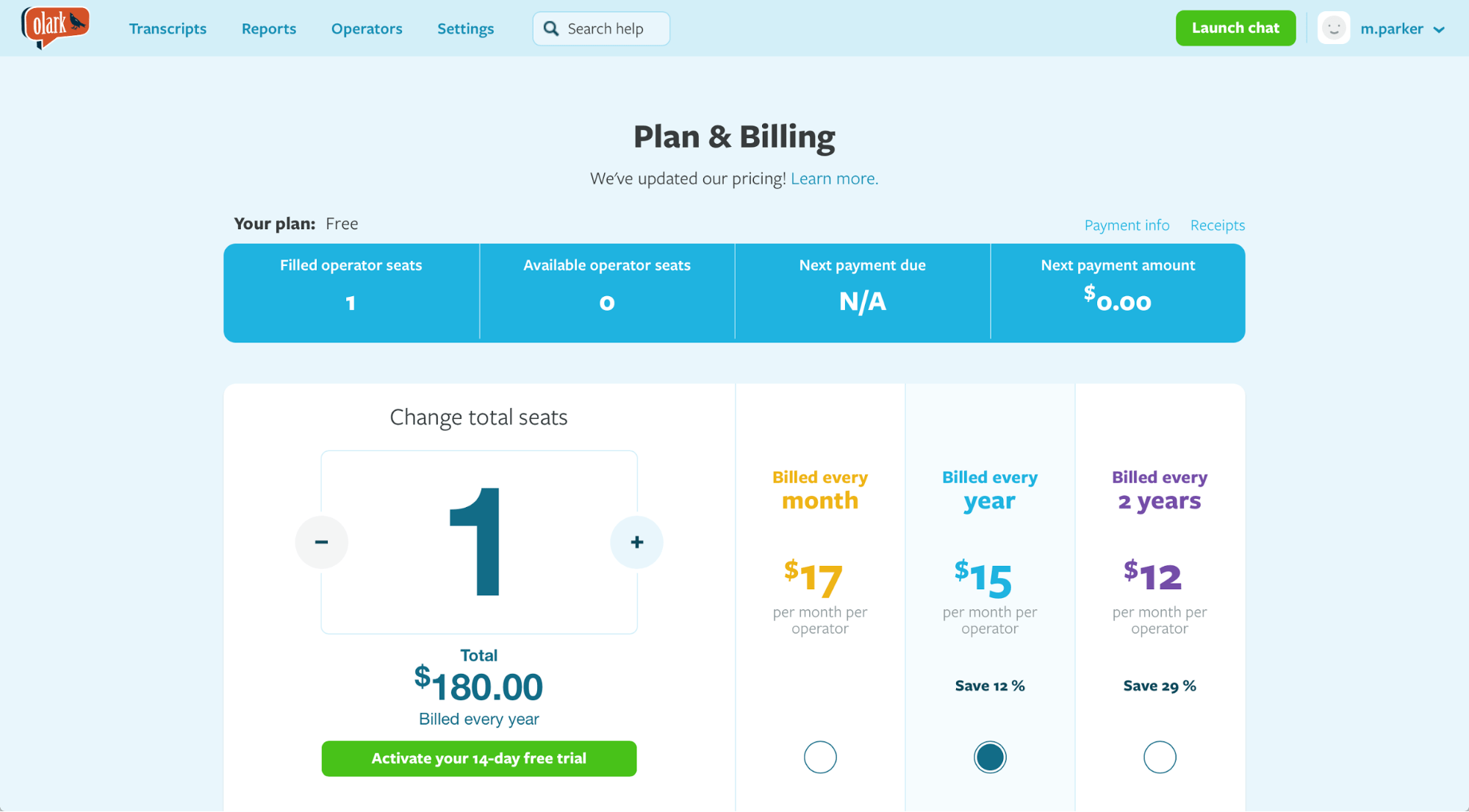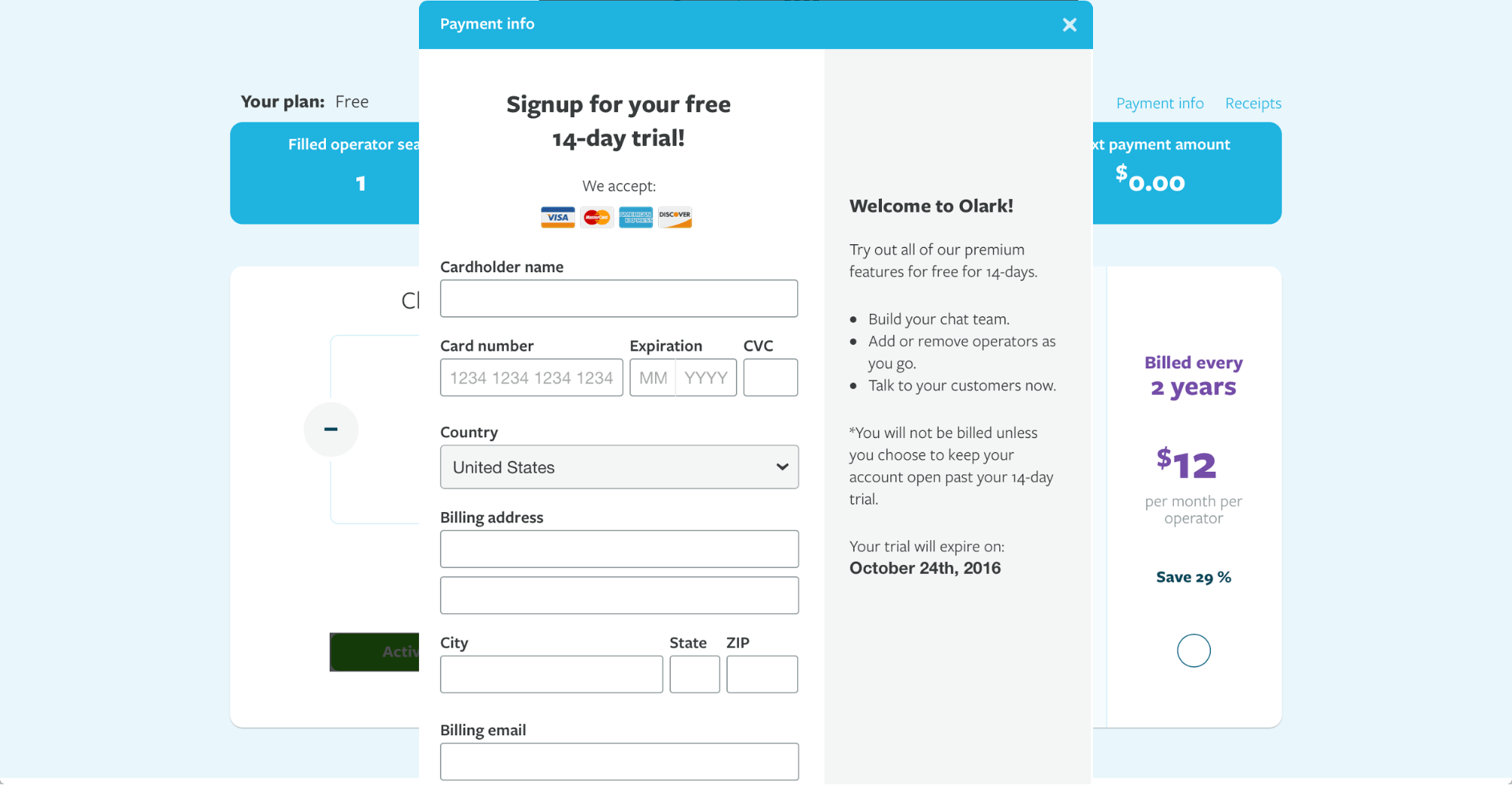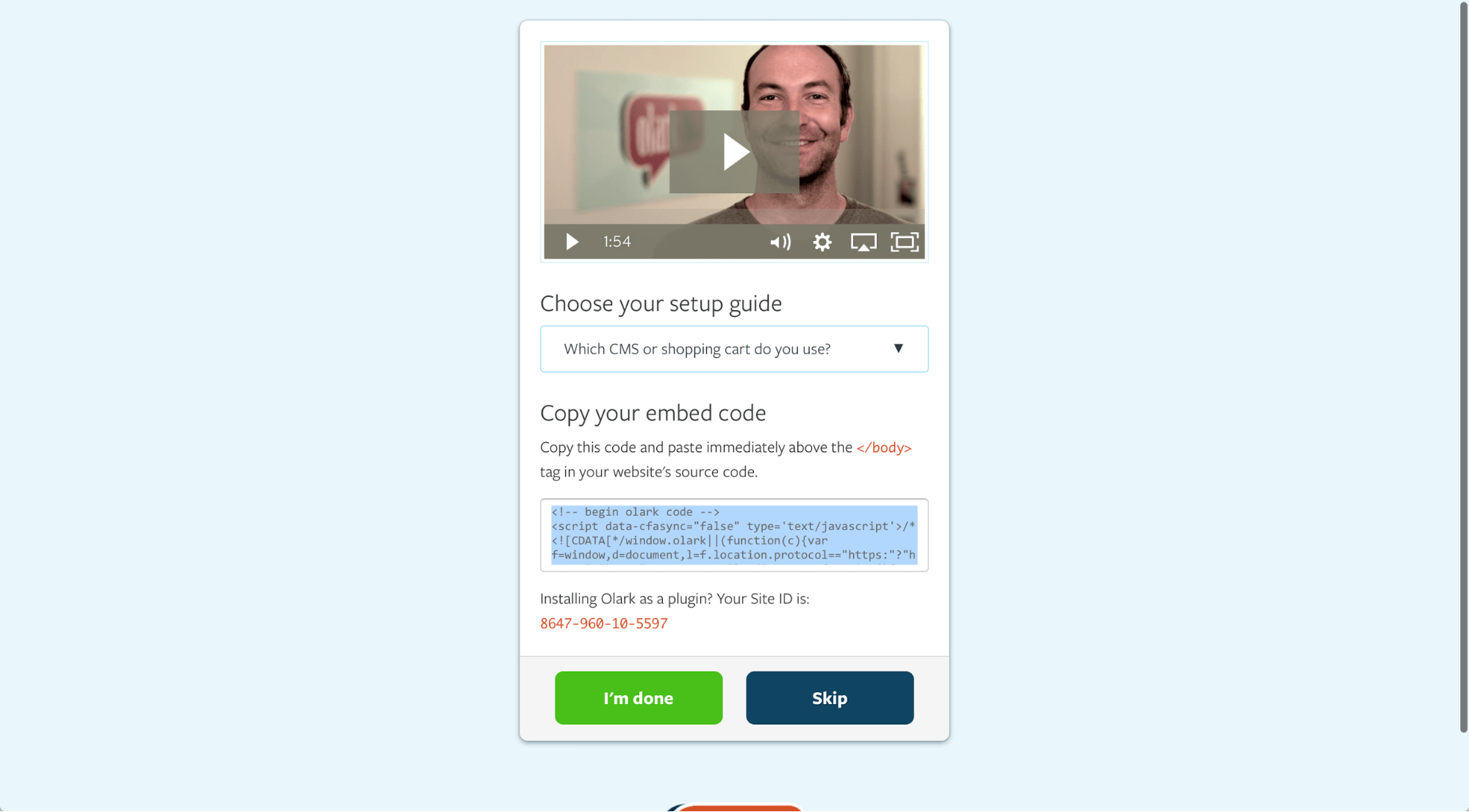 Olark live chat review
Olark is one of the top live chat providers, with over 12,000 paying customers. Today, I'd like to take a closer look at what they have to offer.
I'll be writing my review from the perspective of a small business owner, i.e. I don't have an unlimited budget and I won't want to share my CC details before I make a buying decision.
Let's get right into it!
Creating a trial account
To give Olark a go, I've went for the 14-day trial of their Premium plan. The Premium plan includes a bunch of features not available in the free, Standard plan.
I went to Olark's website and set up a trial account. However, instead of moving me straight to the Olark code set up, I was asked to pick how many operators I would need. At this point, I already knew what's coming up next – providing my Credit Card details.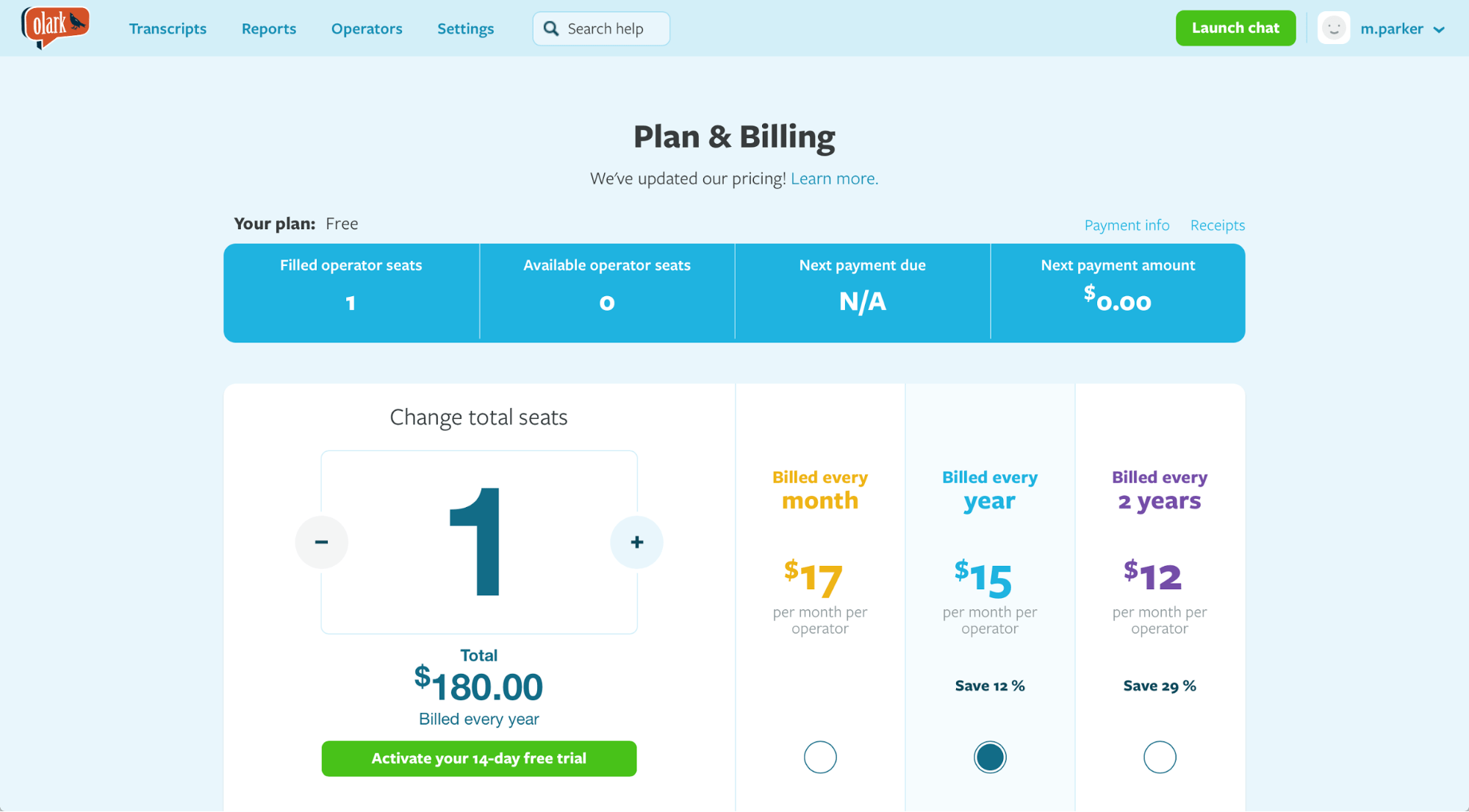 I don't really get it. If they'd want me to use their software as fast as possible, why would they be asking for the CC. I'd understand if they wanted to count on me not cancelling the account before the trial runs out but they even state that they won't bill before asking for permission first.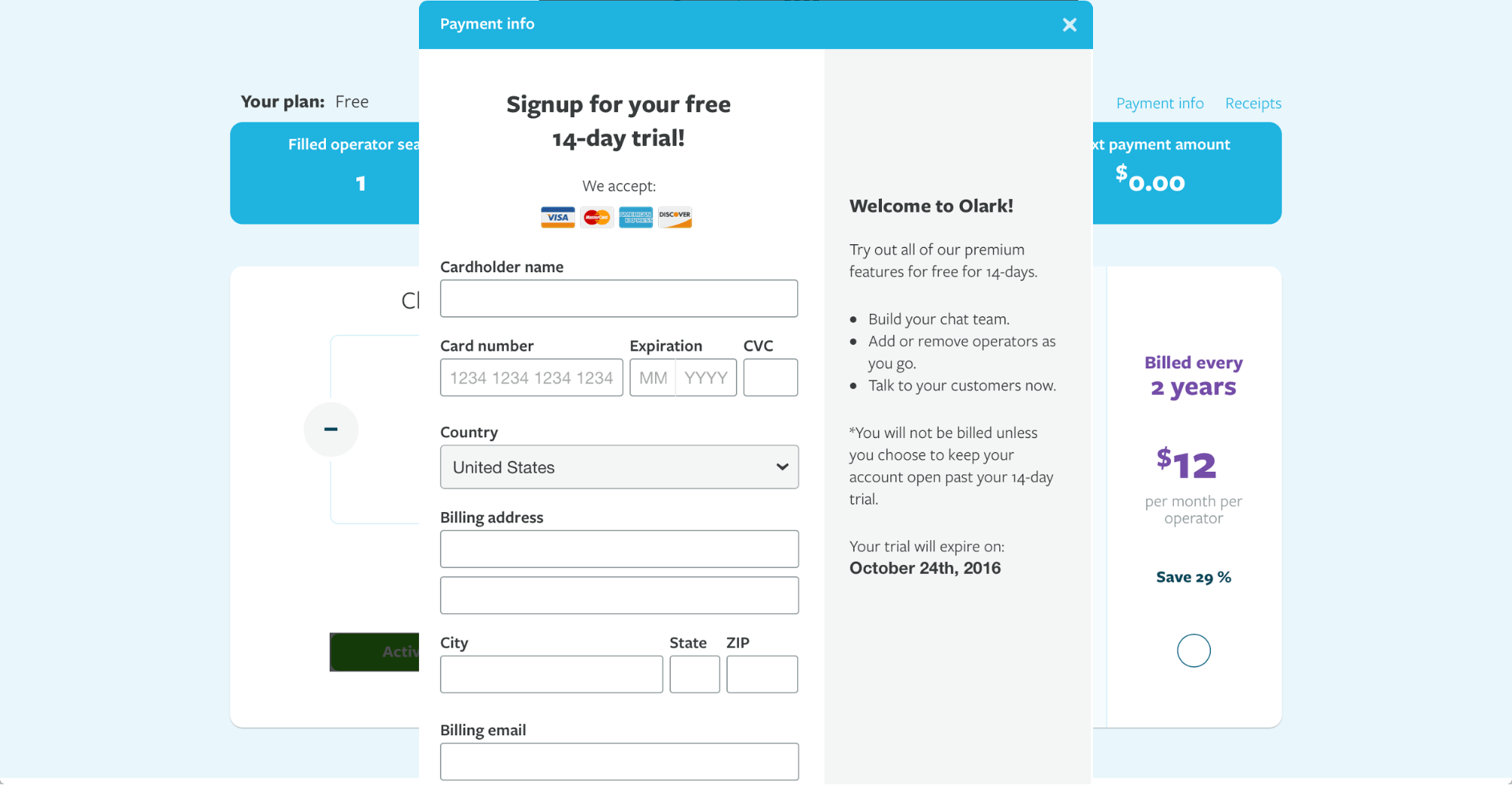 I ended up going for the standard free trial so that I don't have to provide my CC details. Too bad that I won't be able to test out everything but I think that potential Olark users will feel the same sentiment and I'd like to take a walk in their shoes as much as possible.
Installing Olark on a website
I wanted to check out how the chat window looks and behaves so I created a simple test page and added the Olark live chat code to the source. And for the life of me, I couldn't get it to work for good 15 minutes. I went line by line and checked everything but it was still acting up. I stripped the page as much as possible but I still couldn't get it working. Finally, I tried it out on a different browser and it started working. It seems that the widget and the app don't work on Safari. Works on Chrome though so I did all my testing there.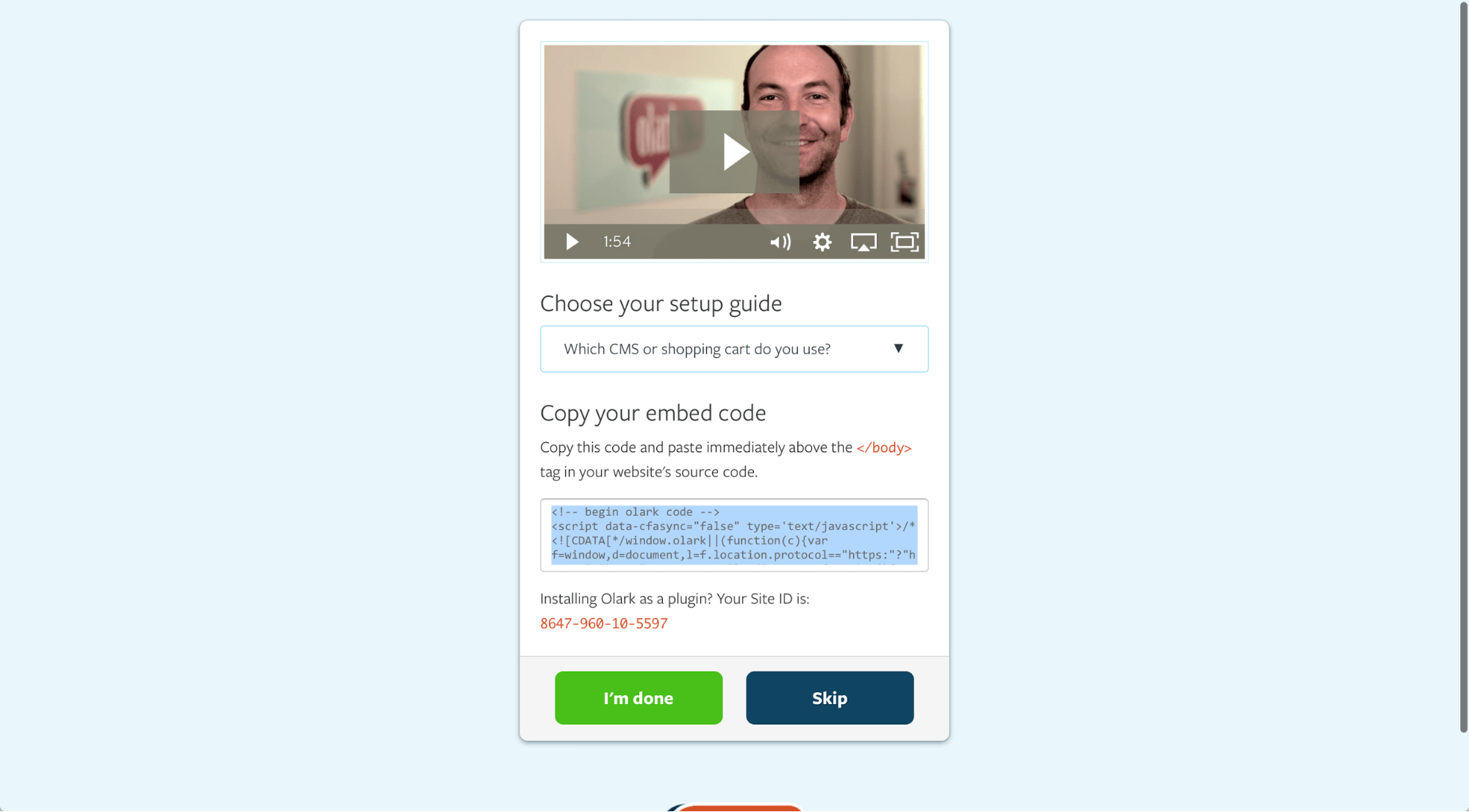 I later on figured out that the chat window doesn't show up if you're using the incognito feature on Safari.
Another thing that struck me was the almost complete lack of onboarding. Apart from the one screen where they tell you to get their code, you have to figure everything out yourself.
First chats and testing out the Olark features
I logged in and started my first test chat. The thing I liked immediately is the notification in the page title. It updates every 1-2 seconds so it should give you a good idea when you get a message and who sent it.
The app itself provides the kind of basic information you'd expect from a chat tool: location, current page, whether you're dealing with a new visitor or a returning customer.
The Action menu allows you to perform tasks like transfer, ban or to send a chat transcripts. You can also recall these tasks quickly with shortcuts. What I didn't like about this is the fact that it covers up a bit of the chat when it's up and you can't dismiss it without clicking on the Action button again.
To get the chats in the first place, you have the option of setting up an Attention Grabber, which is a graphic that points to your chat window. There's also the option of using an Automatic Greeter that starts a chat automatically with customers visiting your website. These are really great if you want more chats, but the cap of 20 chats/month in the free plan won't give you much use from an Attention Grabber and the Automatic Greeter.
What are the differences between plans
When it comes to other differences between the two Olark live chat plans, the standard plans also includes access to a bunch of customization options (everything but CSS customization from what I found), an offline message that will be displayed when no agent is logged, SSL security and customer support. The last two are especially nice, considering that this is a free plan after all and many businesses ditch security/support in such cases. You can compare all Olark
What you are missing out on are:
Shortcuts: Bringing up pre-made messages with a couple of keystrokes.
Targeted Chat: Hiding/showing the chat window based on specific conditions.
Operator Groups: Managing agents and their chats based on groups. Not needed in the Standard version as you have only one agent seat anyway.
Cobrowsing: Cool feature that allows you to see what your customers can see. It's nice that you don't have to get a separate integration for that.
Analytics: Chat reports and Transcripts. Technically it is possible to get some degree of reporting via the API and a Google Analytics integration, you won't really be able to use the data for much as you have only 20 chats.
Integrations: Help desk, CRM and other integrations with the most popular providers.
Adv. Customization: Removing the chat window altogether when there is no agent left to chat. You can also remove the Olark branding with these options.
No chat limit: I think the most important paid feature. No cap on chats means that you can contact more people and sell more via your chat.
The price for these? One agent costs $17 per month. You can cut down on the price a bit by making a longer commitment ($15 per agent/month for one year up front, $12 per agent month for two years up front). The one year plan will take you back $180 and the two year one $144. If your intention is to have the chat up in the most busy months like the Holiday Season, it might be better to stick with the monthly payments.
The free plan is not really feasible if you want to use live chat as a channel. It's good for testing the app out and maybe customizing it, but for chatting, you'd need the cap removed. You can compare the free plan features with the paid ones on Olark feature list page.
The verdict for Olark live chat
All in all Olark offers a pretty decent feature set. On paper, it has all the necessary tools you'd expect from a live chat providers, and sometimes even more. If they managed to get rid of the hiccups I experienced, ditch the credit card requirement and introduce some onboarding, I'd be happy to become an Olark client.