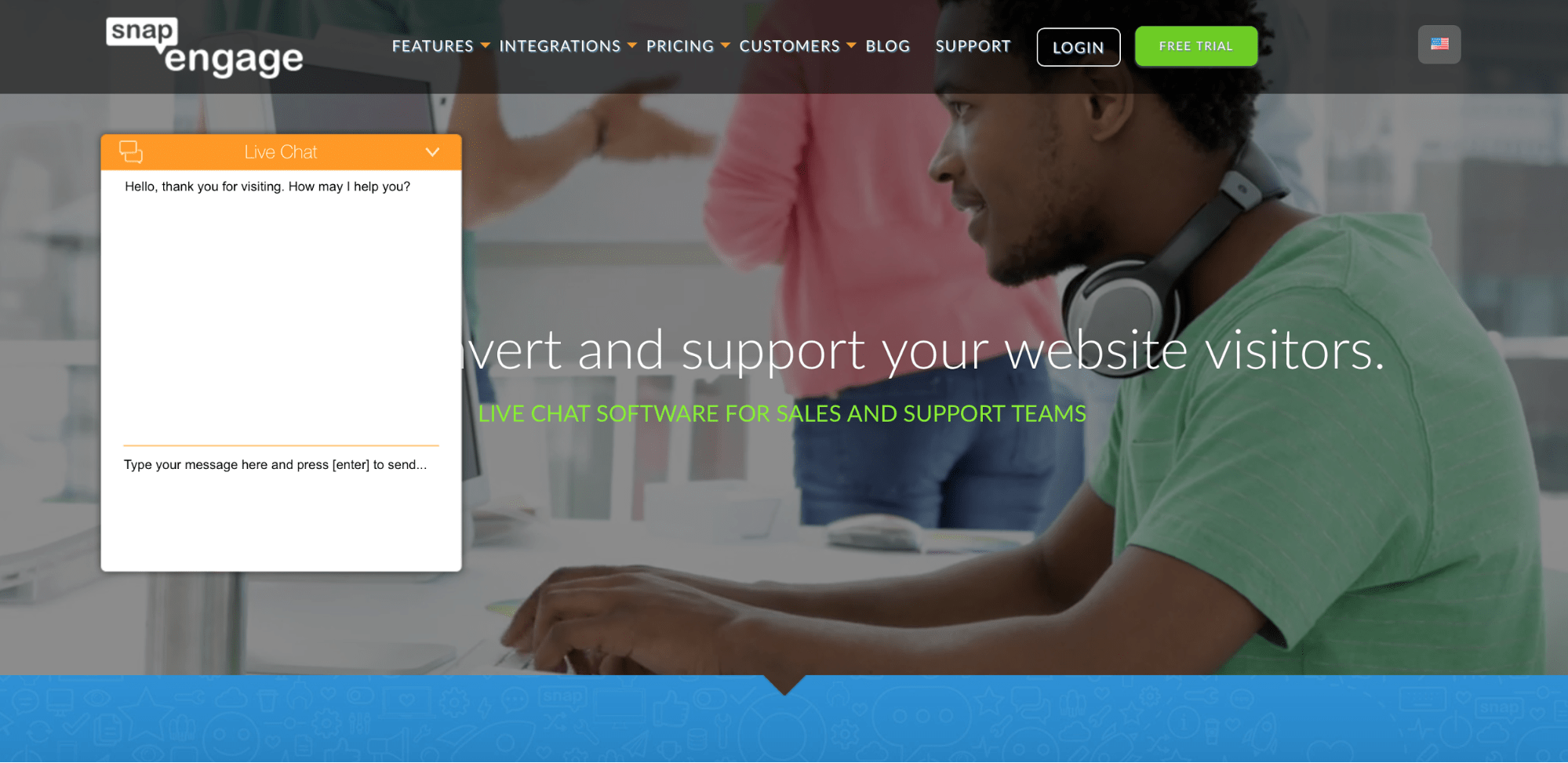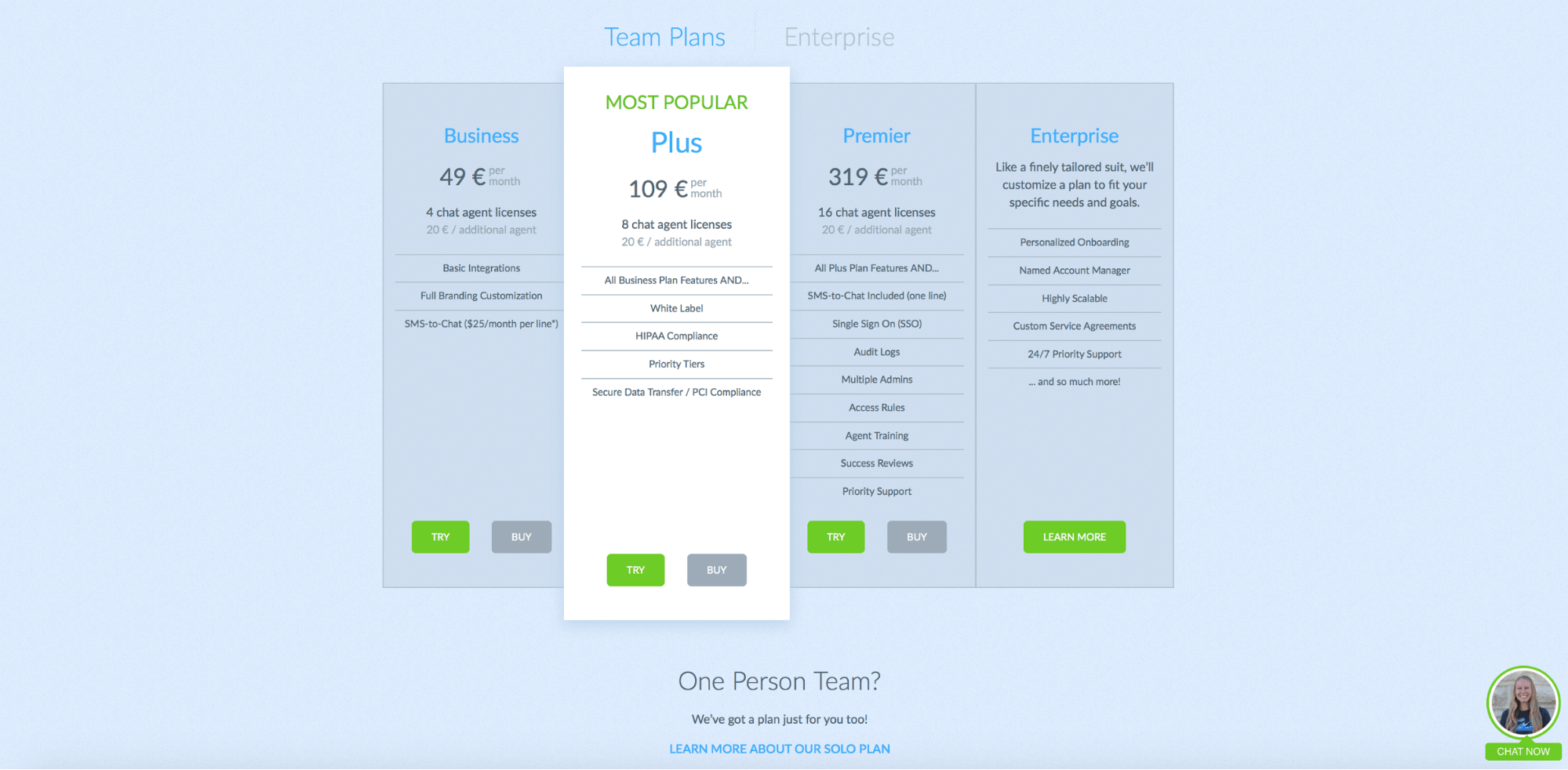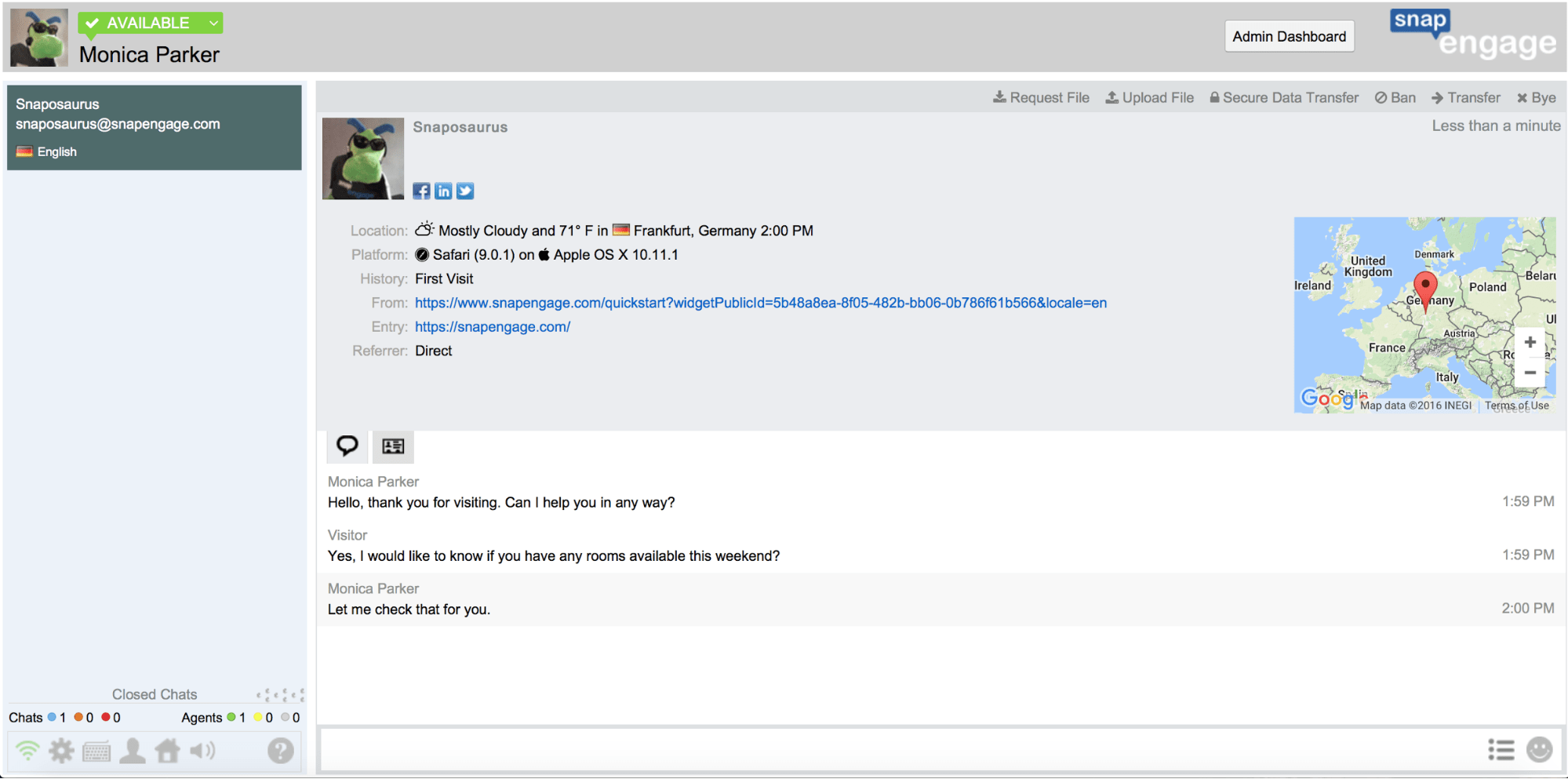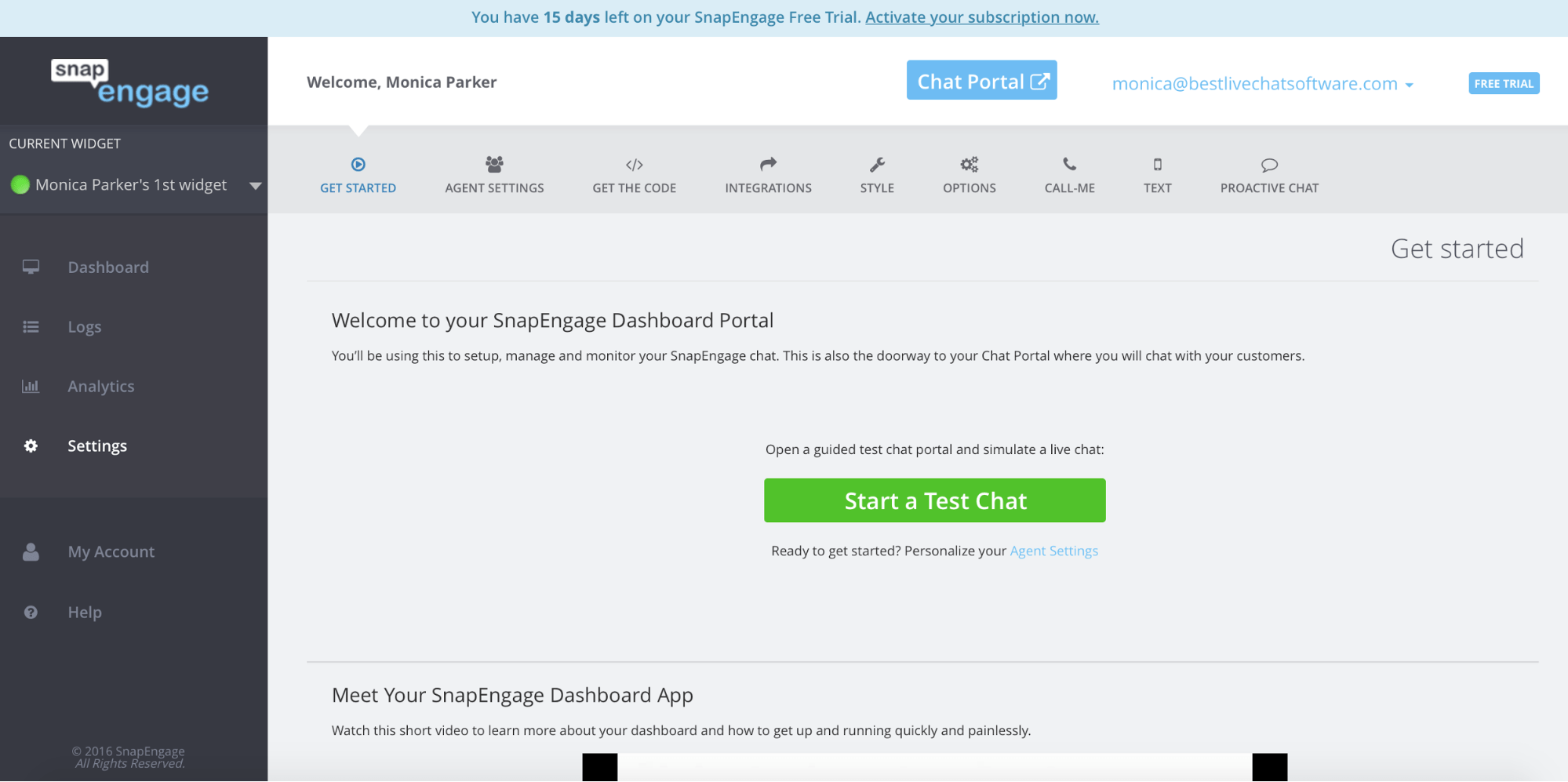 SnapEngage live chat review
SnapEngage live chat is a powerful solution for enterprising companies. It is installed on over 10,000 websites worldwide.
They have a nice looking website that encourages visitors to start a free trial with an eye-catching green button "Free trial".
SnapEngage offers a free trial for 15 days which is a little short compared to other live chat providers. You will be notified by email 2 days before the trial expiries will then be able to choose what type of SnapEngage account fits your needs best.
The software is easy to set up. It takes less than 30 seconds to sign up for a trial account and no credit card is required. Once you install the software, you're taken to the dashboard where you can easily open a guided test chat portal to simulate live chat.
The nice thing is that when you log into the application you can also watch a short video to learn more about your dashboard. There are 3 steps you need to finish in order to get up and running: finish up setting your live chat, adding an agent photo and paste the code to your website code.
When it comes to adding live chat to your website, it can be quickly installed by simply pasting the Code Snippet into your website source. If you don't want to use SnapEngage native Web Client, it allows you to use other instant messaging applications, it works with applications that are xmpp clients and connect with Google Talk.
Pros
SnapEngage allows agents to show their own photo to add a personal touch to the chat experience. You can also select how many chats agents can handle simultaneously.
What's great is that visitors can move the chat around the page so it doesn't overlay content they are interested in.
When it comes to customizing the live chat widget appearance, you can choose from different buttons, select their positions or upload your own graphic.
What I like in SnapEngage is, once a visitor starts a chat you can see where they're from, it also shows a map pointing on your chatter. In addition, you'll get information about the weather in the visitor's region. It's not crucial information for live chat agents but you can always use it to make the conversation more personal and a little different, by adding something like: "Have a nice day! Don't forget your umbrella, I can see it's rainy out there." It surely creates a good customer experience.
With text messaging quickly becoming a preferred method of communication across demographics, SnapEngage decided to offer a SMS-to-Chat feature that allows visitors to communicate with agents via SMS text message. It's another way for agents to stay in touch with visitors while they are on the go.
I also like the "call me" feature. With the click of a button, visitors can request to be connected directly with your agents on the phone.
Cons
There're a lot of pros but also some important cons here. There's no site monitoring, which allows you to view all of your website visitors in real time for the purpose of manually initiating chats by invitations one by one. In SnapEngage visitor details are only visible once the chat request has been sent. Also, visitors can't be invited by agents.
Features
There are a couple of other nice features that are worth attention. They offer an offline form, which will act as a contact form but can also be hidden. Canned messages are also available, they can be easily set up in the web client. Those work in instant messenger as well. You can also create chat transcripts protocols and email them to a predefined address.
It's possible to transfer a chat from one team member to another, a very helpful feature that will help to resolve issues faster and improves teamwork. SnapEngage provides mobile apps, it works with iPhone and Android. Also SSL is offered in every plan which is very useful. There's also "ban user" feature which allows to ban unpleasant visitors. But once you ban a visitor, there's no way to remove the ban.
Integrations
I would say integrations is one of SnapEngage strengths. They let you increase your site functionality by quickly and seamlessly connecting to hundreds of applications. Include integrations are available for customer relationship management, social media, help desk and eCommerce tools. You can find the complete list on SnapEngage integrations page.
Pricing
SnapEngage offers 5 plans: Business, Plus, Premier and Enterprise. What I didn't notice though for a few days of trialling is that they also offer the Solo Plan. I thought I need to buy a basic option for $60 (it offers 4 chat agent licenses with $25 for an additional agent).
SnapEngage offers a slightly different pricing than other live chat providers. Most live chat providers charge based on the agent seats you are using. SnapEngage requires to pay for every operator you set up. So if you're having 20 agents and only 10 works at one time, you still pay for those 20 agents. However if you calculate it, it's still a good price.
Summary
Compared to other live chat providers I'm missing the possibility to manually start a chat and also analytics functions. Reporting depends too much on the integration with Google Analytics.
Among its strengths there is the fact, that it is definitely easy of use. I like that visitors can text or request a phone call that will be routed through the infrastructure of SnapEngage but only in selected countries.
SnapEngage depends on integrating with an expert applications (for example Google Analytics), but if your company is already using such, this chat solution can be a good and affordable service for you.