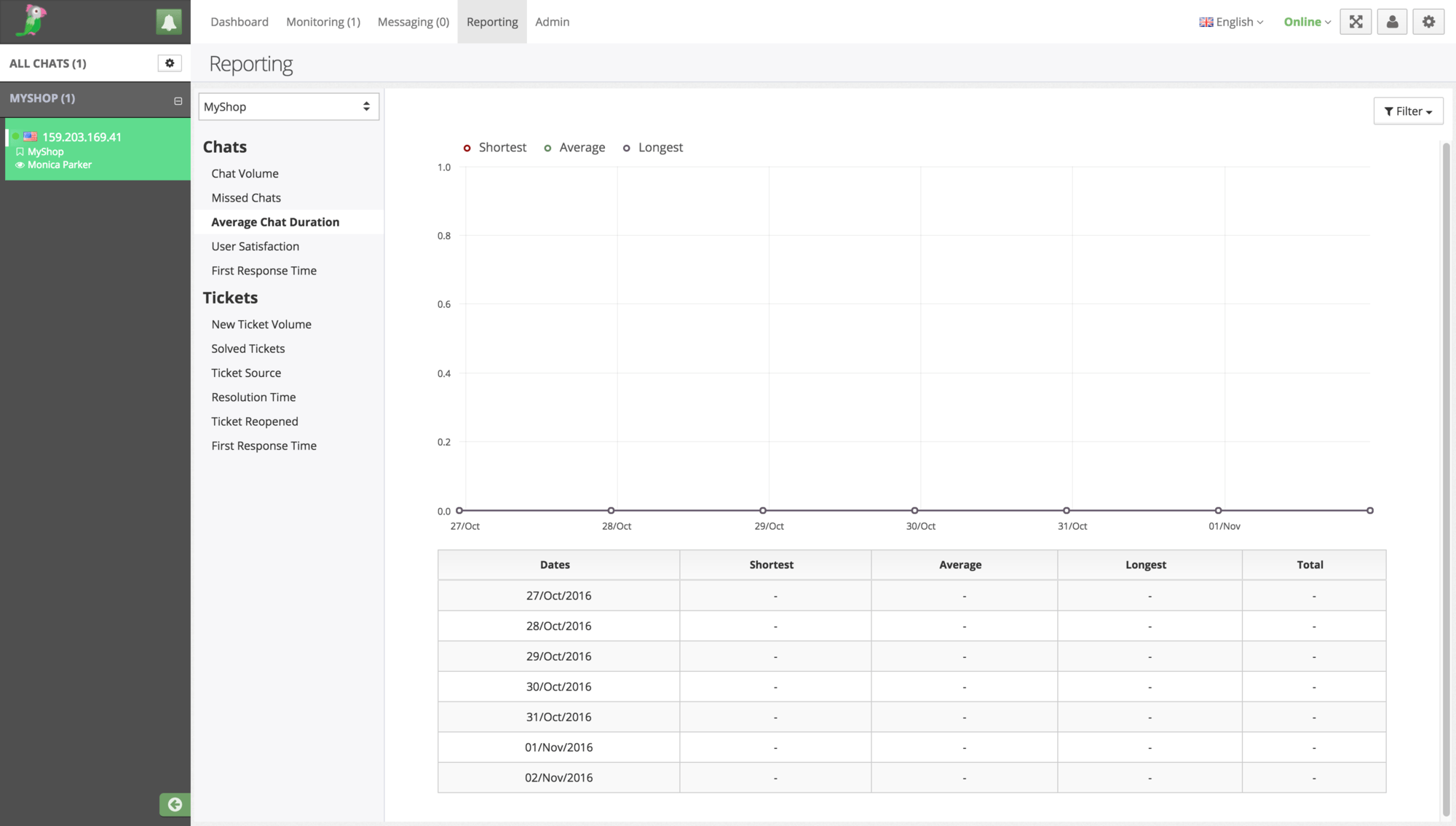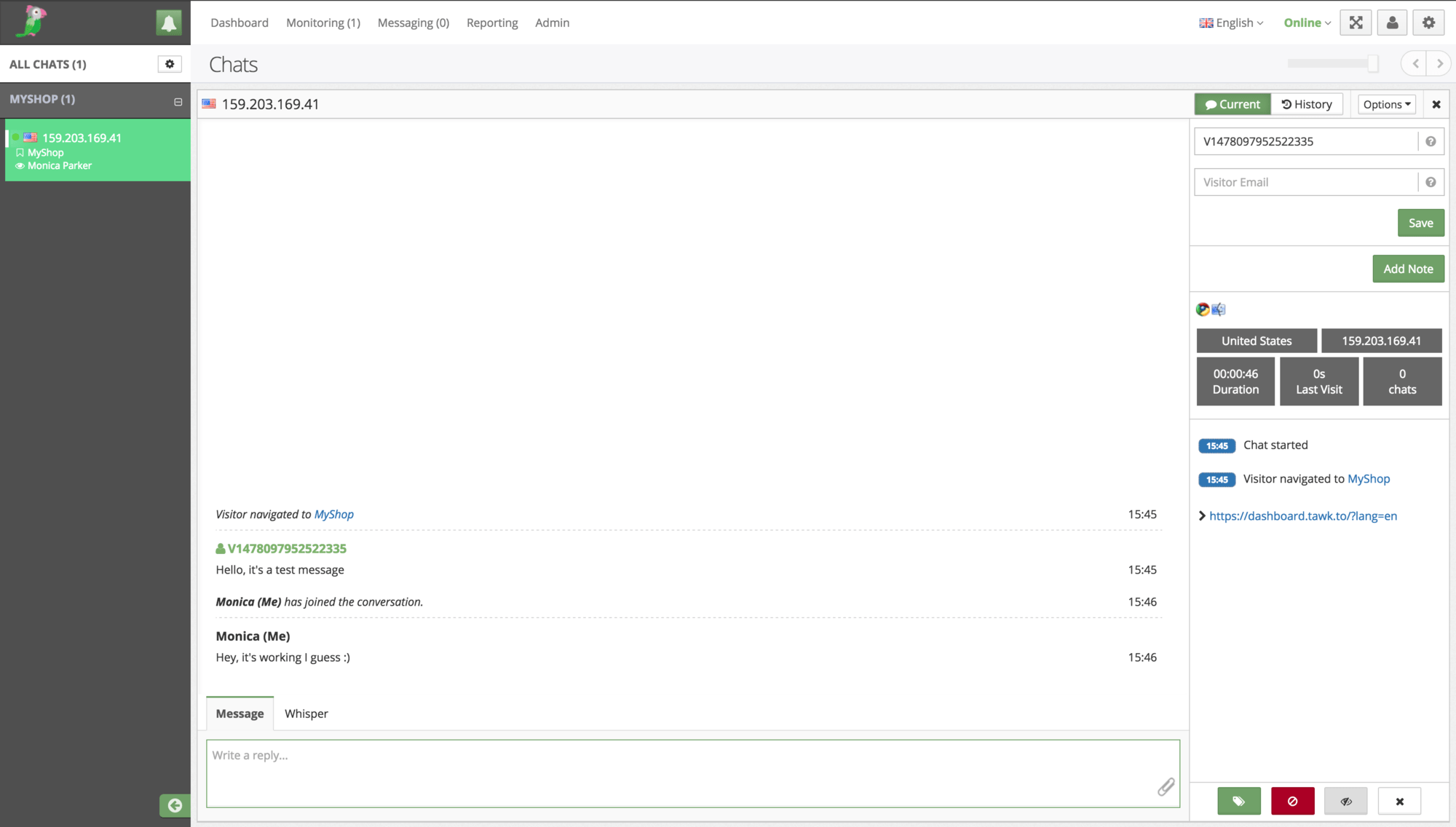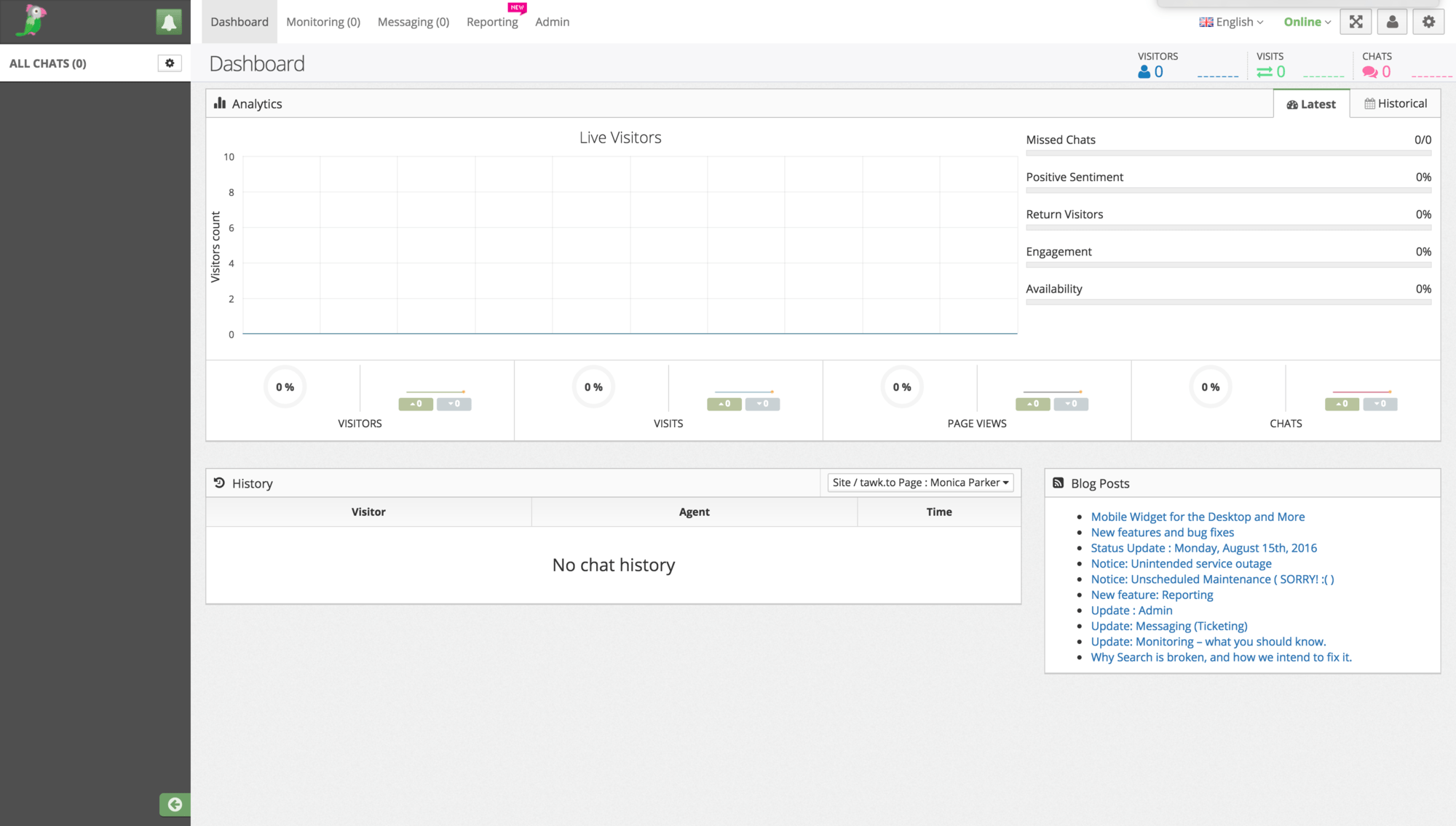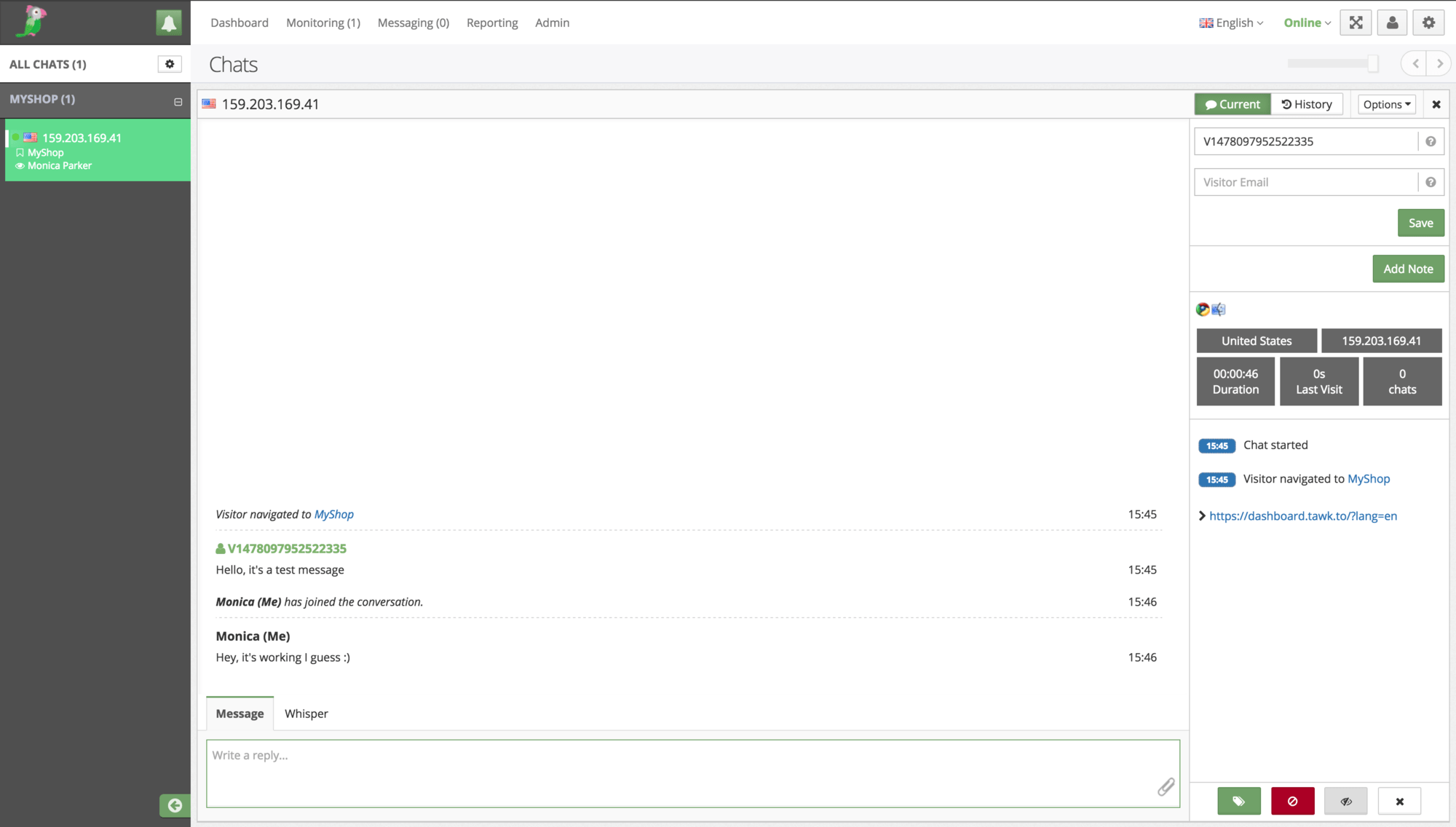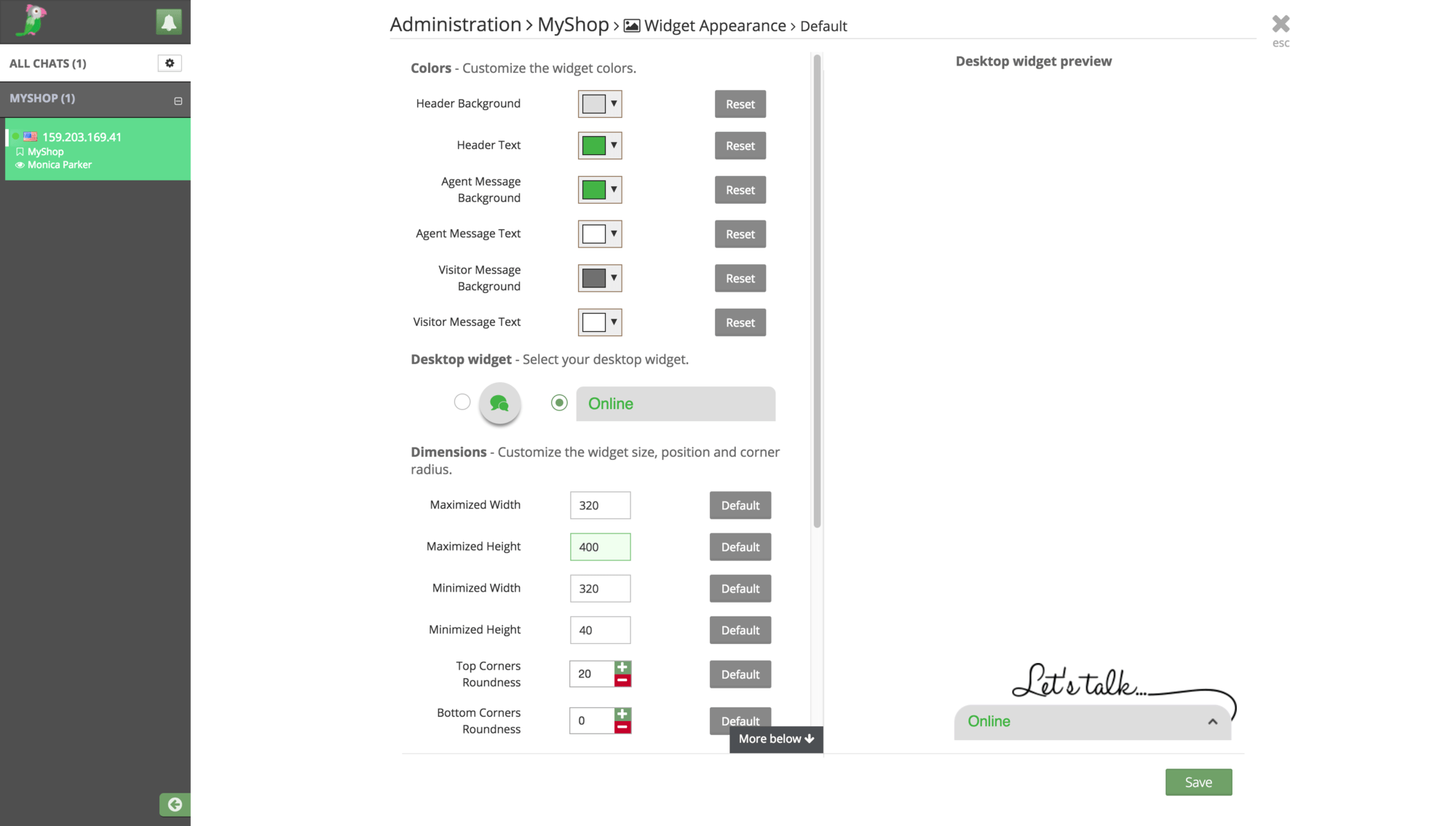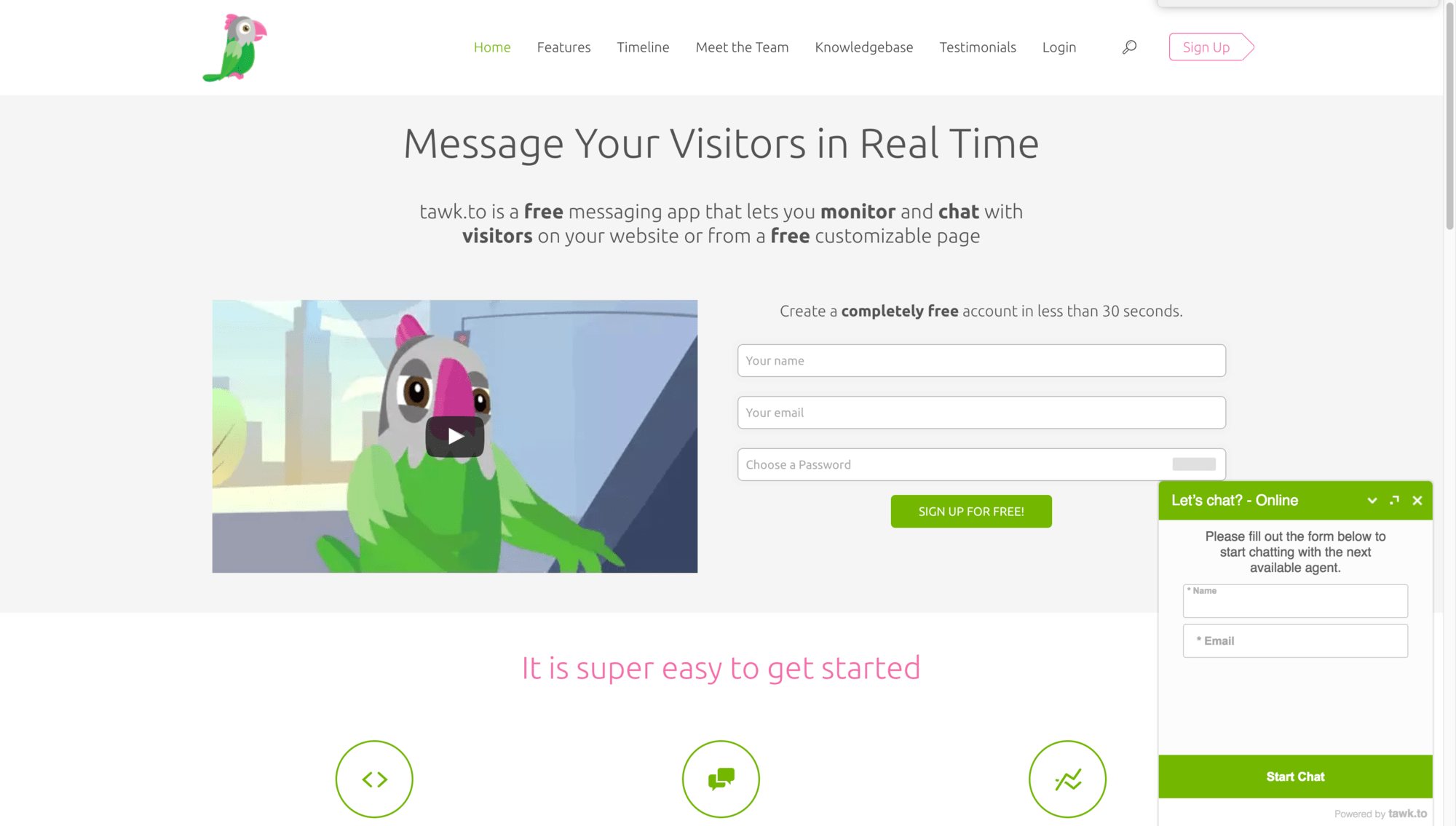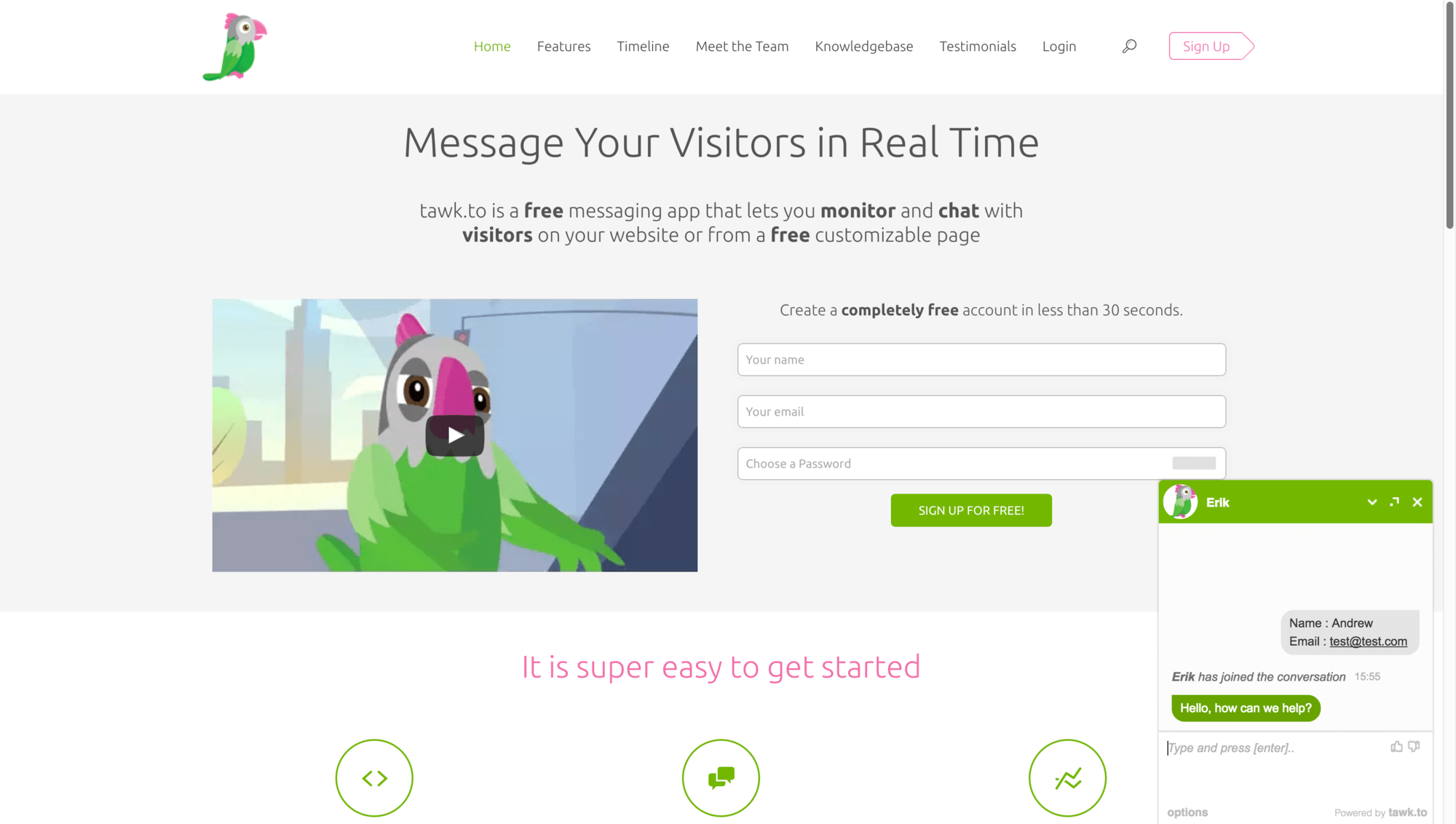 tawk.to live chat review
tawk.to live chat is one of the up-and-comers among its competitors. It's also one of the biggest providers that offer their services completely for free.
Let's see what tawk.to has to offer and if the free price tag is really correct.
tawk.to trial and set up
I've started my 'free trial' of tawk.to by filling out a form on www.tawk.to. I've put 'free trial' in brackets because tawk.to is free for everyone for any amount of time. So even though I will be trialling the service, I have unlimited access to all tawk.to features.
Getting something for free is pretty neat, I thought. Let's see what's under the hood.
After confirming my email address, I was redirected to the web app where a short onboarding process was waiting for me.
I had to tell the name of my business and the URL of my website. In the next step, I was asked to add more agents to the service, which I really liked. It's smart: the faster you have more people working, the better.
The final step of the onboarding was about placing code. It happens in very much the same way as with other live chat providers. You need to place their code before the tag of your website. Business as usual here.
First tawk.to chat
After completing the setup, it quickly started my first chat through tawk.to live chat. The first thing about chats that you immediately notice is that the are treated a lot like calls. The notification sound for a new chat is literally the sound of a ringing phone. And it will keep on ringing until someone picks up the 'call.'
The chats also don't start automatically. If not picked up, they will remain in limbo. Anyone can pick up the chat, but this could be a bit cumbersome for bigger implementations.
Agents can either choose to message the customer directly or send a whisper that will be visible to other agents only, which allows for several agents to participate in the same chat and coordinate in a way that is not visible for the customer.
The tawk.to live chat app user interface
The app's UI has all the major components you'd expect from a live chat app. There's a section with the visitor's details, section when you can choose different chats and the chatting section itself. There's even a section that allows you to add notes about customers so that when they return, the agent that responds to their chat will have an easier time figuring out their past history with your business.
However, some of the UI elements seemed out of place. It may be due to the size of my chat window, but I felt like some buttons weren't a part of the app. For example, the tag button, which allows you tag chats by type, felt really out of place in the bottom right of the app. It seemed especially strange considering that the tags you will add will appear in a different part of the app. I'd say that they should be really close to each other, maybe with the near the chatting section itself so that they're easier to access.
How free is tawk.to?
One of the main 'selling' points of tawk.to is it's price. The app is for all intents and purposes free and tawk.to reassures you that it will remain so in the future. You get all the features, there's no cap on how many chats you can have with customers or how many agents can work on your chat.
Seems like a pretty sweet deal. Normally, you'd expect a free live chat to be a stripped down version of a paid plan. In this case, you get the full package.
So what's the catch? The number of features you get or the number of chats you can have are not the only things you buy when going for a paid live chat plan. Reliability is one of the things you pay for. When deciding on an important, customer-facing feature like live chat, you don't want to risk it with a service that can go down without a notice at any moment. You want to be able to hold the live chat provider accountable. From what I've read in tawk.to's terms and services, they don't give any guarantee of a continued service. You don't get a service level agreement, like in the case of other live chat providers, where they will guarantee 99% uptime, amongst other things.
Another big factor that you don't get for free is amazing customer service. Don't get me wrong, I'm sure tawk.to offers good customer service to their customers. However, you can't really count on it. If you're lucky, you'll encounter when their staff is up. If you're not, you're facing a couple hours of downtime before you can get help. It's up to you to decide if you really want to risk with your business.
From what I've gathered, tawk.to is currently offering outsourcing services to earn revenue and to continue develop the platform. As long as they do that, there's no worry that the app will go belly up. As long as they are able to grow the number of businesses using their outsourcing services faster than the costs for running a free service, you shouldn't have to worry about tawk.to being offered for free.
The verdict for tawk.to live chat
tawk.to is a great place to start for small companies that want to give live chat a try. It offers a decent set of features for a free app and won't try to limit you at every step of the way by capping your chats or the number of people using the app at the same time.
However, when it comes to using chats for sales or customer service full time, I think using an app without any SLAs or 24⁄7 support is simply too risky. When you use live chat for sales, it's not that hard to justify the cost of using a paid app. Even a couple of chats ending with a sale can cover the cost of running your chat for months. And when you get a guarantee that the chat will be up or that someone will help you when something happens, it's hard to argue against going for a paid live chat app.