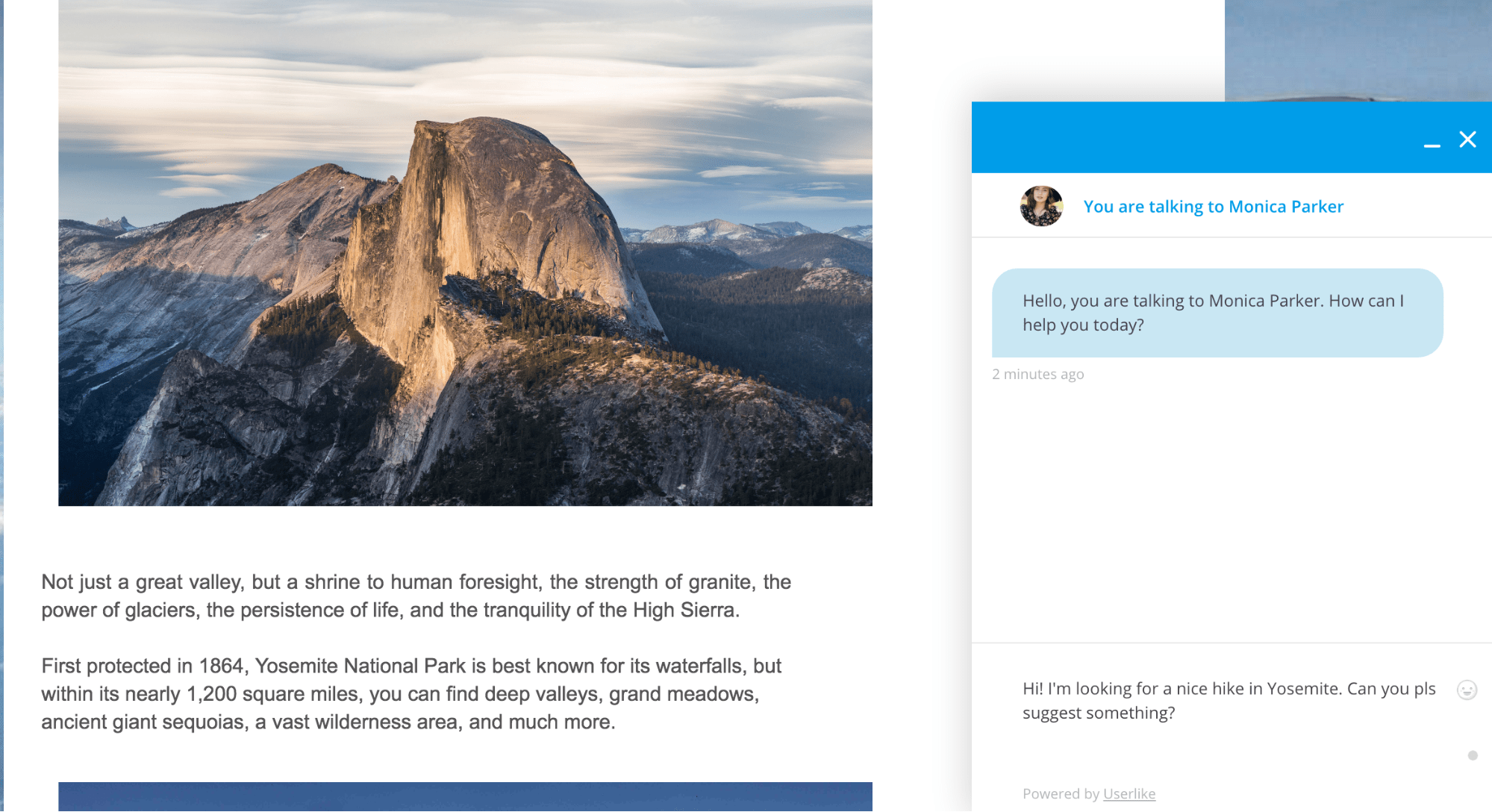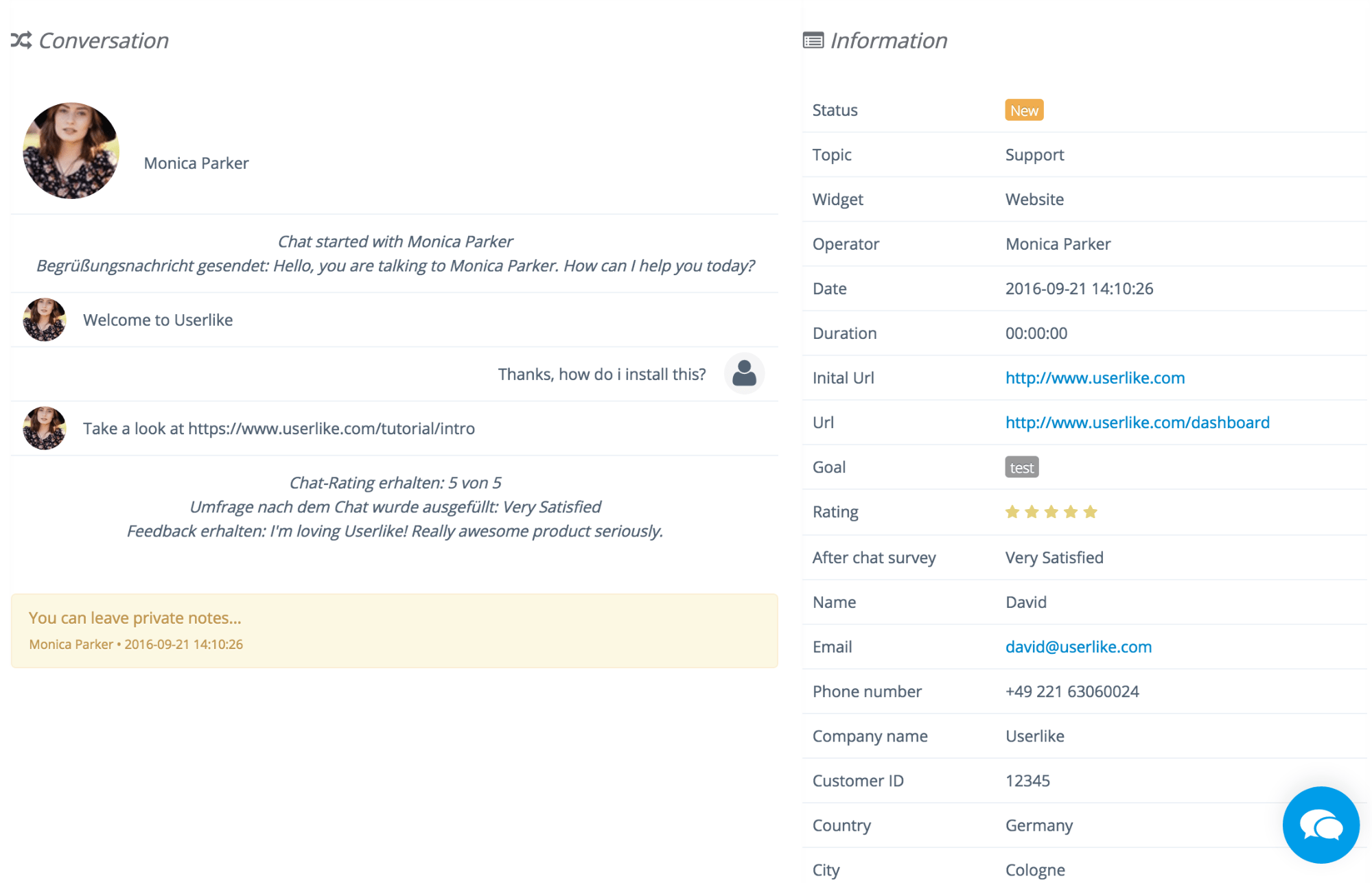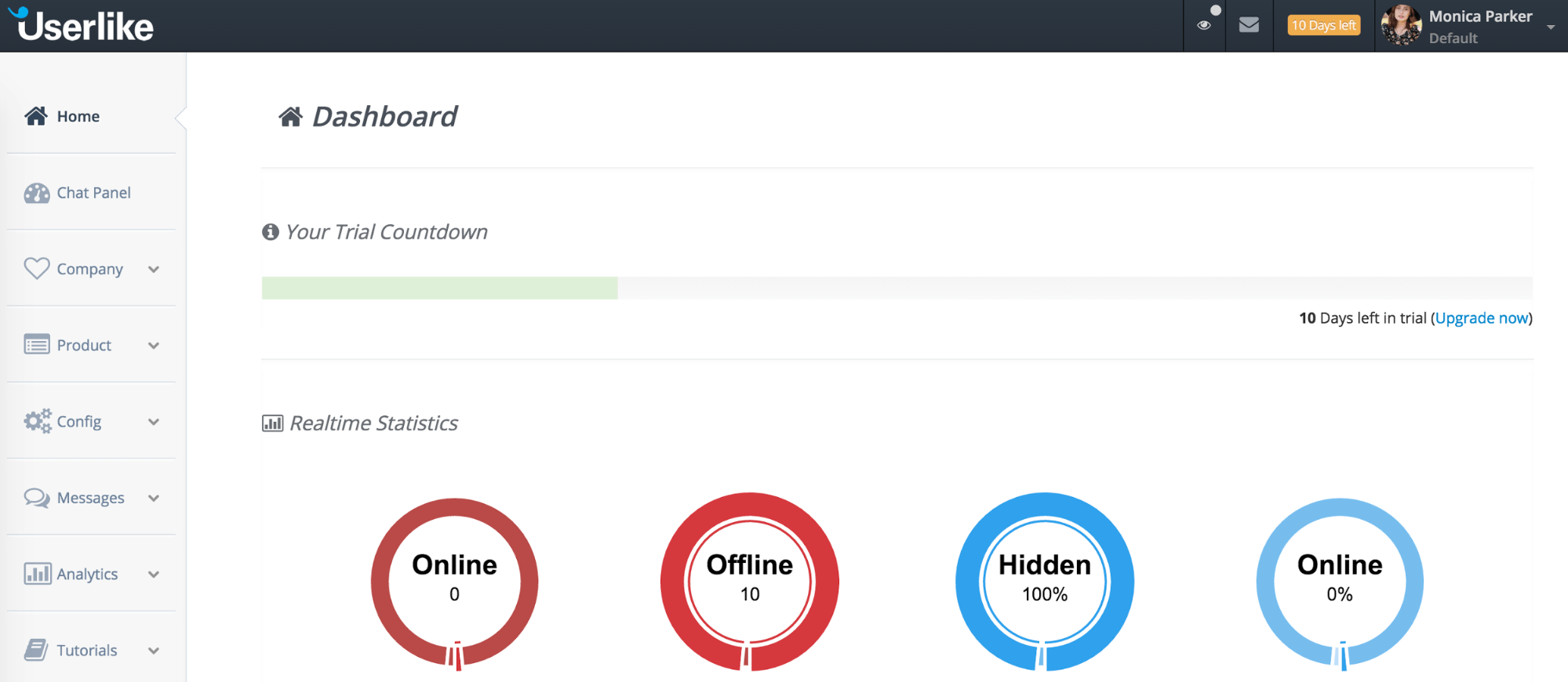 UserLike live chat review
Userlike has a free, 14 day trial and that might seem to be very little compared to other softwares, but the company offers a trial extension. When you write a review, you get a month of extension and once you invite your friend to use it, you get another month.
It's very easy to setup your account, all you need to do is to provide your name and email address (no credit card required!). After the trial ends, it's automatically set to a free plan.
Additional things I liked about Userlike are the attractive discounts they offer: a 20% discount when you purchase an annual subscription and a special plan for startups: 12 months for free.
The Installation is very easy. Upon logging in, you receive a popup with the widget script you need to can copy and paste directly into your website source code. Once you're logged in, you're taken to the dashboard with features a clear navigation.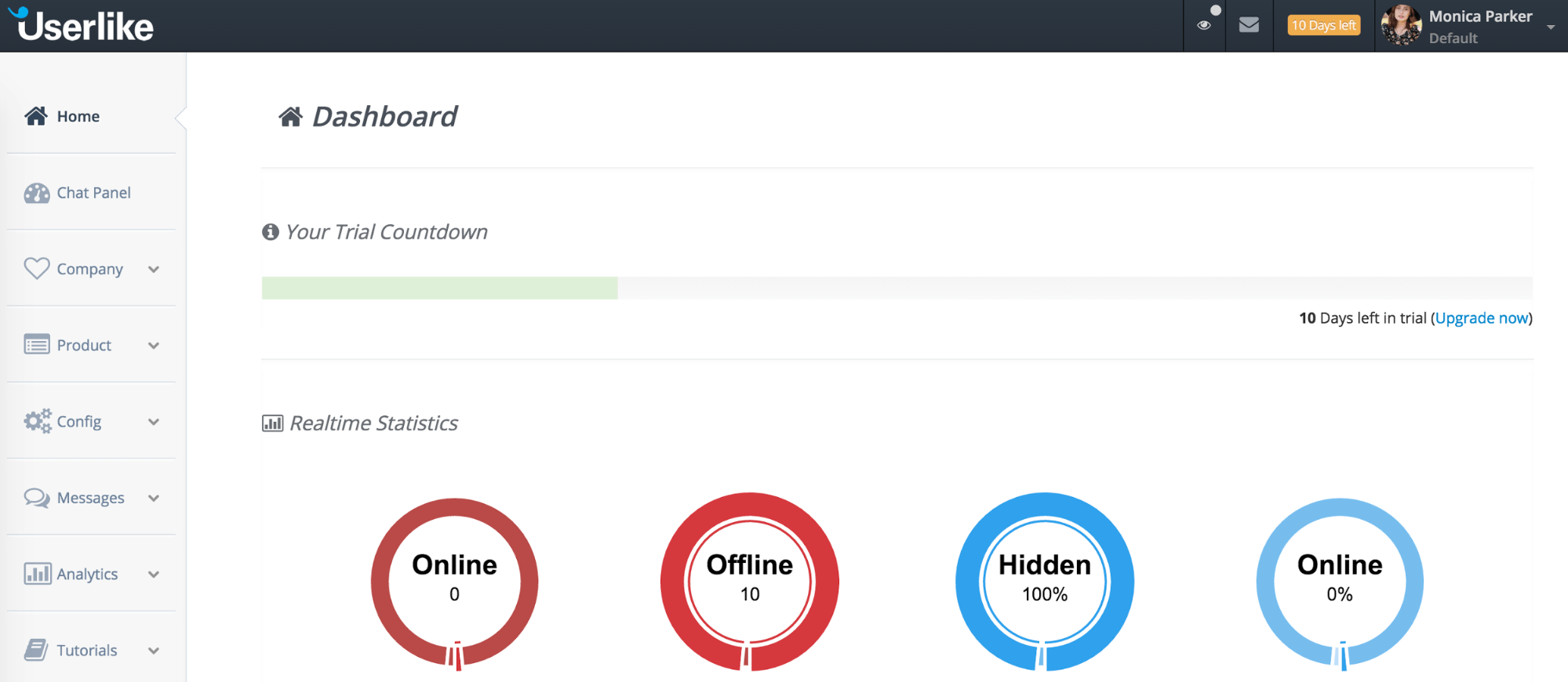 A nice thing about this panel is that even if you log into the application for the first time, you can already see an example chat in the archive. Thanks to this, you don't have to make any additional tests to check what kind of information you're given about your visitor.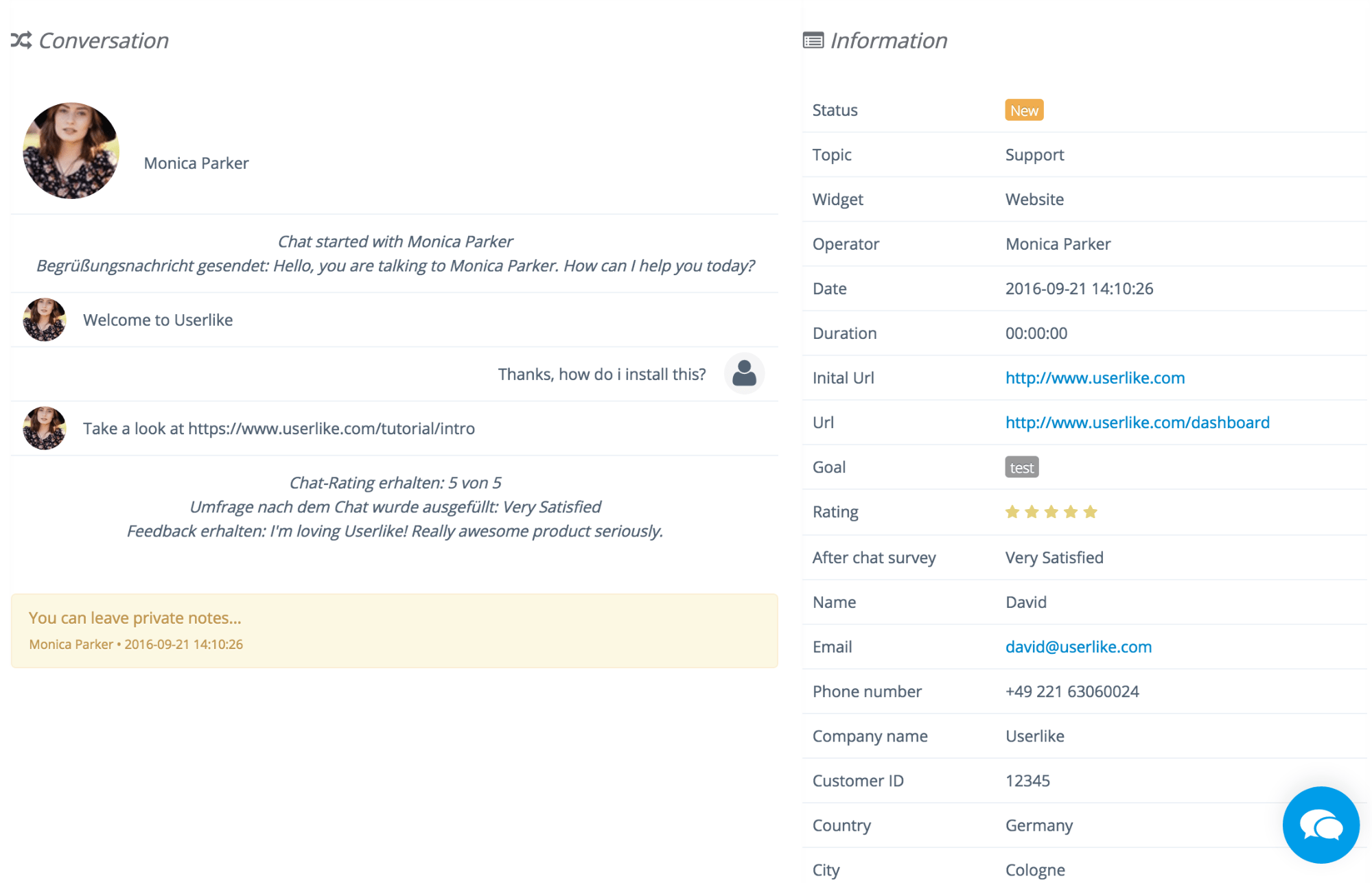 After taking a closer look to the panel, you will find a couple of useful features. You can tag each chat so you can later on easily filter chats by topic (e.g. lead, sales, support), chat macros (pre-populated messages which can be used to reply quickly thanks to keyboard shortcuts), agent grouping and chat rating. All these features help to better organize agent's work and keep track of customer's satisfaction. You can find the full list of UserLike live chat features on their features page.
Userlikes' chat is intuitive to use for website visitors. It looks nice, neat and is easy to use.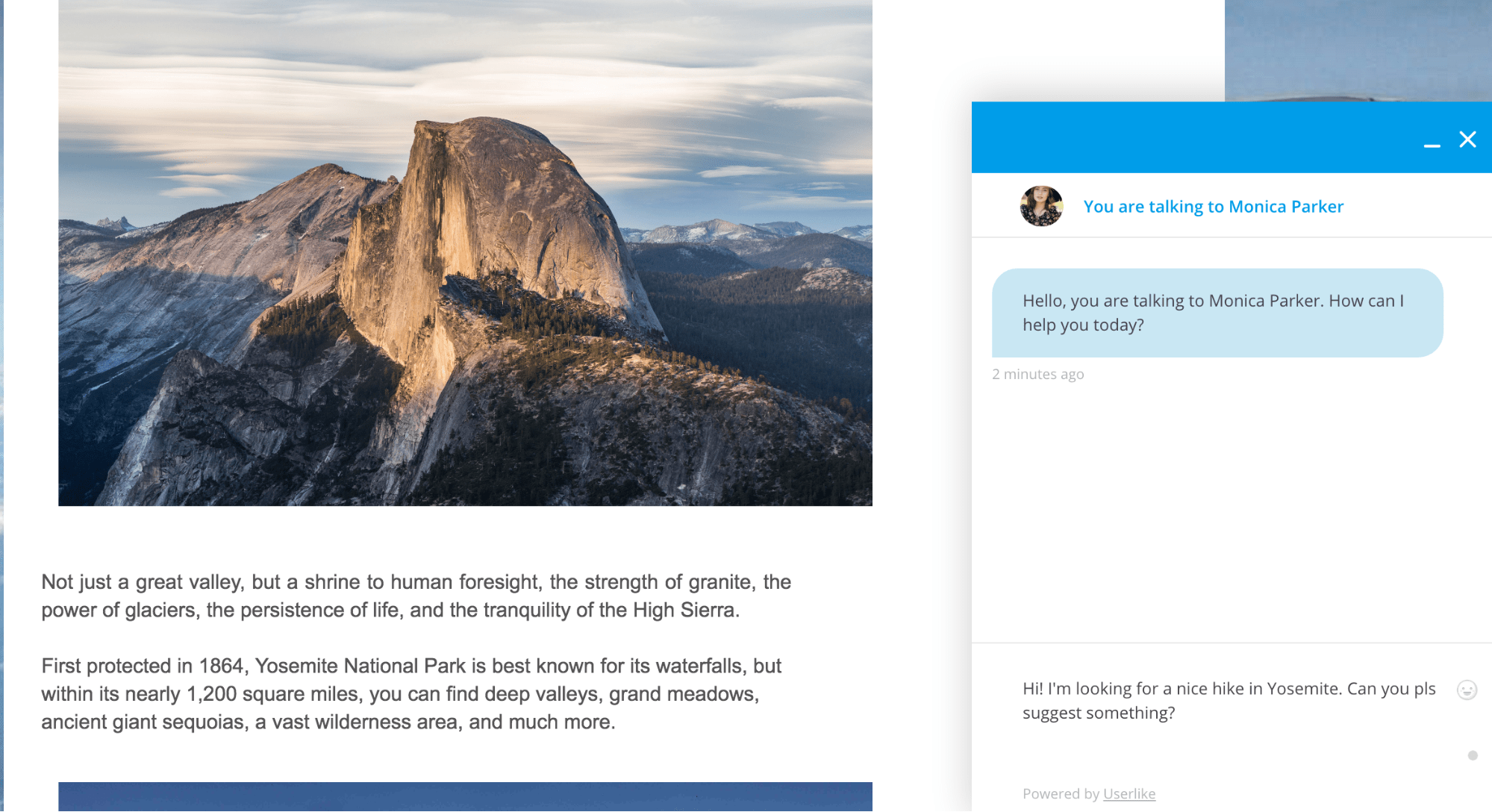 Another nice feature is that if support is unavailable, you can leave a message via an offline form.
Pros
There are plenty of pros of this live chat solution:
Chat tagging, chat macros, agent grouping
Chat rating
Customizable chat window
Abilty to create pre- and post-chat surveys
Analytics (e.g. average chat duration, first response time, satisfaction rating, unanswered Chats, goals, missed opportunities)
Available on desktop, mobile and iPad
Plenty of integrations (including Asana, Dropbox, HelpScout, Hubspot, Mailchimp, Salesforce, Slack, Trello, Zendesk)
Plenty of widgets
Free price plan
Possibility to pay with credit card, Paypal or bank transfer
Cons
Among all the pros, there were only a few things I didn't like when testing the application.
First thing was that when I was testing the application as a website visitor, I didn't see the option to upload a file or to get a chat transcript.
Another con is that the price seems to be too high compared to other live chat solutions. This plan allows you to use integrations and chats are stored, but you can use only 3 widgets with basic customization.
On the other side, if you want to have the ability to log into 10 accounts, use 10 widgets and have the chat window fully customizable, you will have to pay €199 monthly. This plan also includes the ability to use API and phone support, however I still think it's too expensive.
The verdict for UserLike live chat
Userlike has a very nice and intuitive application that is easy to use for both: agent and website visitor. The onboarding is smooth, installation is easy and the navigation in the dashboard is clear. The application offers plenty of tutorials helping to get the most out of it.
A good thing is also that Userlike offers lots of useful features and integrations,it can be used as a nice customer service optimization tool.
Unfortunately, the price of the application is very high and it's hard to estimate if the benefits outweigh it.